This is seriously the most delicious coffee cake recipe on the internet! At least, in my family's opinion it is and trust me, we've done a lot of research over the years. Whether you call it a snack cake, coffee cake or the best darned thing you've ever tasted - hold on to your hat because not only is this one of the best coffee cake recipes you'll ever try it's also got a secret ingredient: prunes!
Easy Dessert - One-bowl Baking
Looking for an easy dessert recipe to make? This gluten free coffee cake recipe calls for basic pantry ingredients, only needs one bowl to mix, and uses less sugar than traditional snack cake recipes thanks to the help of a top secret ingredient! Oh and did I mention that it also bakes in about half the time of other popular snack cake recipes because it is made in a loaf pan?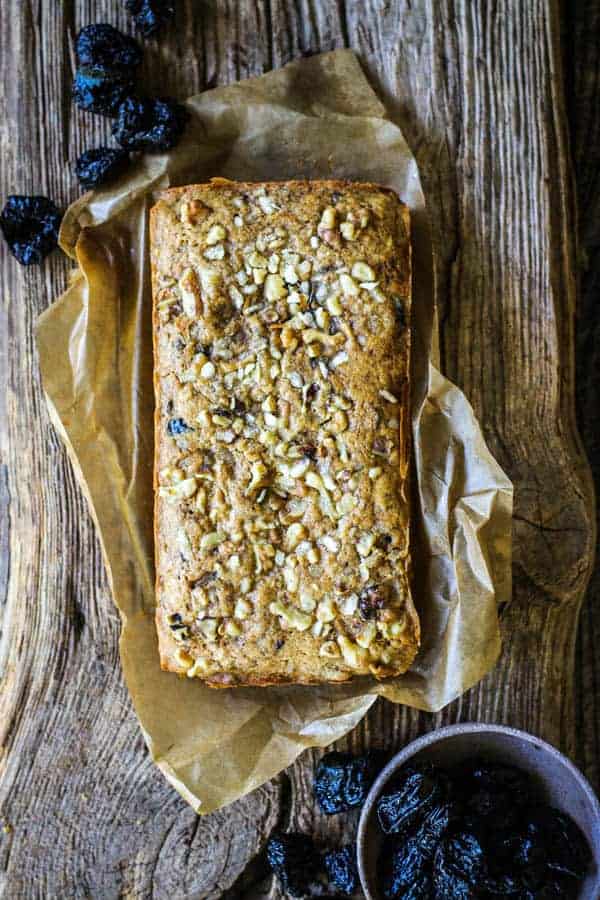 What exactly is a snack cake?
Snacking cakes, or coffee cakes are traditionally a small sheet cake or a cake that is baked in a small pan, like a loaf pan, with little to no icing. Snack cakes are made for keeping on the counter and stealing slivers from whenever the urge for cake hits. They're for eating with coffee or tea at breakfast, for packing in lunchboxes, and they are even a solid stand in for a super sweet dessert at night. Coffee cakes are a mobile snack which means you don't need a fork or a knife, just grab a napkin, grab a slice of cake, and you are ready to enjoy.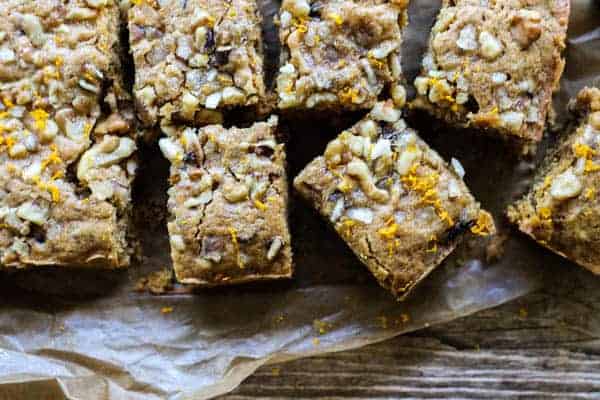 So, what about that secret ingredient I mentioned earlier?
True story, it's prunes! So what is a prune you ask? Is a prune a plum? Is one better than the other? Prune vs. Plum - the great debate. Just kidding - they are the same thing. Simply put, a prune is a dried plum. So why use prunes? Well, not only are they delicious but prunes are also good for you.
Prune Benefits
Yes, prunes are nutritious, containing not only vitamins and minerals, but also fiber and antioxidants that help reduce the risk of chronic disease. In addition, they are relatively low in calories and contain more of some nutrients than their fresh-off-the-tree counterparts - like vitamin B, vitamin K and fiber. The higher levels of fiber are also thought to help lower your blood sugar as it can slow the rate your body absorbs carbs after a meal. Who would have thought a coffee cake recipe could be this easy and nutritious?
I used to HATE prunes, but that all changed recently.
A few months ago my friend KC, The G Free Foodie, called me up and asked if I was interested in developing some recipes with prunes as the star ingredient. I immediately said, "NOPE, out of my comfort zone." But then I started thinking about the tour of her family farm that she took me on when I visited her in California last fall. I remembered seeing the orchards full of plum trees growing the beautiful purple plums that are dried and then sold on supermarket shelves as prunes. That orchard was so beautiful, certainly whatever came out of it had to be delicious too!
Clearly, I decided to put my bias about prunes to the wayside and I tried to forgot every preconceived notion I ever had about them. Over the course of a few weeks I developed a handful of recipes with prunes and let me tell you, they are all DELICIOUS, but this one really is the most delicious coffee cake recipe to ever grace the internet.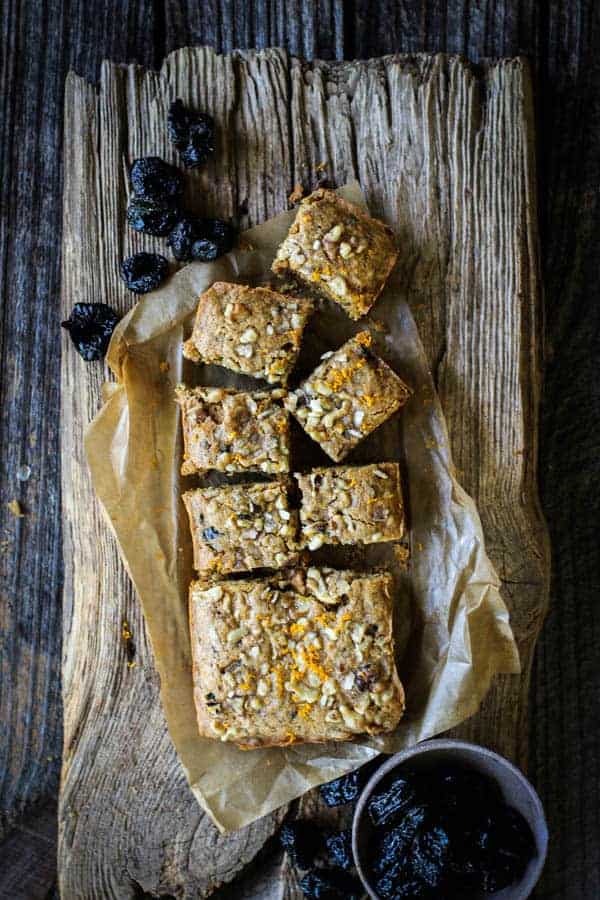 I'm sure some people will sneer at the fact that I named this The Most Delicious Snack Cake Recipe, but I really had no other choice....
I too used to sneer at recipes I came across online with a title like "best ever" or " most delicious", but I think the fact that it's fast, easy, delicious, turned a prune hater into a prune lover that literally craves this Most Delicious Snack Cake Recipe every single day of the week makes it the best! You can't scoff at that and who knows maybe you'll give it a try and it will make all of your snack cake dreams come true too!
Looking for more delicious ways to infuse prunes into your daily life?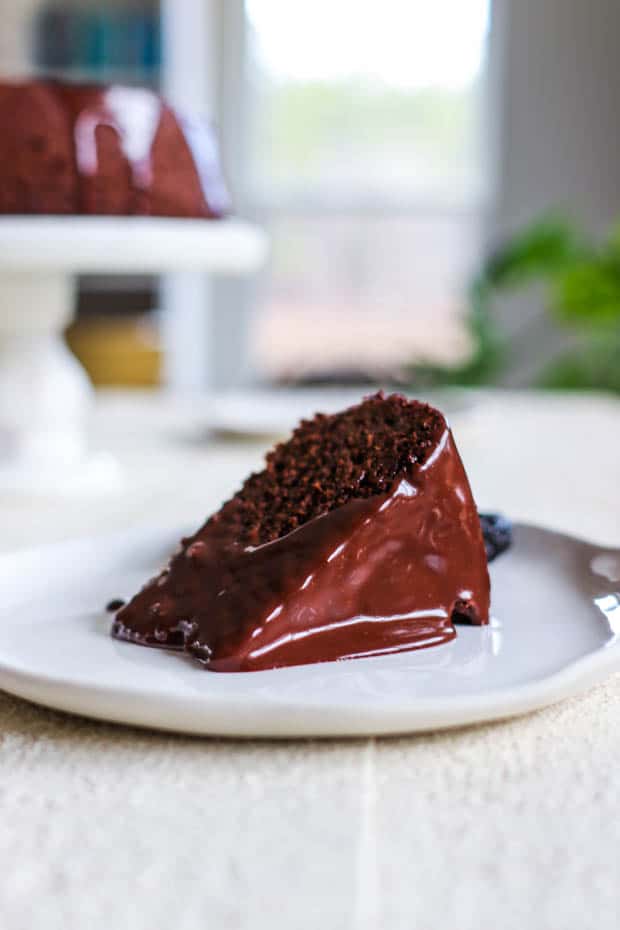 Chocolate Covered Prune Fudge Cake || When I need a more elegant cake for a celebration this Chocolate Covered Prune Fudge Cake is the way to go. It is refined sugar and gluten free, but FULL of fudgy flavor.
If you've tried The Most Delicious Snack Cake Recipe I would be so grateful if you would rate the recipe and let me know what you think in the comments below, I just love hearing from you and your reviews and comments really help others that visit This Mess is Ours!
Print
Spice Snack Cake Recipe
Don't forget to rate the recipe and let me know what you think about this snack cake in the comments below, I just love hearing from you and your reviews/comments really help other people that visit This Mess is Ours! 
Author:
Prep Time:

20

Cook Time:

25

Total Time:

45 minutes

Yield:

8

lices

1

x
Category:

Dessert

Method:

Baked

Cuisine:

Dessert

Diet:

Gluten Free
¼ cup small diced prunes, about 7
1 cup boiling water
6 tablespoons salted butter, melted
½ cup packed dark brown sugar
2 egg yolks
zest of 1 Naval orange, plus more for garnishing if desired
1 teaspoon pure vanilla extract
1 cup gluten free all purpose flour
½ teaspoon ground ginger
½ teaspoon ground allspice
¼ teaspoon coarse kosher salt
½ teaspoon baking powder
2 tablespoons chopped walnuts
1 tablespoon candied ginger pieces
optional to serve: orange zest
Instructions
Pour the boiling water over the prunes and soak for 15 minutes.
Meanwhile, preheat the oven to 350°F. Line a 9" bread pan with parchment then lightly spray with cooking spray and set aside.
After the prunes have soaked, reserve one tablespoon of the soaking liquid and drain the rest. Use a fork to mash the prunes and the 1 tablespoon of soaking liquid into a paste with no big chunks remaining.
In a mixing bowl combine the prune puree, melted butter, dark brown sugar, yolks, orange zest, and vanilla extract. Whisk until combined.
Sprinkle the flour, ginger, allspice, salt, and baking powder over the mixture then stir to combine.
Spread the batter into the prepared loaf pan, sprinkle the walnuts and candied ginger over the top.
Bake for 25 minutes, or until a toothpick inserted into the center comes out clean. Cool in the pan on a wire rack for 10 minutes then remove the cake from the pan. Allow to cool to room temperature then slice into 8 pieces to serve.
Nutrition
Serving Size:

1 slice

Calories:

272

Sugar:

12.1 g

Sodium:

58.9 mg

Fat:

11.1 g

Carbohydrates:

42.9 g

Protein:

2.7 g

Cholesterol:

69 mg
Keywords: snack cake recipe, prune, prune cake, spiced snack cake, best snack cake recipe, gluten free snack cake
Recipe Card powered by
Want to be a part of our online community outside of the blog? It's easy!! All you have to do is follow @THISMESSISOURS on FACEBOOK, INSTAGRAM, TWITTER, YOUTUBE, or PINTEREST to see cooking demos, live #CoronaCall 's, and peeks into our day to day life.