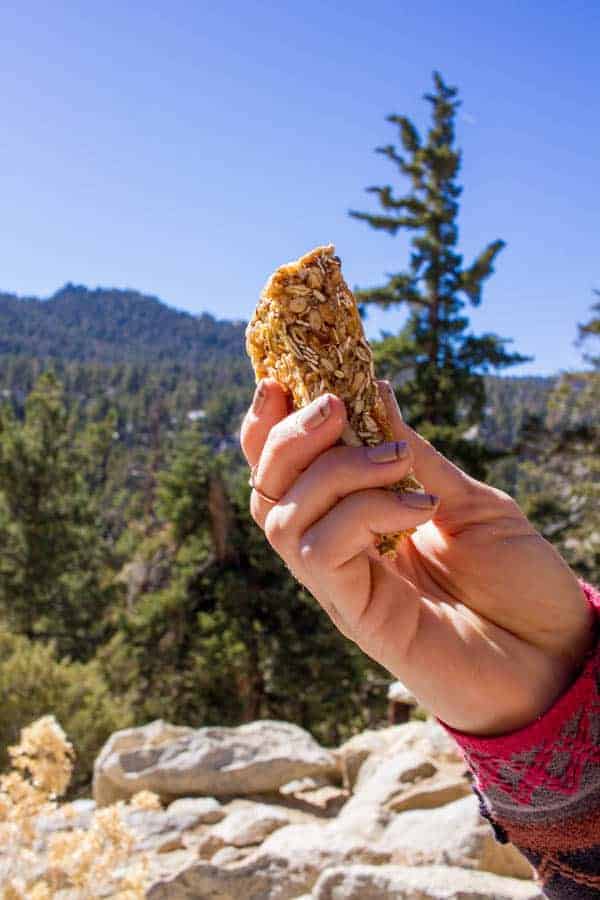 If you are traveling for Thanksgiving weekend these homemade energy bars are for you!!!
If you follow along on Instagram then you know last weekend we took a little impromptu pre-holiday vacation to the desert. We were able to nail down a few nights at the amazing dome in the desert in Joshua Tree and just couldn't resist the opportunity to escape the city.
Whenever we travel I plan out healthy snacks for us just like at home. Let's face it, homemade snacks taste better, cost less and are way better for you than the options you find at the convenience store.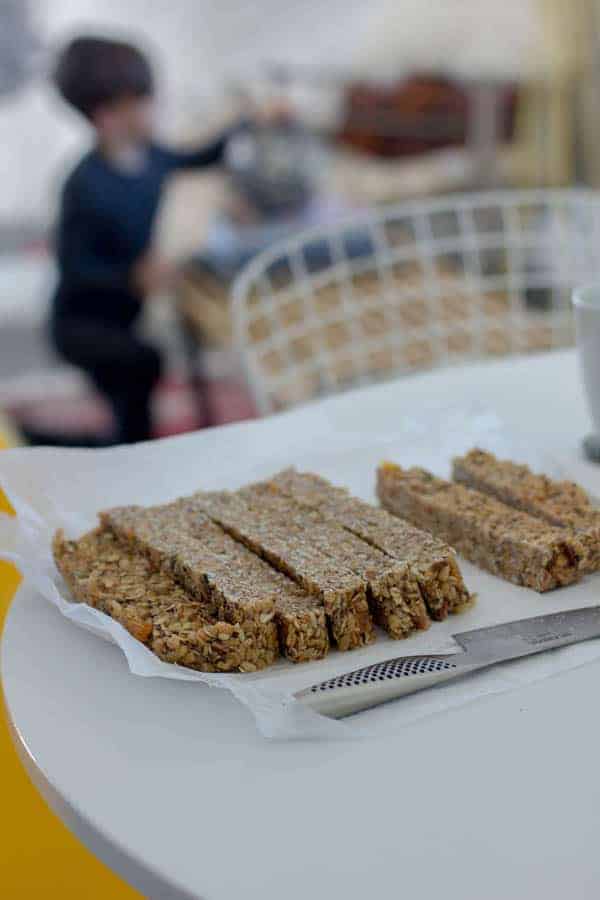 I whipped up an entire batch of these homemade energy bars before we left, wrapped them and transported them in my casserole pan for the trip. It really was almost too easy!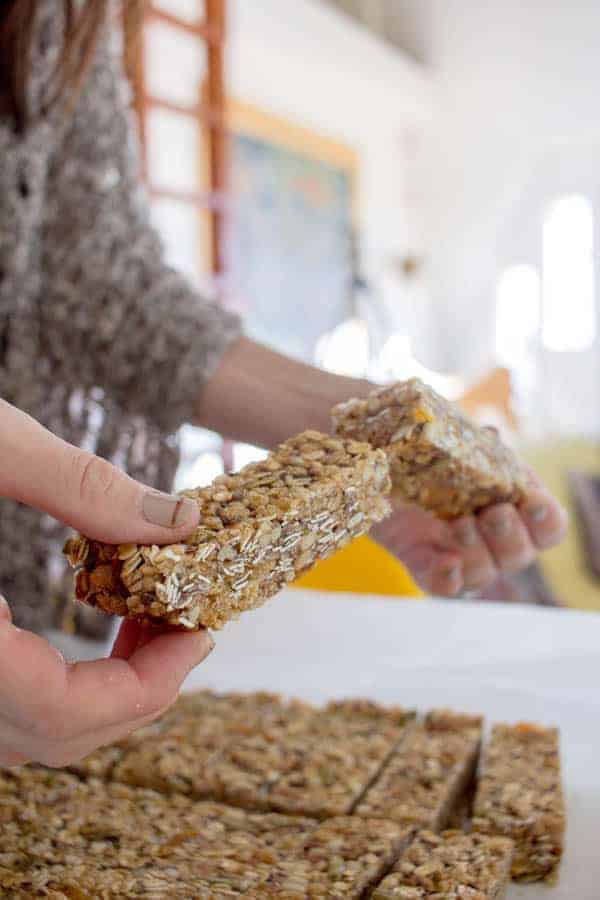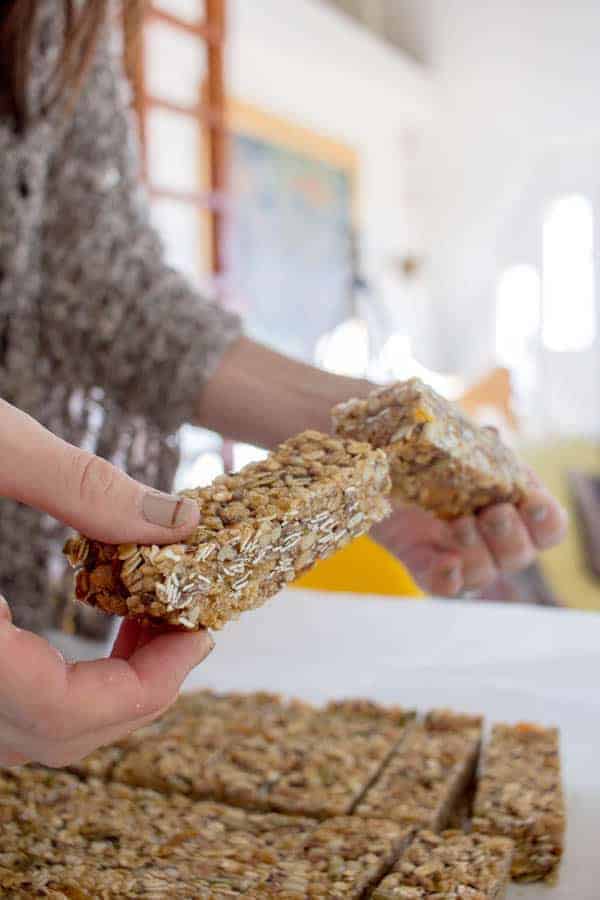 These bars are loaded with pecans, pine nuts, pepitas, flax seeds and dried mandarin. They are so, so good – even the fruit bandit can get behind noshing on a few of them. These bars kept us going on our adventures whether it was hiking in the forest at 8500K feet or climbing a hand painted mountain in the dessert. We were all happy and full, with lots of energy and no one was hangry.
Our trip was fantastic – we spent some much needed time away from TV's and emails, we explored, got our hands dirty and played rousing games of Jenga. It was magical! I couldn't resist sharing a bit of our adventure here with you, especially the beautiful Geodesic Dome that we stayed in.
Stargazing or as Kash likes to call it "hunting for aliens" is a must do! I swear I have never seen so many stars in my entire life!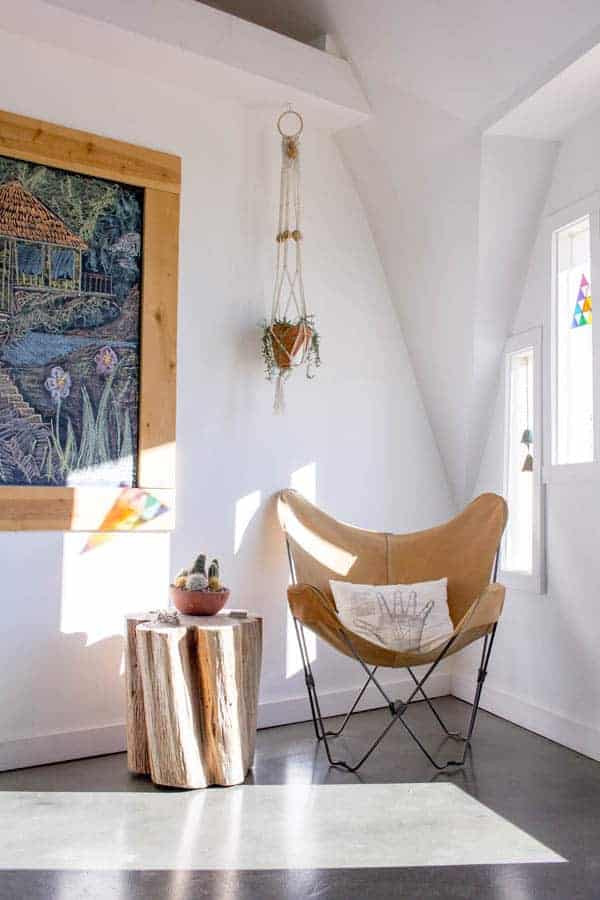 Hands down, my favorite spot in the entire dome. The light that pours through these windows is perfection!
My grandparents heated their home in Tennessee with the same exact stove - I haven't seen one since I was a little girl and it brought back so many memories.
On the way to Joshua Tree we made a pit stop to see the dinosaurs from Pee Wee's Big Adventure! I have never seen Kash so excited.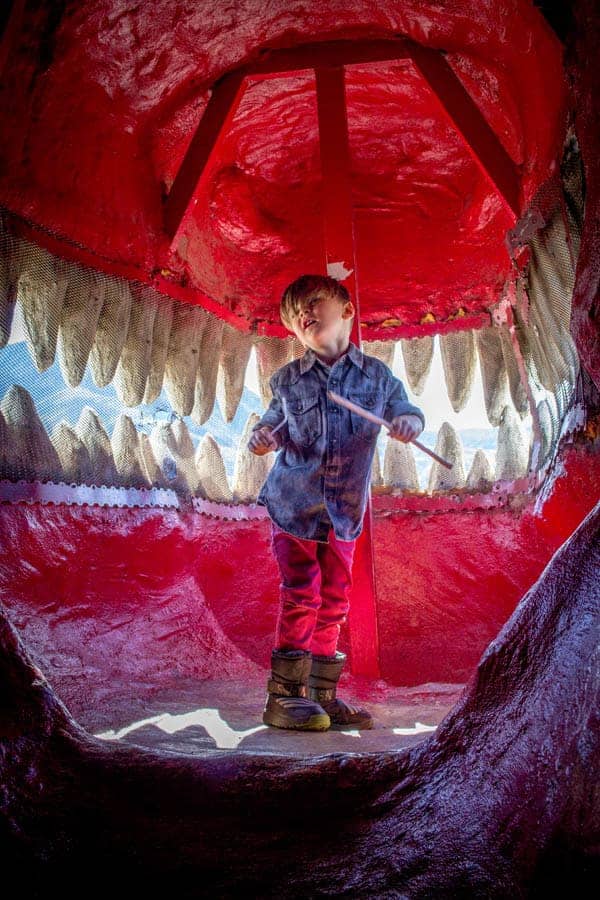 I think we were up in that T-Rex's mouth for a solid half hour - he didn't seem to mind too much though!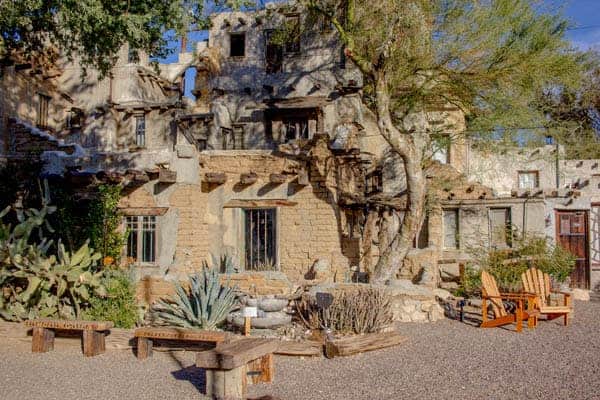 We explored Cabot's Pueblo Museum in Desert Hot Springs which was built completely with re-purposed materials. I mean come on, this is pretty impressive right? My mind was totally blown!
We channeled our inner cowboy's and cowgirl in Pioneer Town. My son's new nick name is city slicker because when he saddled up and pretended to ride a horse he started yelling for our dog to kennel instead of saying "Yeehaw!" We really have to get him out of the house more.
We drove to what felt like the end of the earth to visit Salvation Mountain. It was a pretty amazing sight to see – it is made totally of local adobe clay, hay bails and donated paint. Kash loved climbing the mountain and exploring the caverns beneath.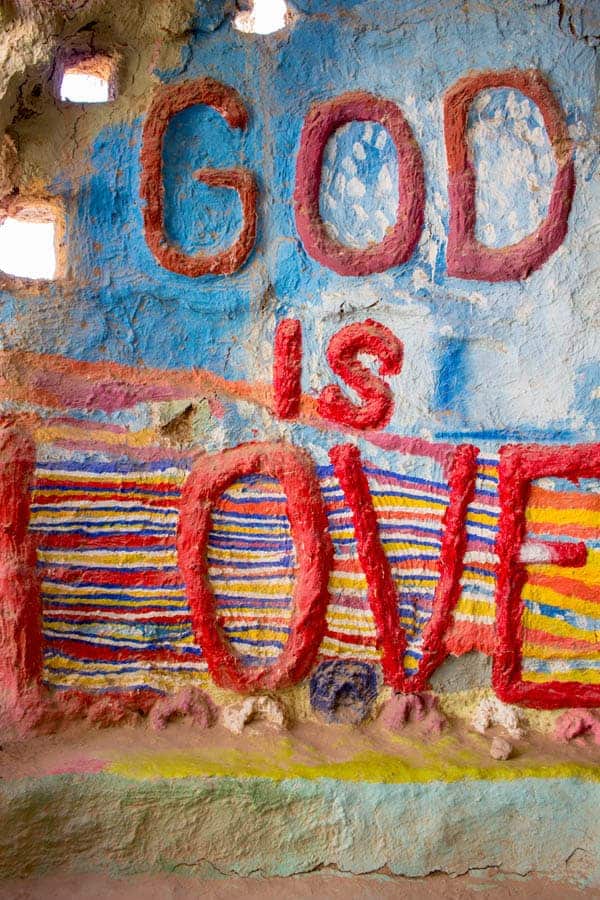 Before we headed back to LA we boarded an air tram in Palm Springs for a quick 10-minute ride up to 8500K feet. I wasn't completely freaked out until I realized the tram had a revolving floor that rotated the entire time we were moving up the mountain. When we made it to the top I realized my minor stress fest was totally worth it to see the beautiful forest and play among the trees. Kash climbed every rock in site screaming "I'm king of the world" then danced on them like a leprechaun...I'm not sure what it all meant exactly, but I am pretty sure he had a great time.
Print
Homemade Energy Bars
These bars are totally customizable - swap out your favorite dried fruit or combination of nuts to make them your own.
Author:
Prep Time:

10 mins

Cook Time:

13 mins

Total Time:

23 mins

Yield:

16

bars

1

x
½ cup

chopped pecans

½ cup

pine nuts

1 cup

gluten-free oats

⅓ cup

pepitas

¼ cup

flax seeds

⅔ cup

light brown sugar

½ cup

honey

4 tablespoons

unsalted butter

½ teaspoon

salt

2 teaspoons

pure vanilla extract

2 cups

puffed brown rice cereal

½ cup

roughly chopped dried mandarins
Instructions
Preheat the oven to 350°F and line a baking sheet with parchment paper. Spread the pecans, pine nuts, oats, pepitas and flax seeds on the sheet pan and bake about 8 minutes or until fragrant. Transfer to a large mixing bowl.
In a saucepan, bring the sugar, honey, butter, and salt to a boil over medium heat. Simmer until the sugar dissolves and a light brown caramel forms, about 5 minutes. Remove from heat and stir in the vanilla.
Pour the caramel over the nut and oat mixture. Stir in the brown rice cereal and the mandarins until evenly coated.
Line an 8-inch square baking pan with parchment paper, extend the paper over the sides of the pan to use as a handle later. Pour the cereal mixture into the baking dish and spread out into an even layer. Cover the pan with a second piece of parchment and press down to compress the bars. Let the mixture stand for about 2 hours until firm.
Discard the top piece of parchment and use the "handles" from the second piece of parchment to gently remove the cereal square from the pan then cut the squares into 12 equal size bars and serve.
Recipe Card powered by