If you follow our Instagram feed or Facebook this week you may have noticed this picture circulating around...
Our little Kash man has a new favorite snack! Hooray for him...bummer for me, because I didn't even get to eat one Valdosta Pecan out of this whole bag of Sahale Snack mix. Between Kash and Eliza they ate the whole bag in record time and I was left with only a few rogue cranberries that somehow escaped their snacking frenzy. I swear my kids have seriously mature taste buds, sure they like the regular chips and pretzels, but pecans with cranberries, black pepper, and orange zest? Who knew?! I have no problem feeding my kids healthy snacks, but I must admit $4.99 for a single bag of snack mix that can't be used in any other way than just to snack is a little pricey for me. I splurge every now and then on a bag for myself, but if we are all four munching away on these tasty little treats then I better come up with a better plan or I am going to go broke.
As I was sitting there eating the handful of cranberries left for me, I remembered an amazing recipe from Family Fresh Cooking for Maple Citrus Roasted Pecans. Thus far they are my favorite pecan snack EVER, and I really LOVE pecans! I was curious if I could make a homemade version of my families newest snack obsession by adding in cracked black pepper, cranberries, and orange zest. I immediately started preparing my sheet pans and organizing my ingredients. To my delight it totally worked, and to be perfectly honest I like my homemade version better than the store bought, although I am sure I will still purchase a bag or two from time to time. The only problem that I had when I made the first batch was that I should have doubled or tripled it...guess I will be making another batch today. I hope you all have an amazing weekend!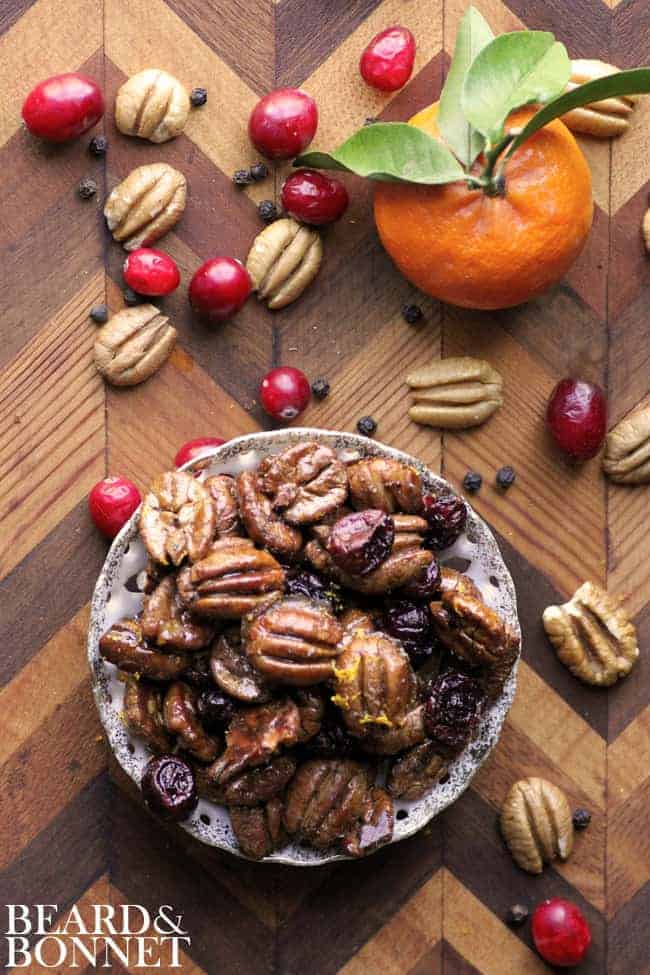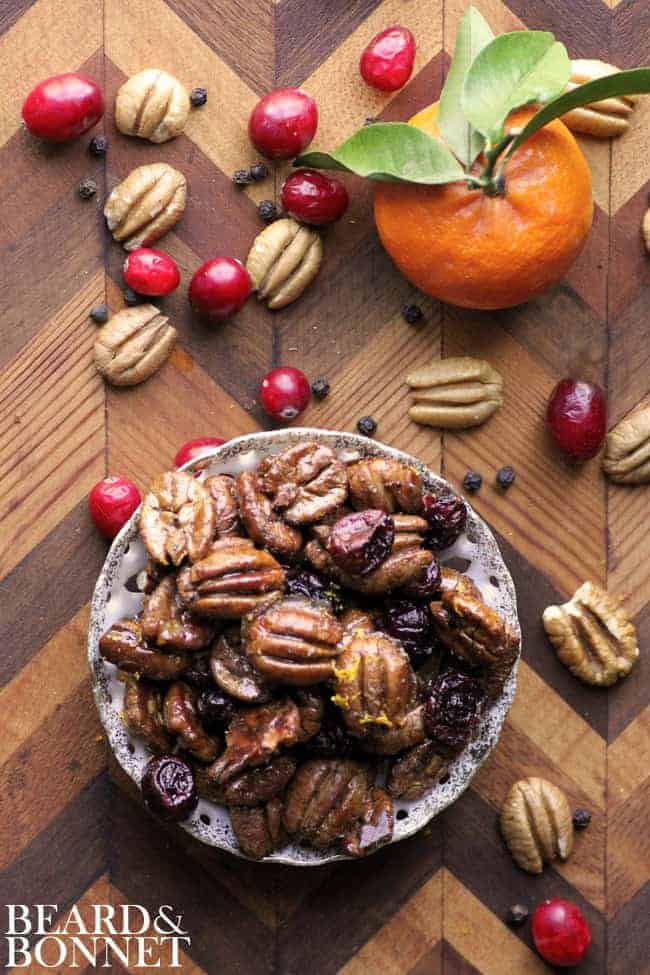 Homemade Valdosta Pecans
Inspired by Sahale Snacks and FFC
8 ounces Raw Pecan Halves
¼ cup pure Maple Syrup
pinch of fine Sea Salt
1 teaspoon G-Free Orange Extract
pinch of ground Ginger
Cracked black pepper, to taste
1 orange, zested
¾ cup craisins
Pre-heat the oven to 350° F with the rack in the middle. Place nuts in a single layer on a parchment or silicone baking mat lined sheet pan. Roast until fragrant about 10 minutes. Flip once during with a pair of tongs. Reduce oven heat to 300° F.
In a medium saucepan bring the maple syrup, sea salt, orange extract, ginger, and 6-10 grinds of fresh cracked pepper to a boil over medium high heat. Once the mixture has boiled, remove from the heat and toss the roasted pecans in the mixture with a heat proof spatula.
Evenly spread the pecans back onto the lined sheet pan, making sure that they are in an even layer, and grind a few rounds of fresh cracked black pepper over the top again. *If you love pepper use more, if you aren't the biggest fan skip this step all together. Bake nuts for 20-25 minutes, when the nuts are down to only 5 minutes of cook time left add the orange zest and cranberries to the sheet pan. Remove from oven and let the nuts cool, as they cool the maple sauce will harden and they will become easier to remove from your tray.
Store in an air tight container in the refrigerator.
We are happy to have shared this recipe at the Gluten-Free Friday's link up party hosted by Vegetarian Mamma! Hop on over to find more great gf recipes.