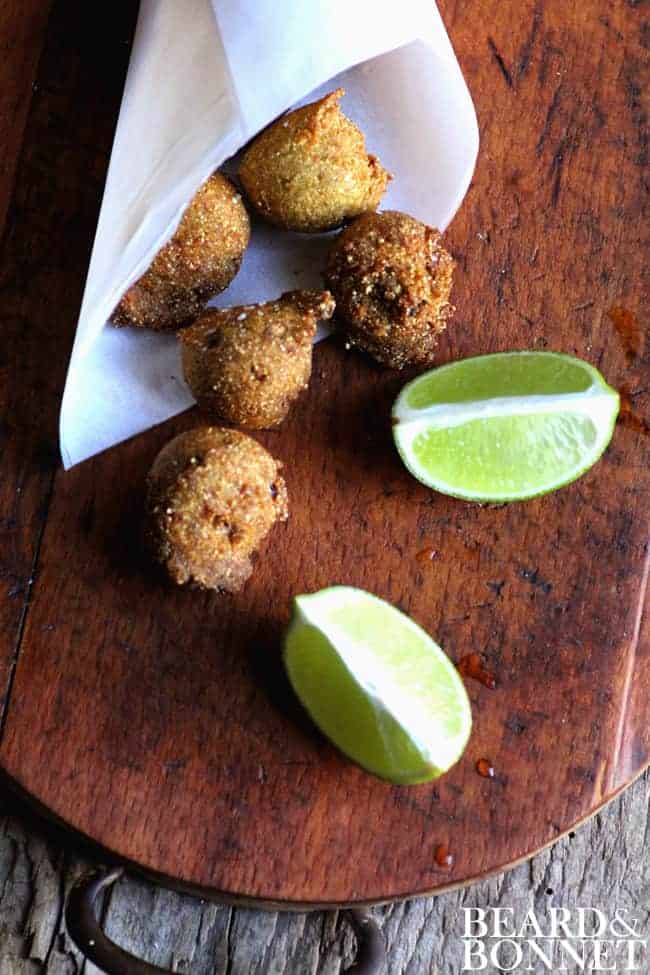 I have fond memories from when I was a little girl of summer time at my grandparents' home in Columbia, TN. I can remember long weekends full of amazing Southern food, the adults playing seemingly endless games of Rook, evening strolls with my Grandmother, and at least once every summer a big family fish fry. The men would leave early in the morning and fish until late afternoon when they would come home and prepare their catch for dinner. Although, I wouldn't eat the fish I fondly remember the mountain of hush puppies that my Papa would make. I would load my plate up with a big pile of them along with a few other sides that my grandmother had put together and I would sit in the floor with the other grand kids and savor every crispy, crunchy, golden bite while watching old Western's. My Papa's hush puppies were simple, straightforward, and not fussed up at all...they were perfect.
Maybe it is the fact that I have a serious case of Spring Fever in what seems to be a never ending Winter here in Georgia or maybe I was just needing to get back to my roots in the midst of all of the change in our lives right now. Whatever the reason, I was feeling somewhat nostalgic a few days ago and had the urge to share with my family a small taste of my childhood. I have to admit I fussed it up a bit with the addition of a juice that I made of cilantro, lime and jalapeno to replace some of the dairy in the original recipe, but it really did make these little hush puppies special. They are still crispy and golden on the outside, but the addition of the juice makes the interior a beautiful soft shade of green that just beckons to be gobbled up. *Come to think of it...my Papa may have disapproved of the addition of anything green to his hush puppies seeing that he didn't care for any green foods, but I think he would forgive me and maybe even try one! I suggest serving these up with a hearty bowl of my Black & Tan Bean Soup, just the thing to warm you up in this last little blast of Winter.
Cilantro Hush Puppies
Makes 12-18
1 cup G-Free organic yellow corn meal
½ tsp. sea salt
½ tsp. baking powder
2 Tbsp. minced white onion
⅛ cup buttermilk
1 large bunch of cilantro, washed
1 lime
1 jalapeno
1 egg or egg substitute
Sunflower or peanut oil
In a juicer combine the large bunch of cilantro, one whole lime, and the jalapeno pepper. Measure out an ⅛ of a cup of the juice for this recipe and reserve the rest of the juice for another use. *I suggest mixing the remaining juice into a batch of cashew cream..you will be happy you did! If you do not have a juicer combine the cilantro, jalapeno, and the juice & zest of one lime; process into a smooth pesto like paste in your food processor. Measure out ⅛ of a cup to use in this recipe and reserve the rest for another use, if your batter is too thick to work with add more buttermilk one teaspoon at a time until the batter is easily scooped and it keeps it shape.
Heat the oil to 370°F. Sift the dry ingredients together in a medium sized mixing bowl. Beat the buttermilk, ⅛ cup of cilantro lime juice, egg, and onion together. Add the liquid mixture to the dry ingredients and blend well. Use a small ice cream or cookie dough scoop to form the mixture into balls. Drop the batter into the hot oil and fry until golden brown. Drain on a paper towel and season with salt to taste. Serve hot.
Love hush puppies like we do? I suggest trying my Hush Puppy Tacos, you will be so glad you did!