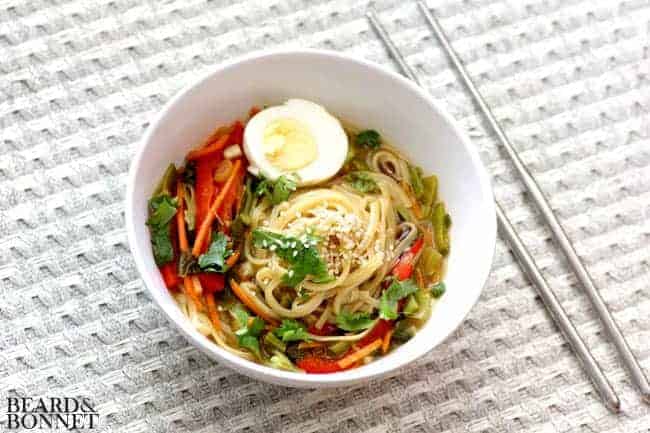 When we realized that it was gluten and dairy that was making our baby sick we purged the entire pantry. If I wasn't 100% sure that the food was gluten and dairy free, it was gone. Our local food bank hit the mother load that day and I still haven't completely restocked my pantry from the loss. It is expensive to start over, especially when you are stocking for a restricted diet that you know nothing about! My plan was to start with the essentials and then slowly build from there. After the initial purchases of new flours and other basics I focused on building flavor profiles so that I could recreate our favorite dishes. Almost 6 months in to our new way of living my GF/DF Mexican and Italian inspired pantry has grown quite nicely but I had yet to restock any Asian inspired ingredients.
A few weeks ago, while I was perusing Open Sky, to see what my favorite chefs were up to I came across an organic, gluten-free sampler by Wan Ja Shan curated by Ming Tsai. It was a great deal, 7 full size bottles of Asian inspired gluten-free yumminess for $28! I knew that I couldn't recreate this flavor bundle myself for such a great price so I jumped on it. Within a few days my box from Open Sky showed up on the doorstep and I went to work. I started out tasting the sauces on plain rice and have built from there to this homemade Asian inspired soup. I infused a hearty vegetable stock with ginger, lemongrass and the GF Tamari soy sauce from my sampler pack followed by loads of fresh veggies. A drizzle of sesame oil and chickpea miso was added at the end to round out the flavors and all of this was ladled over almost al dente rice noodles at the table. Then we each piled our bowls high with a myriad of Asian inspired toppings so that our ramen was just the way each of us like it.
We all agreed that the only thing wrong with this dish was that I should have made two packages of noodles instead of one because we all wanted more! Even Kash ate everything on his plate with only one noodle escaping his mouth and hitting the kitchen floor. *If you have ever eaten dinner with a 19 month old I think you would also equate this as a huge success! The broth was rich and fragrant without overpowering the veggies and all together it was a surprisingly lite meal that was still hearty. It came together in about 30 minutes with minimal clean up, which adds to the probability of this dish becoming a regular main event at our house this fall.
Homemade Vegetable Ramen Soup (Gluten-free and Vegan)
Serves 2 large servings or 4 small servings both with extra broth and veggies
1 package GF rice noodles, I used King Soba: pumpkin, ginger and rice noodles
2 quarts GF vegetable broth
2 inch piece of ginger, peeled and grated
¼ cup GF Tamari soy sauce
1 Tbsp. lemongrass, minced
1 Tbsp. sesame oil
2 Tbsp. GF chickpea miso
½ cup hot starchy water from cooking the pasta
1 ½ cups fresh snow peas, sliced into ¼ inch strips
1 cup shredded carrots
3 scallions white and green parts, sliced thin
1 red bell pepper, julienned
4 baby bok choy, sliced into pieces that are similar in size to the snow peas
1 ear of corn, kernels removed
Garnish: use them all together or only the ones you like
Sesame oil
Hard-boiled eggs cut in half, omit if vegan
Sesame seeds
Sriracha
Fresh cilantro leaves, torn
In a large stock pot bring the 2 quarts of vegetable broth, grated ginger, Tamari soy sauce and lemongrass to a boil. Reduce heat to medium and allow the broth to simmer so that the flavors marry while you prep the veggies.
Prepare all the veggies and place them in individual piles on a large plate or platter so that you can put them into the broth individually when it is time. Meanwhile, bring another large pot of water to a boil for the pasta and place the 2 tablespoons of miso in a small soup bowl to the side so that you can add the ½ cup of hot starchy pasta water to the miso when it is time.
When the pasta water has come to a boil add the soba noodles and cook for 3 minutes, be careful not to over cook! You want the rice noodles to be a little less than al dente so that they will be perfect once the hot broth is ladled over them. *Over cooked rice noodles are really no fun! While the noodles are cooking add the snow peas and the green onions to the broth, cook for about a minute. When they are bright green in color add the bok choy, carrots and corn. At this point the noodles should be close to done, set aside ½ cup of the starchy pasta water and drain the noodles in a colander. Pour cold running water over the pasta to cool the noodles down and stop the cooking process. * I use tongs to pick up small bunches of noodles at a time in the colander so that the cold water can have access to all of the noodles, especially the ones in the middle. Once the noodles have cooled down divide them between 4 soup bowls and set to the side.
Add the red bell pepper to the broth and then whisk the starchy pasta water into the miso paste to break it up and create a smooth sauce to drizzle into your soup. Cut the heat off on the broth and stir the miso mixture into the broth with the veggies. Once combined gently ladle the veggies and broth over the noodles in the soup bowls and garnish as desired.
*I thought that I should mention that the noodles I used do not taste like pumpkin so substituting another type of rice noodle shouldn't really affect the flavor too much. However, I like these because they have the added nutritional benefits of the pumpkin which is a rich source of vitamins and antioxidants.
We are happy to have shared this post at the Gluten-Free Friday's link up party hosted by Vegetarian Mama, Eat.Live.Make, and Gluten Freed R.D.! Hop on over to find more great gf recipes.