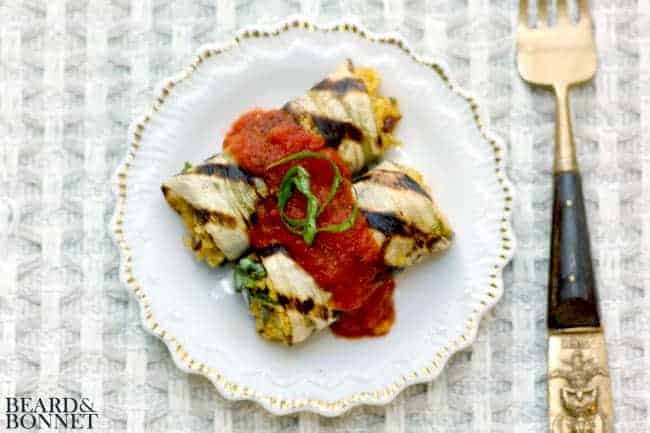 I love recipes that I can adapt and change depending on what I am cooking for and this one is a triple threat! Sometimes I make the couscous salad by itself but other times when I am feeling like comfort food I make these wraps and then layer them in a casserole dish covered in marinara and vegan cheese. Then I bake it off in the oven like you would manicotti. My favorite way to use this recipe though is as a finger food for parties. I love the way that the grill marks look on the eggplant and they are really striking lined up on a serving platter with dipping sauces alongside of them. The perfect little gluten-free, vegan finger food!
Eggplant and Sun-Dried Tomato Couscous Wraps
Makes about 20 individual pieces
3 cups cooked brown rice couscous
1 quart gluten-free vegetable broth, I use Trader Joe's low sodium vegetable broth
25-30 basil leaves, chopped
2 Tbsp. gf nutritional yeast
1/3 cup pine nuts, toasted
1 tsp. kosher salt
1/2 tsp. pepper
1/4 cup sun-dried tomatoes, I use Trader Joe's brand for this because it is labeled GF
Juice of 1 lemon
2 globe eggplants
1 cup pesto
1 bottle of gf marinara sauce
Eggplant Wraps
The juice in an eggplant can be really bitter, and to be perfectly honest I don't quite care for the peel either! So it is important to start this eggplant dish by draining out some of the juices. For this recipe the eggplant will be sliced thin so that it can be used as a wrapper, but I also follow this process to drain the juices when I am slicing thick rounds for eggplant parm.
To drain the eggplant remove the peel and use a mandoline to slice the eggplant lengthwise into sheets that are 1/8 inch thick. Place a layer of paper towels on a large plate or platter and arrange a layer of eggplant slices on top, sprinkle lightly with kosher salt and place another layer of paper towels on top. Repeat this process until all of the eggplant is layered, salted and covered with paper towels. Once complete, wrap the entire plate tightly with plastic wrap and place in the refrigerator for at least an hour, preferably 3-4 hours.
When you are ready to grill the eggplant, preheat a grill pan over medium-high heat and spray lightly with canola spray. Remove the eggplant from the fridge and unwrap. The paper towels will be wet because they have absorbed all of the bitter juices from the eggplant. Place the eggplant directly on the grill pan and grill until there are beautiful grill marks on each side and the eggplant is pliable. Arrange the cooked eggplant in a single layer on a baking sheet to cool until you are ready to use them. Try not to pile them up because the steam from the warm eggplant on the top layer will continue cooking the eggplant underneath resulting in a soggy mess when it is time to use the wraps on the bottom. Set aside until ready to roll.
Sun-dried Tomato Couscous Salad
Prepare the brown rice couscous according to the directions on the package replacing the vegetable broth for the water. I normally make the entire box at once and then reserve some of the couscous for a different recipe or for lunch the next day. Once the couscous is cooked place 3 cups of it into a large bowl and add the chopped basil, nutritional yeast, pine nuts, sun-dried tomatoes, lemon juice, salt and pepper. Stir well to combine and season with additional salt and pepper if necessary. If using in the eggplant rolls allow the couscous to cool before continuing any further.
Assemble
Preheat oven to 350°F. On a flat work surface layout one eggplant "skin" and spread a small amount of pesto from one edge to the other creating a thin layer of pesto across the entire surface. Take a large soup spoon and scoop up some of the couscous salad, use the palm of your hand to squeeze the couscous tightly into a small oval shape. Lay the couscous ball onto the eggplant skin about an inch from the bottom. Wrap the extra inch of eggplant up over the couscous and begin to roll towards the opposite end using your fingers to gently push any of the couscous that falls out back into the roll. Place seam side down on a baking sheet lined with parchment paper. Repeat these steps with the remaining skins and couscous until all the rolls have been made.
Once all of the rolls have been made place in the preheated oven and bake for 15-20 minutes to warm through. Serve with heated marinara sauce on the side to ladle over the top.
We are happy to have shared this post at the Gluten-Free Friday's link up party hosted by Vegetarian Mama, Eat.Live.Make, and Gluten Freed R.D.! Hop on over to find more great gf recipes. If you are looking for more vegan recipes we have shared this post on Healthy Vegan Fridays.
(Visited 1 times, 1 visits today)