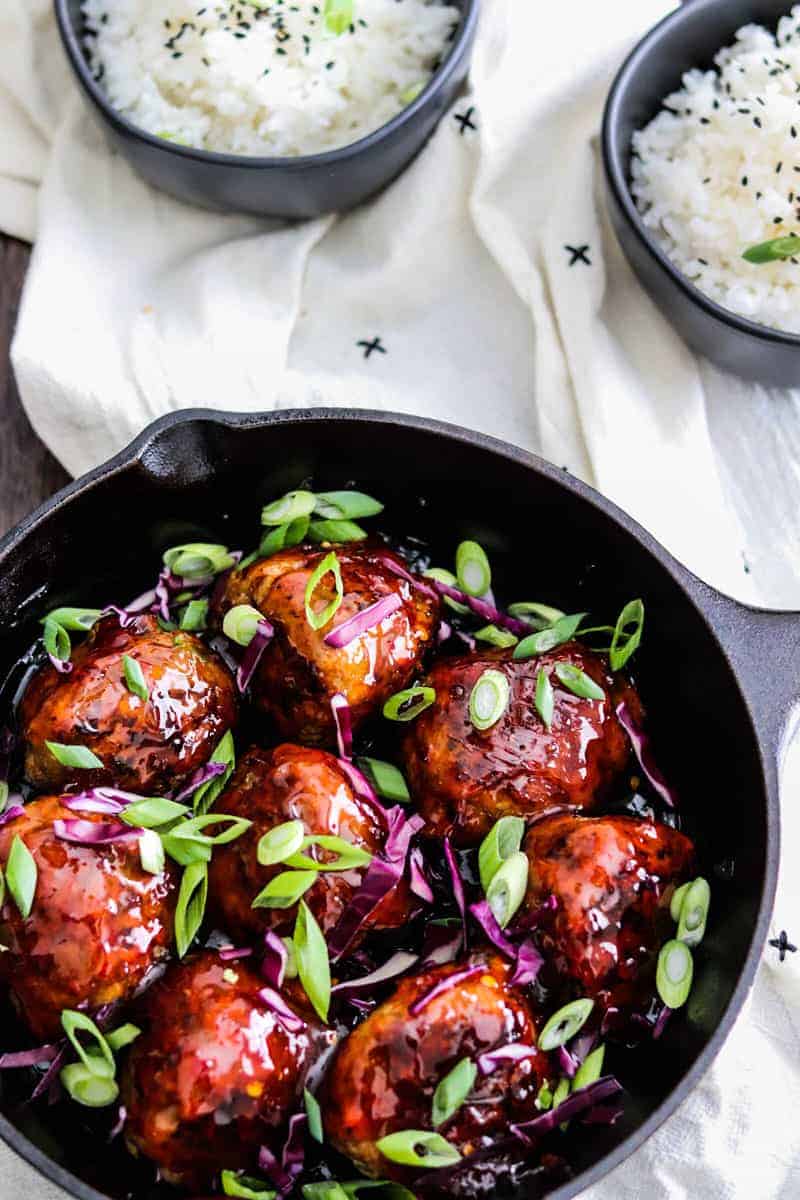 If you follow along on our Instagram page then you were well aware that this Korean BBQ Meatball Recipe was coming your way, because YOU voted for them! Natalie of Guac My Life is back today sharing an epic meat + three post with us that is sure to knock your socks right off. These Korean BBQ Meatballs are packed full of sweet and spicy flavors, are super moist, and easy to make!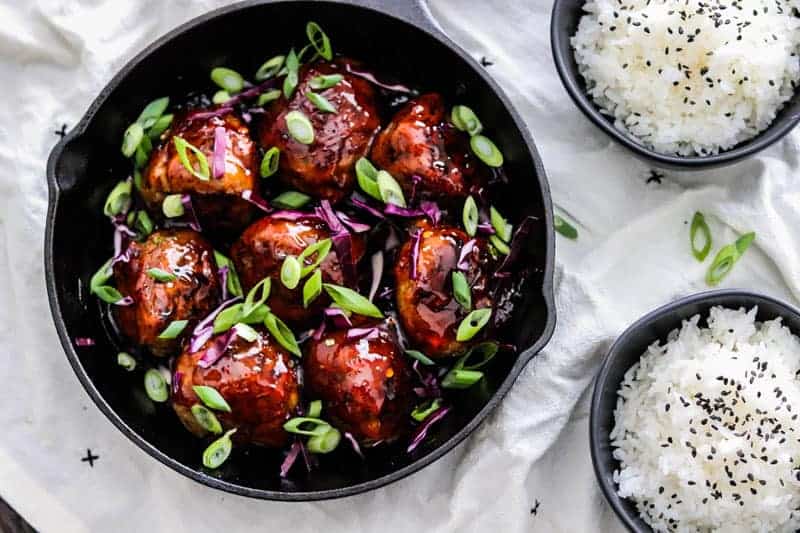 Since I am no meatball aficionado, I decide to ask Natalie all of my most pressing meatball making questions & figured you might want to know the answers too! So, here it is - our meatball making Q&A: 
1. Would this recipe work with other types of ground meat besides turkey?  Yes!! You can use beef, pork or chicken and even a combination of any of those.
2. Since you are using ground turkey and it has a lower fat content do you have any tips on how to keep the meatballs from becoming tough or dry? My turkey meatballs are actually pretty well known for not being dry so I think you will be pleasantly surprised. The key is to incorporate more "wet" ingredients like vegetables and coconut aminos to help keep the moisture in. 
3. I've heard rumors that overworking the meat when forming the meatballs can make it tough, is this true? If so, can you share your meatball forming tips? This is very true. I like to use a fork to mix everything together to keep that from happening as opposed to using a mixer or your hands. 
4. Any tips for storing extra meatballs? Should I cook them all first then freeze them OR form the meat mixture into meatballs and freeze them uncooked? You can do either! You can freeze them uncooked on a tray lined with parchment and then move them to a freezer bag once they are frozen solid. They should keep that way for up to 1 month in the freezer. Or you can toss cooked meatballs into a freezer bag once they have completely cooled and they will keep for up to 2 months. Either way, thaw out the meatballs completely in the fridge before reheating/cooking. 
So now you have your meaty main let's talk about the 3 vegetarian main dishes that we will be pairing with this Korean BBQ Meatball Recipe!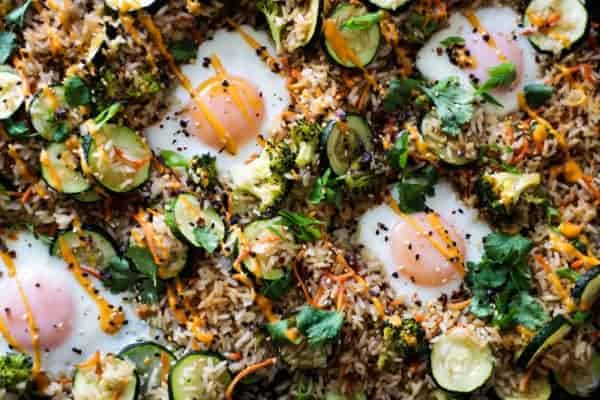 Sheet Pan Fried Rice || Everybody, and I do mean everybody loves fried rice. If someone were to tell me they didn't like it. I would have a really hard time believing them. Your veg heads will be stoked about a sheet pan full of fried rice while your meat eaters will gladly devour their Korean BBQ Meatballs with fried rice as a side.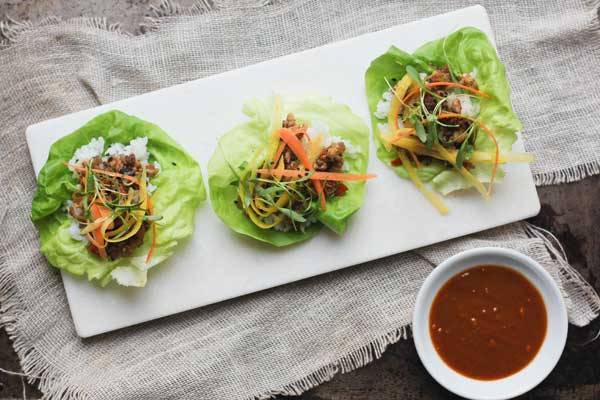 Asian Lettuce Wraps || While these vegan friendly lettuce wraps are hearty enough to be a meal on their own, the meat eaters in your clan will be stoked to add Korean BBQ Meatballs to the mix!
Bánh mì Salad with Sriracha Vinaigrette || As far as salads go this one just might be the prettiest salad we've ever had the pleasure of plating. It is a vegetarian friendly adaption of Heather Christo's Bánh mì Salad in her book Pure Delicious. This version replaces the meat that Heather used in her recipe with perfectly seasoned Adzuki beans.
Print
Korean BBQ Meatballs
These meatballs are great with turkey, but you can use ground pork, beef, or chicken too!
Don't forget to rate the recipe, and let me know what you think about these Korean BBQ Meatballs in the comments below. I just love hearing from you. Your reviews/comments really help other people that visit This Mess is Ours!
Author:
Prep Time:

10

Cook Time:

23

Total Time:

33 minutes

Yield:

4 servings

Category:

Dinner

Method:

Stovetop & Baked

Cuisine:

Korean
For the meatballs:
1 ½ pounds ground turkey
1 egg
¼ cup gluten free breadcrumbs or ground flax
3 tablespoons coconut aminos or Tamari
1 tablespoon freshly grated ginger
1 tablespoon minced garlic
¼ cup chopped green onions
kosher salt and pepper, to taste
 1 tablespoon avocado or olive oil
For the Korean BBQ Sauce:
1 cup jalapeño or serrano pepper jelly
¼ cup coconut aminos or Tamari
juice from ½ a lime
½ teaspoon red pepper flakes
To serve:
½ cup green onions
¼ - ½ cup finely shredded red cabbage
Instructions
To make the meatballs:
In a large mixing bowl combine the ground turkey, egg, breadcrumbs, coconut aminos, ginger, garlic, and green onions. Season to taste with salt and pepper. Use a fork to gently combine all of the ingredients, being careful to not overtax or your meatballs may be tough. Once combined use your hand to form 1 ½-inch sized meatballs. Place the meatballs onto a baking sheet and let them chill in the refrigerator for 30 minutes.
Once they are thoroughly chilled, preheat your oven to 350 and line a sheet pan with parchment paper. Set aside.
Heat a cast iron skillet over medium-high heat. Add the oil then sear the meatballs until the are browned on all sides, this should take about 10 minutes. Once browned transfer the meatballs to the prepared baking sheeting bake for another 10 minutes until cooked through.
To make the sauce: 
In a sauce pan over medium heat combine the pepper jelly, coconut aminos, lime juice, and red pepper flakes. Bring it to a simmer and cook,  stirring until the liquid reduces to a syrup, about 3 minutes. Remove from the heat.
To serve:
Drizzle the Korean BBQ sauce over the meatballs and garnish with green onions and red cabbage if desired.
Notes
Check out the meatball Q&A in our post for tips on storing meatballs!
If you opt to use flax instead of breadcrumbs the meatballs will be slightly firmer but the taste does not change much.
Nutrition
Serving Size:

2-3 meatballs

Calories:

523

Sugar:

41.7 g

Sodium:

759.9 mg

Fat:

18.4 g

Carbohydrates:

56.3 g

Protein:

37.4 g

Cholesterol:

163.9 mg
Recipe Card powered by
Want to be a part of our online community outside of the blog? It's easy!! All you have to do is follow @THISMESSISOURS on FACEBOOK, INSTAGRAM, TWITTER, YOUTUBE, or PINTEREST to see cooking demos and peeks into our day to day life.
What are the health benefits of ground turkey?
This protein rich meat is packed with Vitamin B and numerous essential minerals, such as selenium and zinc. Turkey aids the the body with metabolism and promotes muscle health. 
Click here for more information on the health benefits of ground turkey.
Frequently Asked Questions
SaveSave
SaveSave
SaveSave
SaveSave
SaveSave
SaveSave
SaveSave
SaveSave
SaveSave