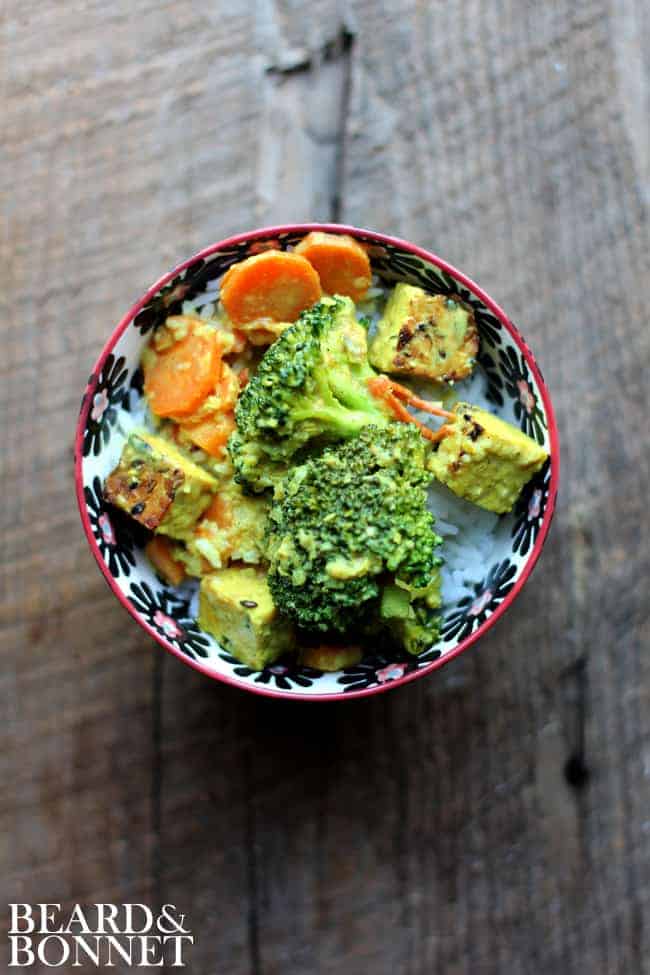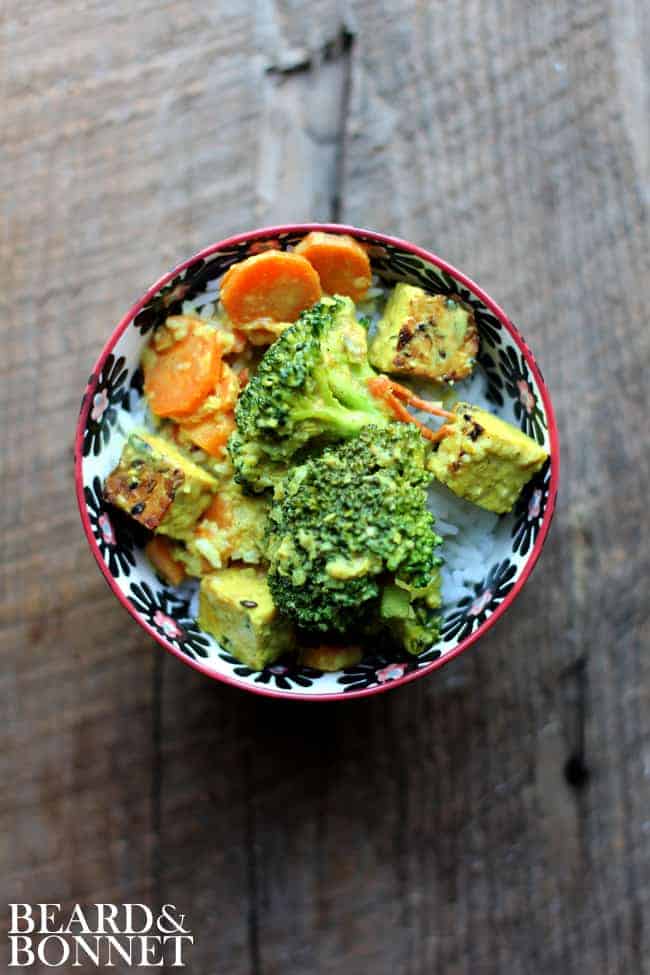 I mentioned on Friday when I shared a recipe for Lemongrass Mojito's, that I have been slightly obsessed with the delicious flavor of Lemongrass lately. What started this obsession was the need to use up a small amount of Lemongrass paste that I had sitting in the fridge, and now it has spun into a complete flavor obsession on my family's part that can't be stopped! I have been whipping up desserts, drinks, and savory dishes with Lemongrass for days now. It really doesn't help the fact that I should be clearing out the pantry and fridge for our move instead of stockpiling more Lemongrass. That being said, this curry is AMAZING, even my broccoli hating husband couldn't get enough. I had never made a curry at home before and didn't even realize how insanely easy it could be. This whole meal came together in about 30 minutes which is great considering time constraints around here these days. Have you ever made a curry dish at home, what is your favorite flavor combination?
Lemongrass Curry with Broccoli and Tempeh 
Adapted from Vegetarian Times
Serves 6
12 oz. g-free tempeh, cut into ½-inch cubes
2 large shallots chopped, (1 ½ cups)
2 Tbsp. lemongrass paste
1 Tbsp. serrano chile, chopped (1 Tbsp.)
2 tsp. chopped fresh ginger
2 cloves garlic, peeled
1 Tbsp. sunflower oil
2 ½ tsp. curry powder
½ teaspoon ground tumeric
4 small carrots, peeled and sliced thin (1 ¼ cups)
1 13.5 oz can light coconut milk
3 cups broccoli florets
1 tomato, cut into thin wedges (1 ¼ cups)
Heat a large cast iron or nonstick skillet over medium heat. Add tempeh, and cook 10 minutes or until golden on all sides. Set aside.
Combine the shallots, lemongrass, chile, ginger, and garlic in a food processor and pulse until a smooth paste forms.
In a large pot, heat oil over medium heat. Add the shallot paste, and cook for 5 minutes, or until starting to brown. Stir in the curry powder, tumeric, carrots, coconut milk, and 1 ½ cups water. Bring to a boil then reduce heat to medium-low and simmer for 10 minutes. Add the broccoli, tempeh, and tomato; cook for 5-8 minutes or until broccoli is tender.
Serve over steamed rice.