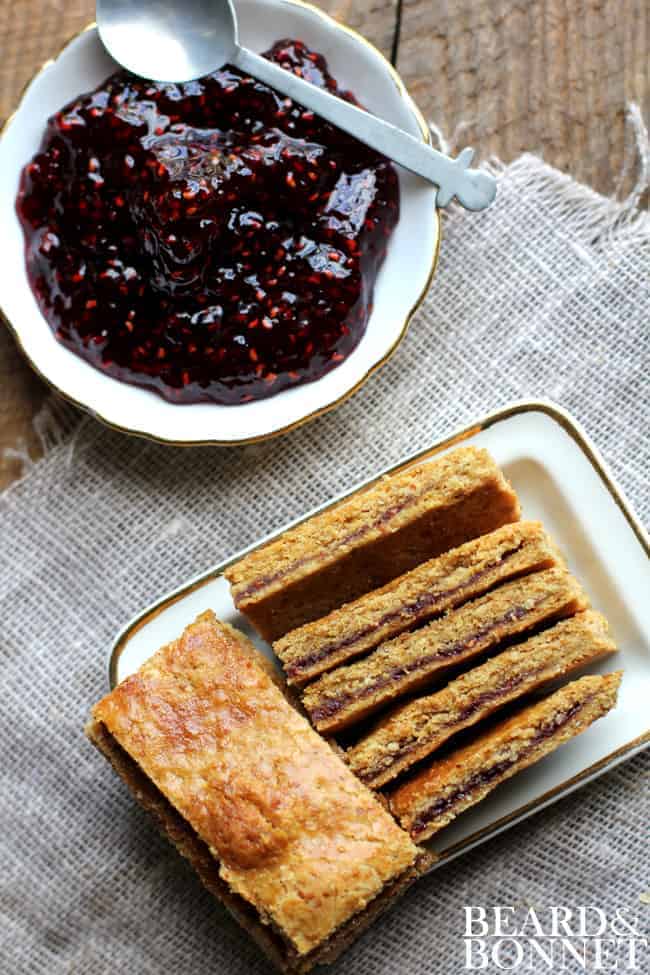 Have I told you yet that we have decided to drive cross country for our move instead of flying? Todd and I thought it would be really fun to check out a few cities that we have always wanted to visit on our journey and make a memorable road trip out of our move back to Long Beach. A week from today we will be on our way to Memphis! We are so excited to take this journey, but a little intimidated too. I picked up a vintage picnic set in anticipation of numerous picnics and am planning to stock our cooler with as many homemade treats and meals as I possibly can. I have no clue how many restaurants with gluten free options we will encounter on our journey and I am pretty sure that our 2 yr. old isn't going to be happy with a side salad at every stop along the way either. So it seems that planned picnics are the most logical route for us to take when it comes to meals.
I have been testing a few new recipes for travel friendly snacks and these Linzer Bars are by far my favorite! I am planning on making a few batches with different flavor fillings and wrapping them up for the journey. Everyone in our house loved these little bars! Have you made a long road trip on a restricted diet? What kind of snacks and meals did you take with you?
Print
Raspberry Linzer Bars (Gluten-Free)
Scale
Ingredients
1 1/4 cups

Better Batter G-Free Flour

1/2 cup

plus 1 Tbsp. coconut sugar

1/4 cup

almond meal/flour

1/2 cup

+

2 Tbsp

. Earth Balance or Butter, chilled, cut into 1/2″ cubes

2

large eggs

1/2 tsp

. g-free vanilla extract

1/4 tsp

. g-free almond extract

1/3 cup

raspberry jam
Coconut sugar or Raw Sugar
Instructions
Whisk the first 3 ingredients in a large bowl, Add butter; rub in with your finger tips until a coarse crumb forms. Beat 1 egg and the extracts together in a small bowl and add to the flour mixture. Divide the dough in half. Working with one half at a time, roll the dough out between two sheets of parchment to a 12×10″ rectangle. Transfer to a baking sheet; chill for 2 hours.
Preheat the oven to 375° F. Remove the top layer of parchment from one dough rectangle. Invert onto a baking sheet; remove remaining paper. Spread the jam over the dough in an even layer/ leaving a 1/2″ border. Whisk the remaining egg in a small bowl to blend; brush lightly over plain borders. Remove paper from second dough sheet and invert, placing on top of the dough covered with jam. Remove paper from the top. Press lightly from center of dough out toward edges to release any air pockets. Press the edges to seal. Brush the top with the remaining beaten egg. Prick dough several times with a fork and sprinkle with raw sugar or coconut sugar.
Bake until the crust is golden brown, about 25 minutes. Let cool completely on a wire rack. Trim edges and cut into bars.
Recipe Card powered by
(Visited 5 times, 5 visits today)