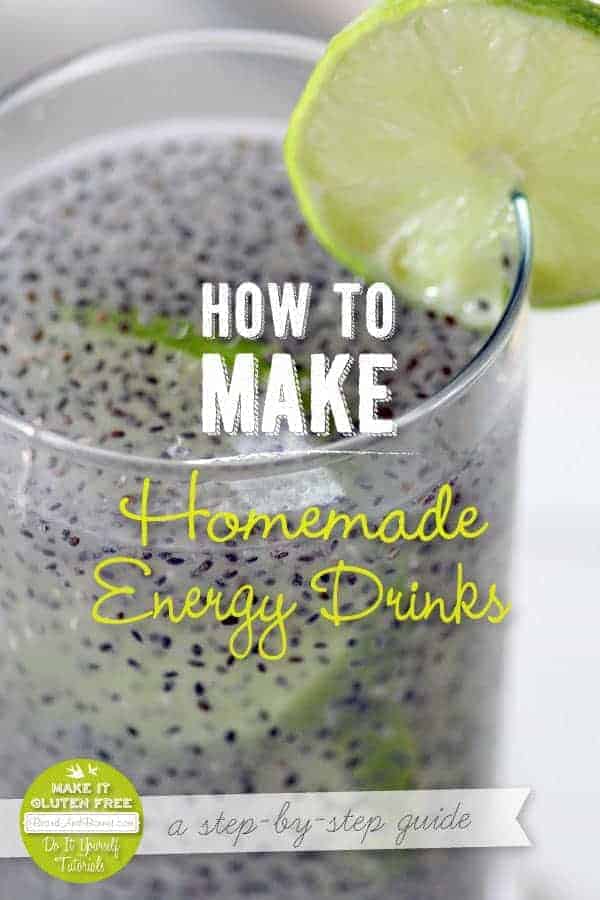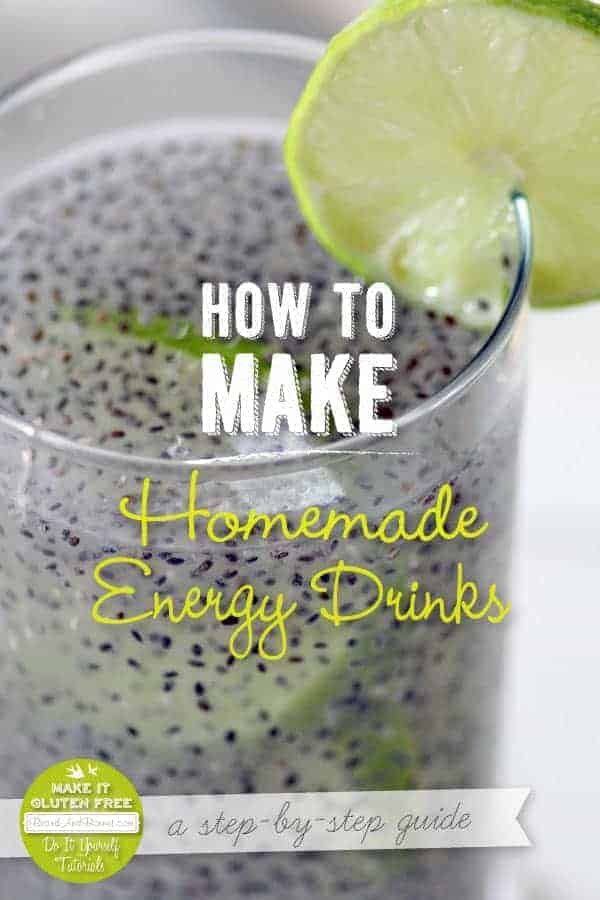 Our week days start around 5:45 a.m. and the entire first half of the day is usually a mad dash to accomplish as much as humanly possible. By the time that lunch rolls around I am starting to wind down and feeling a little sluggish. I find it hard to concentrate and all I can think of is how I can sneak in a 15 minute cat nap before the kids get home and the mad dash to bed time begins. Unfortunately, most days don't allow for me to grab a nap, so I used to be guilty of over-caffeinating to get through the day. I would pour myself another round of coffee or make a latte and power through until bedtime. The problem with that afternoon round of caffeine laced beverages is that it makes me shaky. Although they keep me awake and alert, I generally don't feel that good. I started thinking that a healthier homemade energy drink might be the answer.
I have tried more natural methods to increase my energy levels too like adding bee pollen to my smoothies, upping my intake of flax oil, and taking a tablespoon of chia seeds mixed with a tablespoon of coconut oil in the mornings. I still take flax oil supplements every morning, but the other methods just didn't really work for me or were just plain gross and have been replaced by this homemade energy drink. Now, I feel like I should mention that chia drinks are definitely NOT for everyone, especially those that are squeamish about texture, but if you can get past that they are really good for you and when combined with a few key ingredients provide a big energy boost!
About six months ago I was talking with my long time friend, Heather, about Young Living Essential Oils and how they have helped to heal her family and keep them healthy. I was so intrigued by her family's results using Young Living Essential Oils that I ordered a premium starter kit of my own, and have been using oils in our home every day for all sorts of purposes. I have fallen in love with the oils and couldn't wait to offer 1 lucky B&B reader the opportunity to win one of my 2 favorite "pick me up" Young Living Essential Oils (lemon & Peppermint).  Since I consider Heather the oiling Queen I asked her to join me here today and share little bit about Young Living Essential Oils and their benefits after the tutorial! I know you are going to love it.
Let's get energized!!
If you've tried this Homemade Energy Drink Recipe I would be so grateful if you would rate the recipe and let me know what you think in the comments below. I just love hearing from you and your reviews and comments really help others that visit This Mess is Ours!
Step 1: Combine chia and water in a large glass jar, shake, and let sit for 10 minutes.
Combine 2 cups water (filtered water, coconut water, and aloe water all work great in this drink) and 1 tablespoon chia seeds in a large mason jar or water bottle and place the lid on securely.
Shake your chia drink every couple of minutes during the soaking time to separate any large clumps that form. The chia seeds will naturally want to sink to the bottom and form a big clump.
Step 2: Add 2 drops of lemon or 1 drop of peppermint Young Living essential oil and sweetener of choice then shake.
Once the mixture has sat for 10 minutes and a gelatinous coating has formed around the seed open the jar and add 2 drops of either lemon or peppermint Young Living Essential Oil. (If you don't have oils you can use lemon juice or lime juice)
You can sweeten your chia energy drink now too with agave, maple syrup, or honey. I use anywhere between ½ tablespoon to 1 tablespoon of sweetener  for every 2 glasses of water.
Place the lid back onto your homemade energy drink and shake vigorously to combine.
Step 3: Add garnish and enjoy!
I like to add citrus slices to my homemade energy drink when I use lemon oil and mint leaves when I use peppermint oil. Although they aren't necessary they really are pretty!
Want to be a part of our online community outside of the blog? It's easy!! All you have to do is follow @THISMESSISOURS on FACEBOOK, INSTAGRAM, TWITTER, YOUTUBE, or PINTEREST to see cooking demos and peeks into our day to day life.
As promised, here is some information from my friend Heather all about Young Living Essential Oils!
You probably have heard about essential oils in the recent past. While they've been around for many years, they have just recently been widely embraced as part of a healthy lifestyle. I first started researching essential oils when I was at my absolute limit with my 3 children always being sick and every cold turning into sinus or double ear infections, resulting in antibiotics. I believe modern medicine has its place, but I wanted to limit how many antibiotics my children had to take! Enter Young Living. You guys! I am so happy with the amazing seed to seal process the company implements to provide us with 100% pure essential oils. Not only do they use absolutely zero pesticides on their farms & have a team that handpicks weeds, they use the essential oils that did not meet their rigorous testing standards as natural pest control! Young Living is completely transparent with their planting, growing, harvesting and distillation practices. Anyone can pop in and take a tour of their farms. Oh how I'd love to visit their lavender fields, although I'd have to stop myself from rolling around in them! You can check out the seed to seal process here & view videos exploring their farms throughout the world!
Let's talk Peppermint oil. Peppermint is a lively, invigorating oil that can put a little pep in your step! I've been putting a drop of peppermint in my glass of water or seltzer water for quite some time now, which helps give you an energy burst when you are lagging and can also help with indigestion. I'm looking forward to trying this refreshing oil in Meg's chia energy drink! Because Young Living peppermint oil is guaranteed pure, it makes an excellent addition to your beverages and baked treats (peppermint/chocolate brownies, anyone?) It also can be used topically for allergies, headaches, sinus pressure, tummy troubles, motion sickness, and itchiness, and when diffused it helps increase alertness and mental accuracy!
Want a more mild, citrus flavor for your chia water? Meg's recipe with lemon oil will hit the spot! Lemon oil has amazing properties to help you on your journey to wellness! It helps rid your body of toxins and petro-chemicals. Because of this, only use Lemon oil in a glass of chia water, since it will break down plastic cups! How amazing is it that a tiny drop of oil cold-pressed from the rinds of organic lemons can help detoxify, and alkalize, your body? Lemon oil is also used to fight infection, improve mental clarity and alertness when diffused in to the air, and the scent can help with anxiety.
Meg and I have been using Young Living oils on our families and have fallen in love with the results! If you are interested in a more natural approach to taking care of yourself, both physically and emotionally, you may want to embark on an oiling adventure of your own. Feel free to contact me through info@thismessisours.com or leave a comment here with any questions you may have about Young Living Essential Oils.  --Heather
What are the health benefits of lemon essential oil?
Lemon essential oil is full of antioxidants that fight against disease and the aging process. It supports the immune system and aids in weight loss.
Click here for more information on the health benefits of lemon essential oils.
Frequently Asked Questions