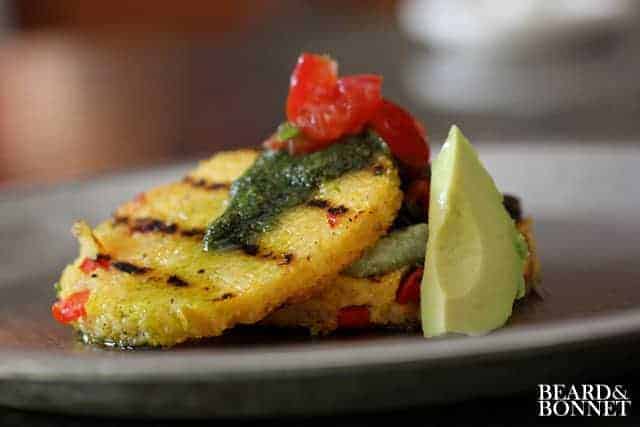 Chances are that if you are on a special diet like we are, the cost of your ingredients has gone up; and no one needs a bigger grocery bill – especially not these days. So it is now more important to me than ever to try to use everything that I bring into my kitchen and let nothing go to waste. This week my pantry was stocked with a variety of ingredients perfect for a little Mexican inspired polenta dish. Polenta is one of my all-time favorite ingredients to cook with. It is super easy, extremely versatile and lucky for us Bob's Red Mill makes certified gluten free Polenta!
Peppered Polenta
Nonstick cooking spray
1.5 cups Polenta
3 cups water
1/2 red bell pepper, seeded and minced
3 Tbs. chopped cilantro
1 Tbs. olive oil
2 tsp. kosher salt
1 tsp. smoked paprika
Fresh cracked pepper, to taste
Olive oil for brushing. (I use lime infused olive oil)
Spray a casserole dish or half sheet pan with nonstick cooking spray and set aside. (I also line my pan with parchment for easy cleanup)
Over high heat, bring water to a boil in a medium sized saucepan. Once the water reaches the boiling point reduce heat to medium and whisk in the polenta. Whisk constantly until mixture begins to thicken about 2-3 minutes. Add your bell pepper, cilantro, kosher salt, olive oil, cracked pepper and whisk until fully cooked through and very thick about 3-5 more minutes.
Pour polenta mixture into the prepared pan and smooth the top with the back of your spoon or spatula so that it is completely even. I like my polenta cakes between 1/2 -3/4 inch so that they will hold up on the grill. Allow the polenta to cool for at least 30 minutes or refrigerate overnight.
Cut polenta into circles using a biscuit cutter, brush both sides with remaining olive oil and lightly sprinkle with paprika.
Preheat a grill pan until it is very hot and add the polenta cooking about 3-4 minutes per side until you can see nice grill marks.
Makes 8 large polenta rounds and will serve 4 people.
From here you can top these little beauties any way you want. Tonight we topped with Roasted Poblano + Cilantro Cashew Cream, Smokey Black Beans and Cilantro + Roasted Sunflower Seed Pesto that was left from our Fiery Pesto Pizza as well as pico de gallo and fresh avocado.
(Visited 1 times, 1 visits today)