I have been experimenting a lot lately with making my own gluten-free baking mixes because I haven't been thrilled with the gluten free all-purpose flours that are available at the store. My favorite so far is a recipe that I found by The Food Philosopher for a Brown Rice Flour Mix. To make the task of gluten free baking easier on myself I have been making a big batch of the baking mix once a week and keeping it on hand for use when I don't have a lot of time. I have used it for muffins and sweet breads so far and have been really happy with the results. My Citrus Bread is packed with the flavor of fresh oranges, lemons and limes and is perfect for celebrating the arrival of summer! I like this loaf the best when it has had a chance too cool completely. We have even been known to eat the left overs for breakfast the next morning. Yum!
Citrus Loaf (gluten + dairy free) :
1 1/2 cupsBrown Rice Flour Mix (see below)
1 1/2 tsp. baking powder
1/2 tsp. xanthan gum
1/4 tsp. salt
Grated rind from1 large orange and 2 small limes
1/2 cup Earth Balance Vegan Buttery Sticks, room temperature (you could use butter if you want too)
1 cup granulated sugar
2 large eggs
1/2 cup fresh squeezed citrus juice (I use a combination of oranges and limes.)
1/4 tsp. lemon extract
1 Tbsp. vanilla sugar or granulated sugar
Preheat oven to 350 degrees and place the rack in the center of your oven. Line a 9 x 5-inch loaf pan with parchment paper (for easy removal from pan) and spray with cooking spray.
Mix the first 5 ingredients in a bowl and set aside.
Beat Earth Balance and sugar in large bowl of an electric mixer until light and fluffy. Beat in eggs one at a time until incorporated. Add dry ingredients, citrus juice, and lemon extract and mix just until blended.
Pour batter into prepared pan and sprinkle the top of your loaf with the vanilla sugar. Place pan on rack and bake for 40-45 minutes or until knife inserted in center comes out clean.
Place bread in pan on a cooling rack at least 10 minutes before trying to remove the Citrus Loaf. Cool completely on rack before serving.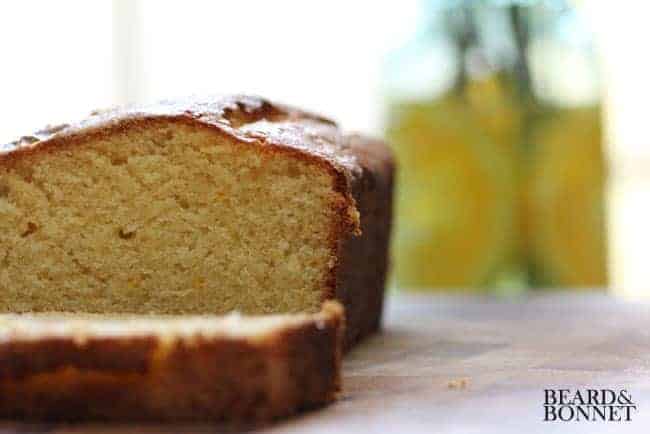 Brown Rice Flour Mix
2 cups brown rice flour, finely ground
2/3 cup Potato starch, not potato flour
1/3 cup tapioca flour
(Visited 2 times, 2 visits today)