Every year growing up we had a huge family reunion that usually involved BBQ. Friends and family would drive for hours and we would all get together for a weekend packed full of fun and festivities. I can remember watching my Grandfather work the BBQ pit and the little cooing noise he would make under his breath when he knew something was going to taste good.
It's been a few years since I have enjoyed a BBQ sandwich, but for some reason the other day I couldn't get it out of my head. So, in between spackling nail holes and packing boxes for our move, I made a BBQ sandwich that reminded me of my Grandpa's, minus the pulled pork of course. We aren't big mushroom or Tofu fans around here so I brainstormed about what vegetable could fit the bill and serve as the star of our sandwich. Todd suggested baking cauliflower like I did last week in my Cauliflower Pizza Crusts but substitute in big BBQ flavors. I am happy to say that his mad genius paid off again, just like in those Hush Puppy Tacos a few weeks ago. Although it's not the prettiest sandwich in the world the flavors are insanely good! I love that the cauliflower is a blank canvas and it absorbs all of that wonderful BBQ flavor from the sauce. Just like my Grandpa's BBQ sandwich always required a fork because it was so big and messy and you are going to need a fork for this one or you will be wearing it too!
Vegan, G-Free BBQ Sauce
Modified from this recipe by Adventures of a Gluten Free Mom.
½ cup ketchup
3 Tbsp. Earth Balance
2 Tbsp. fresh squeezed lemon juice
1 Tbsp. chili powder
1 tsp. salt
1 tsp. dry mustard
1 tsp. paprika
½ tsp. freshly ground black pepper
2 Tbsp. g-free, vegan Worcestershire sauce
4 Tbsp. distilled vinegar
4 Tbsp. water
3 Tbsp. brown sugar
Combine all of the ingredients in a small sauce pan and heat over medium-low heat,stirring occasional, for 20-25 minutes.
Vegan G-Free BBQ
2 cups ground cauliflower florets from 1 small head of cauliflower
¾ cup almond meal/flour
3 Tbsp. golden flax seeds, ground
½ cup plus 1 Tbsp. water
⅓ cup vegan, g-free BBQ sauce from above, or your favorite sauce
pinch of salt
Preheat the oven to 450°F and line a baking sheets with parchment paper. Lightly rub olive oil on the parchment paper to prevent sticking and set aside.
Combine the ground flax seed and water and set aside for 4-5 minutes.
Chop cauliflower into florets and pulse in the food processor until the cauliflower looks like couscous or small grains of rice. Do not over process!
In a large bowl combine all of the ingredients and mix well to combine; the mixture will be wet. Pour the mixture onto the prepared baking sheet and spread it out evenly over the surface. Bake in the oven for 20-25  minutes until cooked through. Then remove from the oven and place on a wire rack to cool.
Once cooled, slice  into strips and use a spatula to carefully lift from the parchment paper. It will be pretty fragile and that's OK. *If it breaks don't worry about it, it is going to be piled high on a bun, covered in onions,and smothered in sauce. No one will care!
*The golden flax and water in this recipe can be substituted for 3 eggs if you are not on a vegan diet.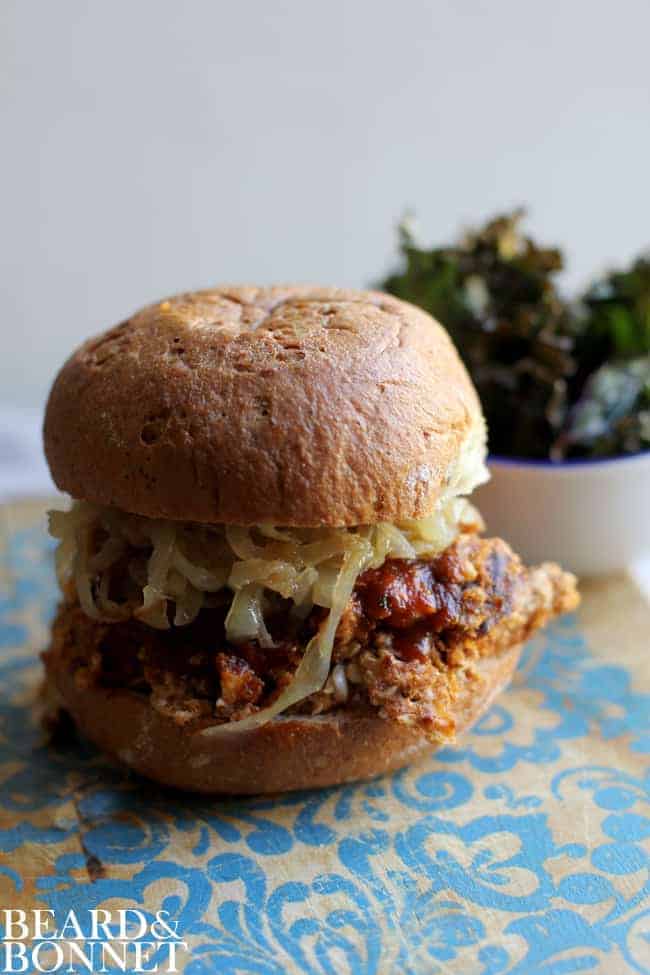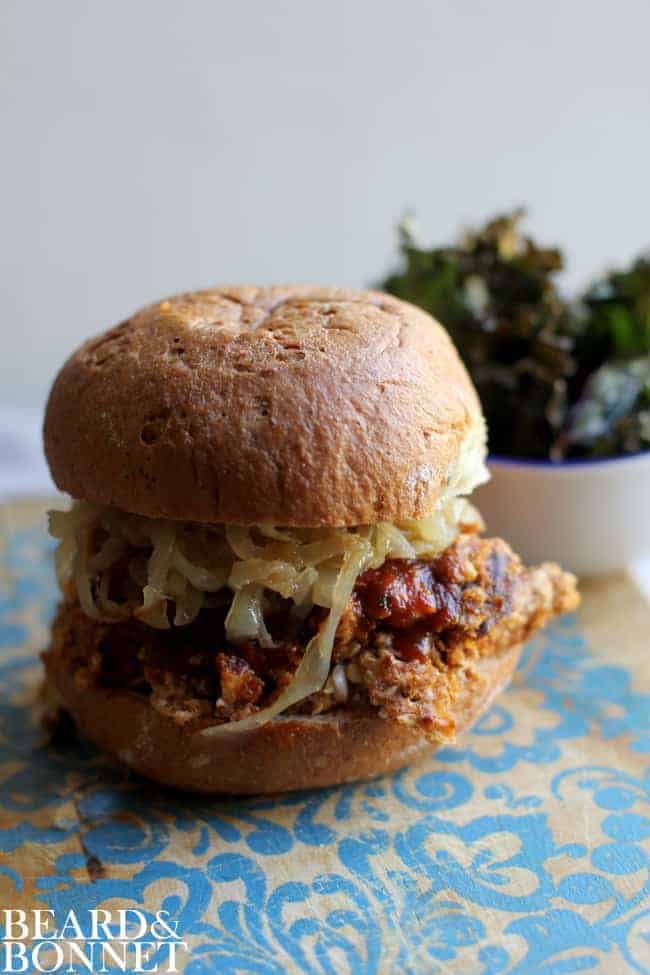 Assemble:
1-2 large white onions, caramelized
4 G-free hamburger buns, toasted
G-free BBQ Sauce
Pile toasted g-free buns high with the cauliflower BBQ strips, ladle piping hot BBQ sauce over the top, and stack caramelized onions on top.  My only other suggestion would be to grab a napkin!