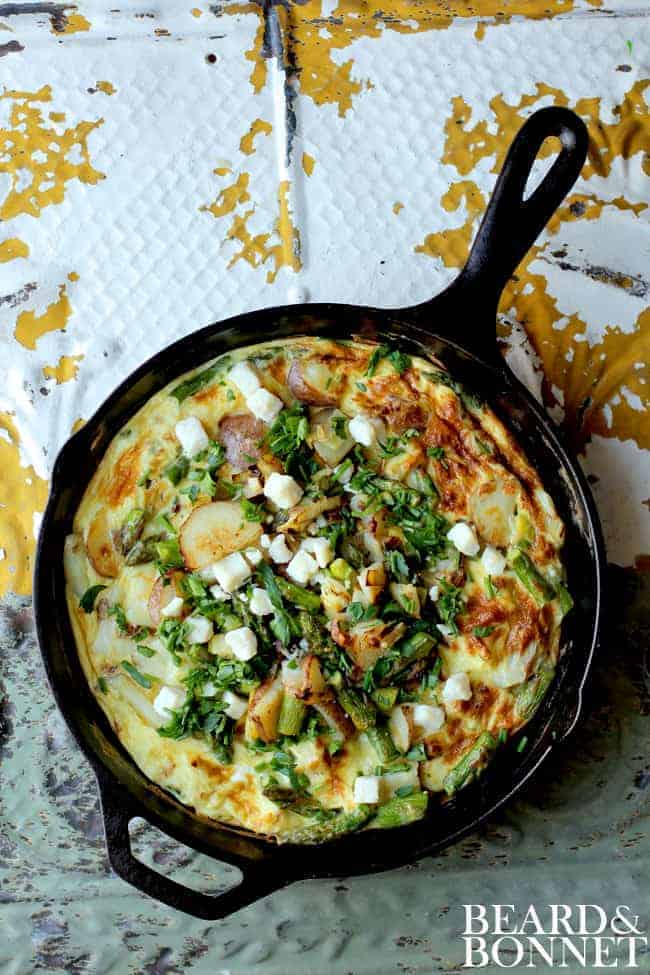 Frittata's are a family favorite around our house!
At least once a week I make a frittata for my family. I love the fact that I can substitute almost any combination of herbs, vegetables, and cheese and it still turns out great. Since asparagus is in season and readily available in my crisper drawer right now I decided that I had to try a variation of my frittata including our favorite springtime veggie.
You may not be new to making frittatas, but here are a few tricks that I have learned along the way that have helped me to master the art of the frittata:
For the fluffiest frittata possible, beat and salt the eggs just before cooking. If you combine the eggs and the salt before you start cooking and allow them to sit the eggs will become watery.


Make sure that the broiler has had time to heat up before placing the pan in the oven. This intense blast of heat will cause the eggs to puff like a soufflé.

Do not stir the eggs in the pan while cooking them on the stove, instead draw a heatproof spatula across the bottom of the pan in deliberate strokes to create large curds. Pushing the cooked eggs toward the center and allowing the runny parts to gather underneath. This will help to prevent scorching on the bottom of your frittata.
There is nothing worse than an undercooked runny frittata…except for maybe an overcooked rubbery one. The top should still be moist and not quite set when it goes under the broiler.
Frittatas are perfect for entertaining because they are just as good warm or at room temperature as they are hot.
For the recipe to this spectacular springtime frittata head on over to The Balanced Platter, and leave a comment letting us know what your favorite frittata flavor combination is!
UPDATE 10/13/16 
Unfortunately, The Balanced Platter website did not notify us before taking their site down and we were unable to retrieve these recipes. We are working to develop new recipes to replace these and will post them asap. Sorry for the inconvenience!
(Visited 28 times, 28 visits today)