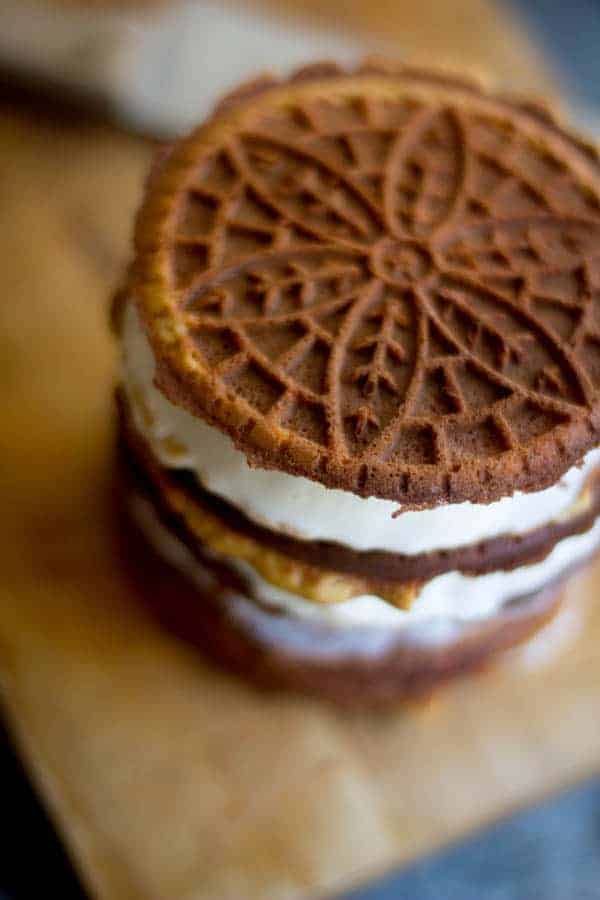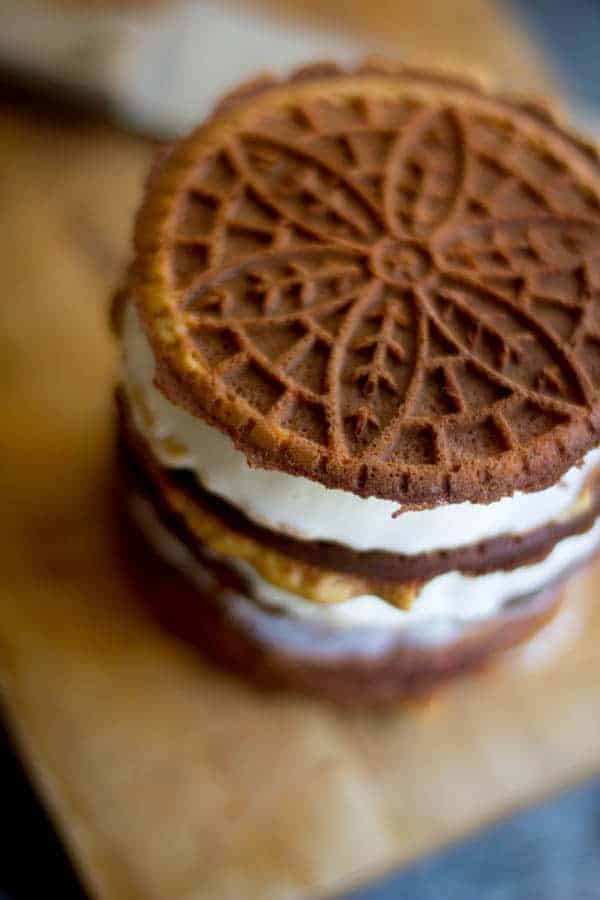 I am SO excited because today the internet is turning into a virtual pumpkin palooza!!! Prepare yourself for a #virtualpumpkinparty with over 70 recipes to feast your eyes upon.
Today I am dishing up my current fall dessert obsession: Pumpkin Spice Pizzelle Ice Cream Sandwiches! Oh yeah, just try to say that without drooling a little bit.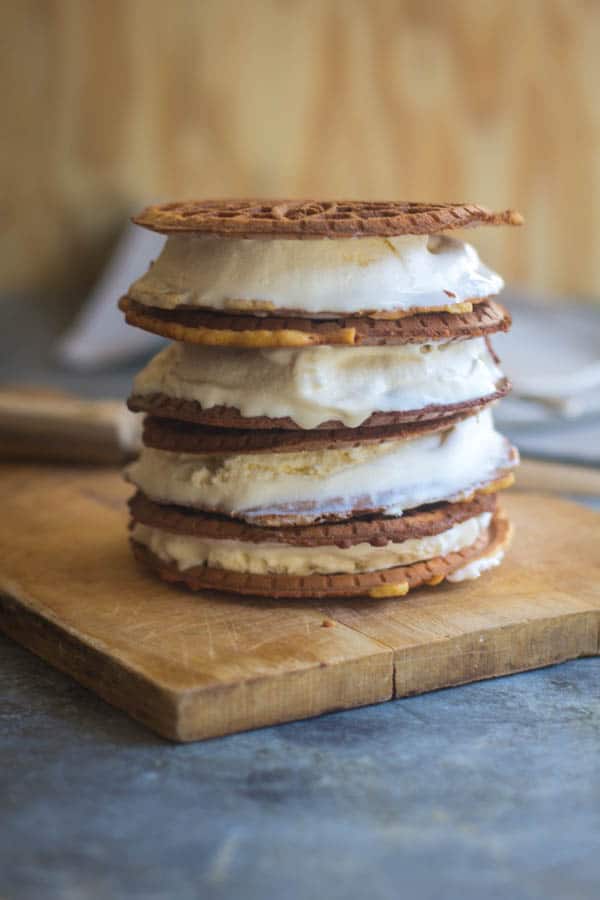 I have been OBSESSED with pizzelles ever since I made the Urban Poser's waffle cones last summer. They are so easy to make (of course you need a pizzelle maker), everyone seems to love them and they make killer ice cream sandwiches!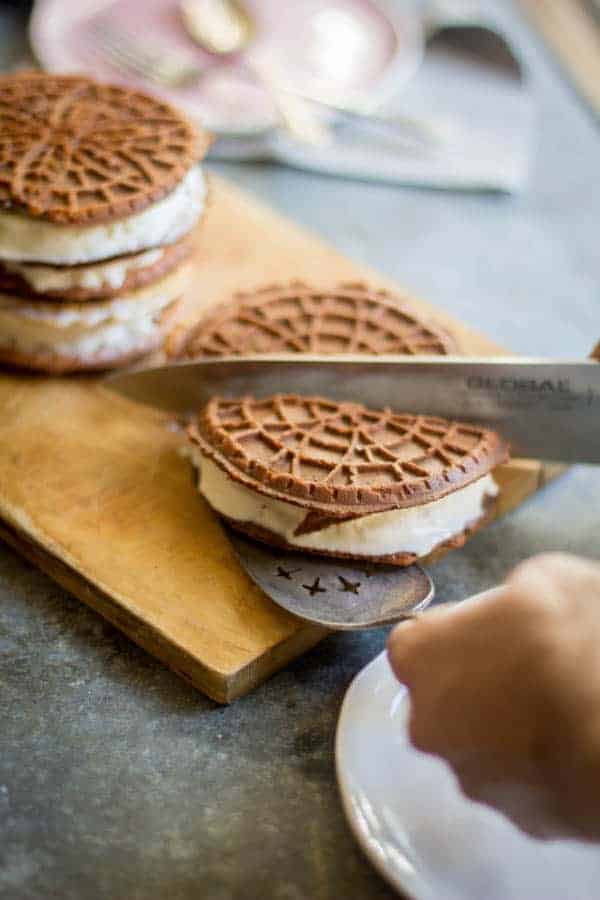 Since Halloween is on a Saturday this year we are planning on having a few of the kid's friends over for a chili dinner and trick or treating in our neighborhood and these Pumpkin Spice Pizzelle Ice Cream Sandwiches are on the dessert menu.
I plan on making the pumpkin spice pizzelles on Thursday afternoon and filling them with ice cream Friday. They will be perfectly happy hanging out in the freezer Saturday until after we trick or treat.
Print
Pumpkin Spice Pizzelle Ice Cream Sandwiches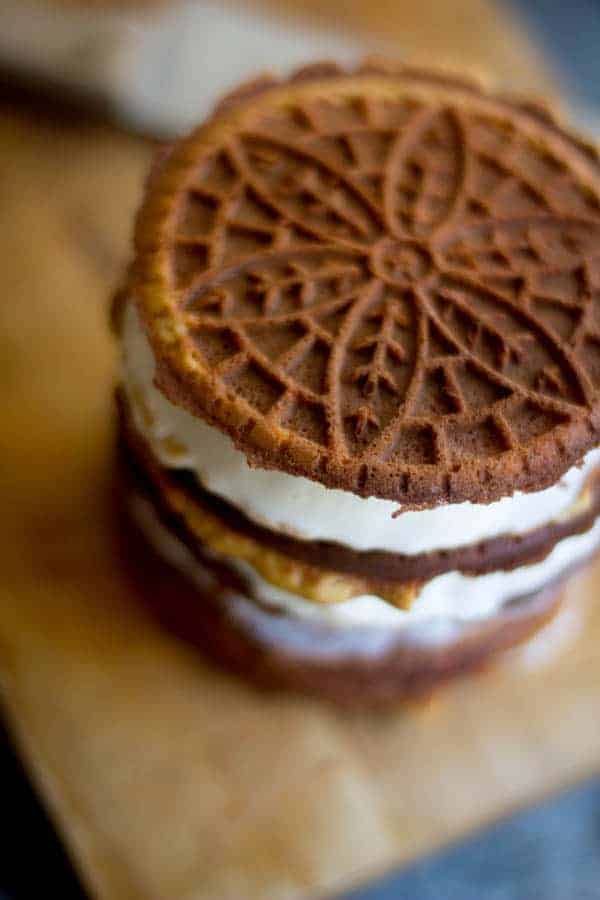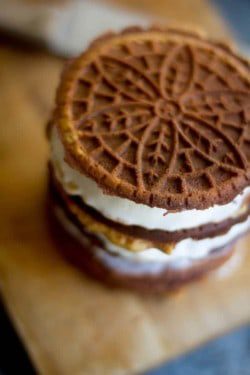 These pizzelle's are great with or without ice cream and if you want to get really fancy you can even roll them into ice cream cones while they are still warm.
Author:
Prep Time:

10 mins

Cook Time:

12 mins

Total Time:

22 mins

Yield:

10

-

12

cookies, 5-6 ice cream sandwiches

1

x
Scale
Ingredients
2 tablespoons

butter, melted and cooled slightly

1

large egg

1

egg white

1/4 cup

dark brown sugar

1 teaspoon

pure vanilla extract

2 tablespoons

pumpkin butter

3/4 cup

almond flour

3 tablespoons

arrowroot flour

1/4 teaspoon

kosher salt
French vanilla ice cream, softened
Instructions
Preheat a pizzelle maker with 4 ½-inch molds or a waffle cone maker.
In a medium-sized bowl, whisk together the whole egg, egg white, sugar,vanilla, melted butter and pumpkin butter until smooth. Add the flours and salt and whisk until smooth again. Let the batter rest for about 5 minutes.
Scoop 1 scant tablespoon of the batter onto the center of the pizzelle/waffle cone maker. Close the lid and cook for 45- 60 seconds or until the cookie is done.
Place the cookie on a parchment lined sheet pan to cool. It will harden as it cools.
Once the pizzelles have cooled completely, place approx, 1/4-1/2 cup softened ice cream on one pizzelle. Gently spread it out to the edges with an offset spatula or the back of a spoon. Top with another pizzelle and place in the freezer for 2-4 hours to set. Repeat with the remaining pizzelles and ice cream
Notes
Don't forget to account for 2-4 hours of freezing time after the ice cream sandwiches have been made.
Recipe Card powered by
Hungry for more pumpkin action? Check out these pumpkin inspired links!
Cake Over Steak • Pumpkin Ginger Cookies with a Vanilla Glaze
B. Britnell • Pumpkin & Goat Cheese Macaroni
A Couple Cooks • Pumpkin Spice Almond Butter
I Am a Food Blog • Roasted Pumpkin and Pork Stuffed Shells
Well and Full • Harissa-Spiced Pumpkin Gnocchi
Loves Food, Loves to Eat • Pumpkin Pork Burrito Bowls
Girl Versus Dough • Pumpkin Challah
Snixy Kitchen • Black Sesame Pumpkin Mochi Cake
Hungry Girl por Vida • Pumpkin Chocolate Crumb Cake
Donuts, Dresses and Dirt • Pumpkin Spice Latte Truffles
Two Red Bowls • Pumpkin & Caramelized Onion Galette
The Frosted Vegan • Dark Chocolate Pumpkin Gingersnaps
Warm Vanilla Sugar • Dulce de Leche Pumpkin Ice Cream + Affogato
An Edible Mosaic • Pumpkin Spice Latte Snack Cake with Brown Butter Buttercream
Kitchen Konfidence • Yeasted Pumpkin Waffles with Candied Ginger
Chocolate + Marrow • Pumpkin Scones with Cinnamon Butter Swirl
The Pig & Quill • Pumpkin Pie Milkshakes with Pumpkin Spice Caramel + Coconut Cream
Salt & Wind • Apple Cinnamon Pumpkin Muffins with Pepita Streusel
With Food + Love • Creamy Pumpkin Polenta with Balsamic Roasted Beets
A Cookie Named Desire • Pumpkin Crepes with Cinnamon Ginger Cheesecake
Nommable • Pumpkin Moon Pies
Feed Me Phoebe • Thai Pumpkin Curry with Shrimp and Bok Choy
The Yellow Table • Coconut-Curry Pumpkin Soup
Ginger & Toasted Sesame • Pumpkin Ricotta Gnudi
The Crepes of Wrath • Pumpkin Pie Cake
The Swirling Spoon • Pumpkin Hand Pies
Erin Made This • Pumpkin Rye Waffles with Coconut Caramel
Beard and Bonnet • Pumpkin Spice Pizzelle Ice Cream Sandwiches
My Name is Yeh • Pumpkin Slice and Bake Cookies
Earthy Feast • Pumpkin-Stuffed Turnip-Ravioli with Pepita Pesto
Broma Bakery • Pumpkin Pie White Chocolate Brownies
Floating Kitchen • Pumpkin Beertail with Tequila and Spiced Rum
The Sugar Hit • Pumpkin Everything Bagels
The Bojon Gourmet • Pumpkin Flatbread with Gruyére and Crispy Sage (gluten-free)
Sprinkled with Jules • Pumpkin Spice French Macarons
Feast + West • Dark Chocolate Pumpkin Seed Toffee Bark
Jojotastic • Pumpkin Cinnamon Rimming Sugar
Fix Feast Flair • Japanese Pumpkin Spice Cheesecake with Quick Caramel
Appeasing a Food Geek • Pumpkin Ale Cake
Tending the Table • Roasted Pumpkin with Tamarind and Coriander Chutney
Long Distance Baking • Pumpkin Pie Ice Cream + Pumpkin Pancakes
My Blue & White Kitchen • Roasted Pumpkin Risotto with Crispy Prosciutto
Fork Vs. Spoon • Pumpkin Buttermilk Pudding
Alyssa & Carla • Pumpkin Tea Bread (in a Coffee Can!)
Twin Stripe • Pumpkin Spice Toffee
Le Jus d'Orange • Lentil-Stuffed Acorn Squash, Crispy King Oyster Bacon + Aged Goat Cheese
The Scratch Artist • Japanese Pumpkin Temaki with Ginger Kale Chips
Brewing Happiness • Caramelized Apple Pumpkin Muffins
Blogging Over Thyme • Homemade Candied Pecan Pumpkin Ice Cream Drumsticks
Heartbeet Kitchen • Pumpkin Swirled Mashed Potatoes
The Speckled Palate • Pumpkin Brown Butter Streusel Muffins with Maple Cream Cheese Glaze
Cookie Dough and Oven Mitt • Pumpkin Gingersnap Pie
Style Sweet CA • Chocolate Stout and Pumpkin Checkerboard Cake
Fork to Belly • Pumpkin Orange Brulee Pie
Tasty Yummies • Grain-Free Pumpkin Spice Pancakes
Påte á Chew • Pumpkin Almond Cake with Almond Butter Frosting
Holly & Flora • Pumpkin Pie Martini with Coconut Cream + Homemade Pumpkin Spice Syrup
Southern Soufflé • Sorghum Pumpkin Soufflés
SugarHero! • Cinnamon Swirl Pumpkin Pound Cake
Okie Dokie Artichokie • Creamy Pumpkin and Chorizo Pasta Bake, Cheese Tortellini, Sage-Mascarpone Sauce, Toasted Hazelnuts
Kale & Caramel • Pumpkin Goat Cheese Polenta with Brown Butter Thyme Mushrooms & Kale
The Little Epicurean • Maple Pumpkin Butter Brioche Toast
Vigor and Sage • Maple Pumpkin Harvest Smoothie
Tried and Tasty • Whole Wheat Pumpkin Sugar Cookies
Sprouted Routes • Creamy Vegan Pumpkin Risotto with Sweet & Spicy Roasted Pepitas (gluten free)
The Fauxmartha • Baked Pumpkin Donuts
So… Let's Hang Out • Grain-Free Apple Crumble Pumpkin Pie
Wit & Vinegar • Pumpkin Flaxseed Dog Treats
Dunk & Crumble • Pumpkin Roundup
Biscuits and Such • Pumpkin Pound Cake
A Little Saffron • Spiced Pepita Brittle
SaveSave
SaveSave
(Visited 347 times, 347 visits today)