After a week of being under the weather my family was in need of a truly decadent treat to celebrate our recovery. I picked up a copy of Better Homes and Gardens Fall Baking magazine to entertain me while I was out of commission. I love the specialty issues they put together each season and always try to grab one. I knew that the magazine would be filled with gluten and dairy filled recipes that we wouldn't be able to enjoy but I also knew that it would be full of inspiration! The first truly decadent looking dessert that caught my attention was the Raspberry Fudge Pudding Cake. I knew that I would have to try and recreate this as a gluten and dairy free dessert as soon as I felt like experimenting again. After days of thinking about how yummy that raspberry pudding cake would be I decided to give it a go, I mean what is the worst that could happen?! The results were nothing short of spectacular if I do say so myself. The exterior baked up like a crispy chocolate shell that cracked open with a gentle nudge of our spoons revealing a gooey raspberry filled center that just screamed "Eat Me!" Paired with a dollop of coconut whipped cream we were all in heaven. I wish I would have had the self-control to take a picture of the cake after we put the coconut whipped cream on top but, I didn't. Trust me when I say that after thinking about them for days, smelling these little beauties bake for 40 minutes and staring at them while they cooled enough to handle I lost all control.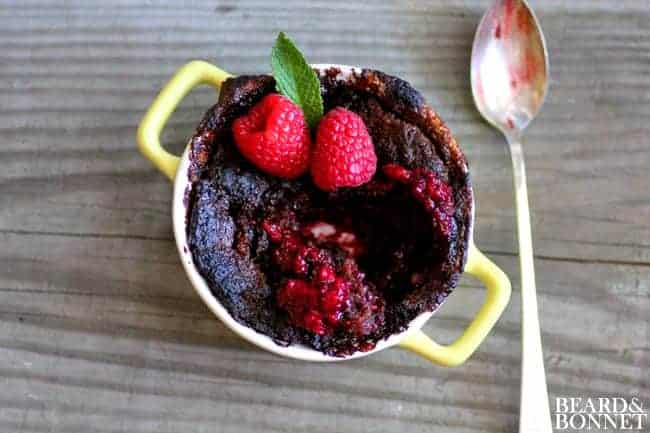 Print
Raspberry Molten Chocolate Cake (Gluten-Free and Vegan)
Author:
Yield:

5

servings

1

x
2

10 oz. bags of thawed raspberries in syrup, thawed

½ cup

GF multi-purpose flour, I use this one.

1 Tbsp

. unsweetened cocoa powder

1 tsp

. baking powder

2 Tbsp

. Smart Balance or other non-dairy butter alternative, softened

½ cup

packed brown sugar

1 tsp

. GF vanilla extract

¼ cup

So Delicious coconut milk

⅓ cup

packed brown sugar

2 Tbsp

. unsweetened cocoa powder
Instructions
Preheat oven to 350°F. Grease 5 individual casserole dishes with Smart Balance, place the greased dishes on a cookie sheet and set aside. Drain the thawed raspberries and reserve the juice. In a small bowl whisk together flour, one tablespoon of cocoa powder and the baking powder, set aside.
In a medium bowl beat the Smart Balance with an electric mixer on medium speed for about 30 seconds. Add ½ cup of packed brown sugar plus the vanilla extract and beat until thoroughly combined, stopping to scrape down the sides of the bowl if necessary. Alternate adding the flour mixture and coconut milk, mixing well after each addition until the batter is smooth.
Scoop 2 tablespoons of batter into each dish. Top the cake batter layer with 2 heaping tablespoons of the drained raspberries, and use the back of the spoon to gently press the raspberries around the dish until the cake batter layer is completely covered. Drizzle 1 tablespoon of the reserved raspberry syrup on top of each dish.
In a small bowl combine the remaining ⅓ cup of brown sugar and 2 tablespoons of cocoa powder. Sprinkle 1 ½ tablespoons of the crumble over each dish creating an even layer of the coarse crumb topping that completely covers the raspberry filling.
Bake in the preheated oven for about 35-40 minutes. Until the crumb topping has formed a crispy shell and the raspberry filling is bubbling through the cracks of the topping like red hot molten lava. Cool on a wire rack for at least 20-30 minutes then top as desired.
Notes
*If you do not have ramekins or would prefer to bake this as one dish use a 2 quart square baking dish instead. You will use all of the batter topped with all of the drained raspberries, then you will drizzle ¾ cup of the raspberry syrup over the cake and top with all of the crumb topping. Bake for 40 minutes or until a toothpick inserted into the cake portion comes out clean.
Adapted from Better Homes and Gardens
Recipe Card powered by