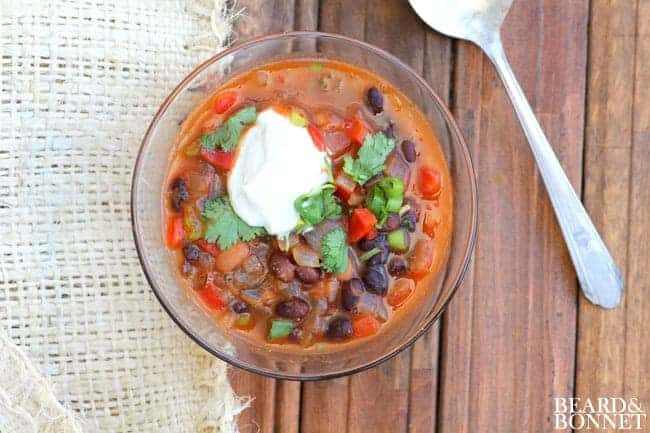 No this soup isn't made with the popular beer combo that creates a Black and Tan, but it is made with loads of black beans and pinto beans which just happen to be black and tan! I love this soup and you can bet that it will be a weekly occurrence in our house during the next few months. Why? Well, any hearty meal that comes together in just over 30 minutes is always good to have in your arsenal. Not to mention that this soup tastes amazing, the tomato based broth has an intense but not overpowering flavor from the addition of cumin, coriander, and paprika. Probably one of my favorite things about this soup though is that the next day, I take any leftovers and add an extra can of drained and rinsed black beans then I heat it all up on the stove and strain off the broth. We are left with a delicious taco filling that we scoop into warm corn tortillas along with saffron rice and tomatillo salsa.
Hearty Black and Tan Bean Soup
6-8 servings
1 Tbsp. Sunflower Oil
1 yellow onion, chopped into small pieces
3 cloves of garlic, minced
1 red bell pepper, chopped into small pieces
1 jalapeno, seeds and ribs removed, minced *If you like it hot, leave them in.
1 bay leaf
1 tsp. coriander
1 ½ tsp. cumin
½ tsp. paprika
½ tsp. coarse salt
2 cups strained or crushed tomatoes
1 quart GF vegetable broth
2 cans black beans, drained and rinsed
1 can pinto beans, drained and rinsed
In a large soup pot heat the oil over medium high heat. When the oil is hot add the onion and cook for 2-3 minutes until it is beginning to soften. Add the garlic, jalapeno, red bell pepper and the bay leaf. Continue to cook stirring frequently for 3-4 more minutes. At this point the onions should be translucent and the veggies tender. Add the coriander, cumin, paprika and salt and stir to coat all of the veggies, cooking for an additional minute. Add the beans, the tomatoes and the broth and bring to a boil. When the soup reaches a rolling boil reduce the heat to low and simmer for 15 minutes. Add additional salt and pepper to taste.
We garnished with gluten-free/vegan sour cream, fresh torn cilantro, green onions, a squeeze of fresh lime juice and crushed corn tortilla chips. In the past we have also topped with fresh avocado,crispy roasted pepitas and Todd almost always adds hot sauce to kick up the heat a bit.
*This soup freezes really well too! During school when we are really busy it is always nice to cook once and eat 3-4 times. Make a double or triple batch and allow the soup that you are going to store to cool completely. Then ladle it into freezer bags and lay flat on a sheet pan so that after the bag freezes it doesn't take up a lot of room in the freezer. Then when you want to make the soup either set it in the fridge to thaw the night before and reheat or leave it out on the kitchen counter for a few hours. Perfect for nights when there is no time to cook but, you still don't want to have to settle for fast food.