I love quiche! It is one of the few dishes that I could have for breakfast, lunch or dinner and never get tired of. This quiche is packed full of veggies and has a crispy hash brown crust that I absolutely adore.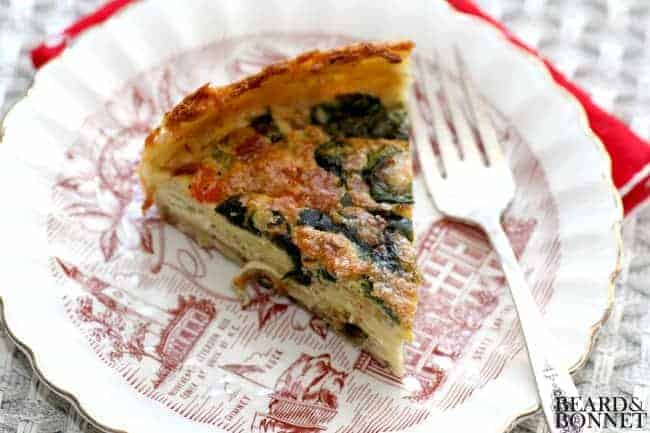 Spinach and Pepper Quiche with Hash Brown Crust
2 Tbsp. Earth Balance, softened, plus more for greasing pan
1 one pound package of frozen hash browns, thawed, I use Trader Joe's shredded hash browns
12 large eggs
Coarse salt and ground pepper
1/2 tsp. red pepper flakes
2 Tbsp. GF/DF Sour Cream
2 Tbsp. GF Nutritional Yeast
1 small yellow onion, diced
1/2 red bell pepper, diced
1 bag of baby spinach
1/8 cup sun-dried tomato oil, from a jar of sun-dried tomatoes packed in oil or regular olive oil
Put the sun-dried tomato oil in a skillet and warm over medium high heat. When ready add the onion and bell pepper and cook for a couple of minutes until the veggies soften and the onions are becoming translucent. Add the baby spinach a handful at a time turning with tongs to wilt the leaves. When all of the spinach has been added and the leaves are wilted down turn off the heat and set the mixture aside to cool.
Preheat the oven to 375°F. Brush a 9 x 2 1/2 inch spring form pan with Earth Balance. Line the sides of the pan with strips of waxed paper and brush the paper with more Earth Balance.
Place the thawed hash browns into a kitchen towel and squeeze tightly to remove any excess water that is still in the potatoes. Mix the hash browns in a medium sized mixing bowl with the 2 Tbsp. Earth Balance, 1 egg, red pepper flakes, 1 tsp. coarse salt, and 1/4 tsp. ground pepper. *I use my hands for this part to make sure that the butter and egg are mixed into the hash browns really well. When thoroughly mixed place the potatoes into the spring form pan and pat gently into the bottom of the pan and up the sides. *A measuring cup, slightly dampened, really aids in this process. When the hash browns start to stick to the measuring cup dampen it again. Place the pan on a rimmed baking sheet and bake until the crust has set. Anywhere from 15-20 minutes.
In a large bowl, whisk the gf/df sour cream, 1 1/2 tsp. coarse salt, 1/4 tsp. pepper, and nutritional yeast until combined. When fully incorporated whisk in the remaining 11 eggs and beat the mixture until smooth. *I use an immersion blender for the last part; it just makes my life easier! Stir in the spinach and onion mixture and pour the bowl into the crust. Bake until set, 40-50 minutes. Remove quiche from pan and peel away waxed paper before serving.
*If you are not on a dairy free diet feel free to substitute in real butter and sour cream. Also sub in your favorite cheese for the nutritional yeast.
We are happy to have shared this post at the Gluten-Free Friday's link up party hosted by Vegetarian Mama, Eat.Live.Make, and Gluten Freed R.D.! Hop on over to find more great gf recipes.
(Visited 1 times, 1 visits today)