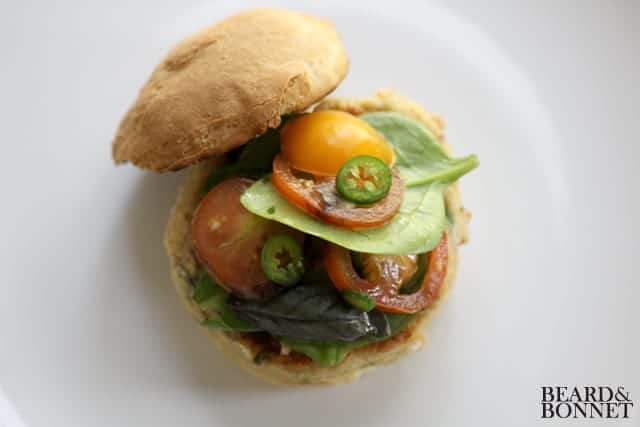 Savory White Bean Burger: serves 4
1/2 cup gluten-free rolled oats
1 15 oz can of Cannellini Beans, rinsed and drained
1 large egg
1 tsp. Italian Seasoning
kosher salt
1/2 cup finely grated pepper jack cheese or soy cheese
1 large scallion, minced
2 Tbsp. chopped fresh basil
1 Tbsp.olive oil, plus more for the plate
4 gluten-free hamburger buns, Udi's are really good!
Smart Balance
Put the oats in a food processor and pulse three to four times to roughly chop. Add half of the beans and pulse 6-8 times until a coarse paste forms. Scrape sides and bottom of bowl then add the egg, Italian seasoning, and 1/2 tsp. salt. Process about 1 minute, mixture will be thick like paste. Transfer the puree into a bowl and fold in the remaining beans, cheese, scallion and basil.
Lightly oil a plate and with wet hands, form the mixture into 4, 1/4 inch-thick patties. Place the patties on the oiled plate and refrigerate for 10-15 minutes until the burgers set.
Heat a large cast iron skillet over high heat until very hot. Spread a little Smart Balance on the gluten-free buns and toast them in your skillet while it is coming up to temp for the patties. When toasted remove the buns and add the oil swirling to coat the entire bottom of the pan. Remove patties from refrigerator, reshape if necessary and transfer to the hot skillet, you want to hear a loud sizzle when the burger hits the oil. Cook the burgers until they are browned and have formed a nice crust about 2-3 minutes. Carefully flip the burgers and continue cooking for another 3-5 minutes until the burgers feel firm to the touch.
Cumin Cashew Cream
1/2 cup raw unsalted cashews soaked for at least 30 min-1 hour preferably overnight
1/8-1/4 cup filtered water, depending on desired thickness
1 Tbsp. fresh lemon juice
1 tsp.cumin
salt to taste
Combine all ingredients in a blender and process until smooth. I always start out using less water and then gradually add more to reach my desired consistency. Here I wanted my cashew cream to be as creamy and smooth as mayonnaise would be.
BYOB: Build your own burger!!
There is no right or wrong way to top these burgers but, here is how I top mine…
I slice tomatoes and Serrano peppers and place in a bowl with a little salt. I let this sit while I am making the patties so that the juices from the tomatoes and peppers can mix and get really happy. When I am almost ready to build the burgers I add baby spinach and fresh basil leaves to the bowl and toss them with the tomatoes and peppers. The juice from the veggies makes a yummy dressing for the greens. Then I stack…bun, burger, greens & veggies, a slice of creamy avocado a slathering of cumin cashew cream and I top it all off with the yummy toasted bun.
If you are like me and have to pack a lunch for everyone because of food restrictions make a double or triple batch of these patties and cook them all. That way all you have to do for lunches is build and wrap. My family loves finding these hearty burgers in their lunch boxes!
On this particular evening I had a bunch of heirloom carrots on hand so we roasted them in the oven with olive oil and salt and pepper. We used the leftover cumin cashew cream from the burgers as a dipping sauce for the carrots. They were really spectacular.We picked up the idea from one of our favorite blogs Love and Lemons. You can find the recipe for these spectacular little beauties here.
(Visited 20 times, 20 visits today)