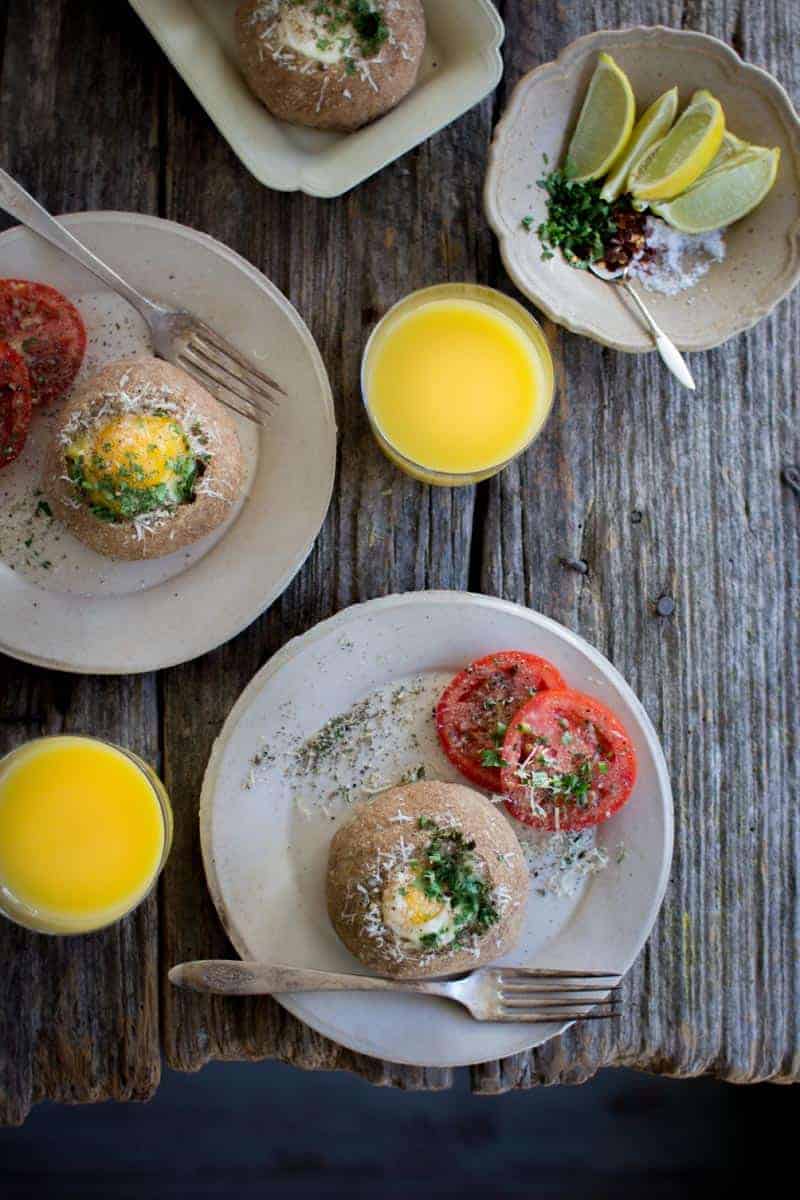 True confession: I didn't know what an egg in a hole (or toad in a hole depending on where you grew up ) was until my mid-twenties! Ok, so it isn't the juiciest of confessions, but still it is one that begs the question, why the heck not?! I feel like I really missed out and was possibly even deprived as a child from the deliciousness that is a perfectly cooked egg nestled in a crispy, buttered hunk of bread. You guys, I think I might have to take this one up with my parents, but until then let's talk about the new spin that I am putting on this delicious breakfast classic.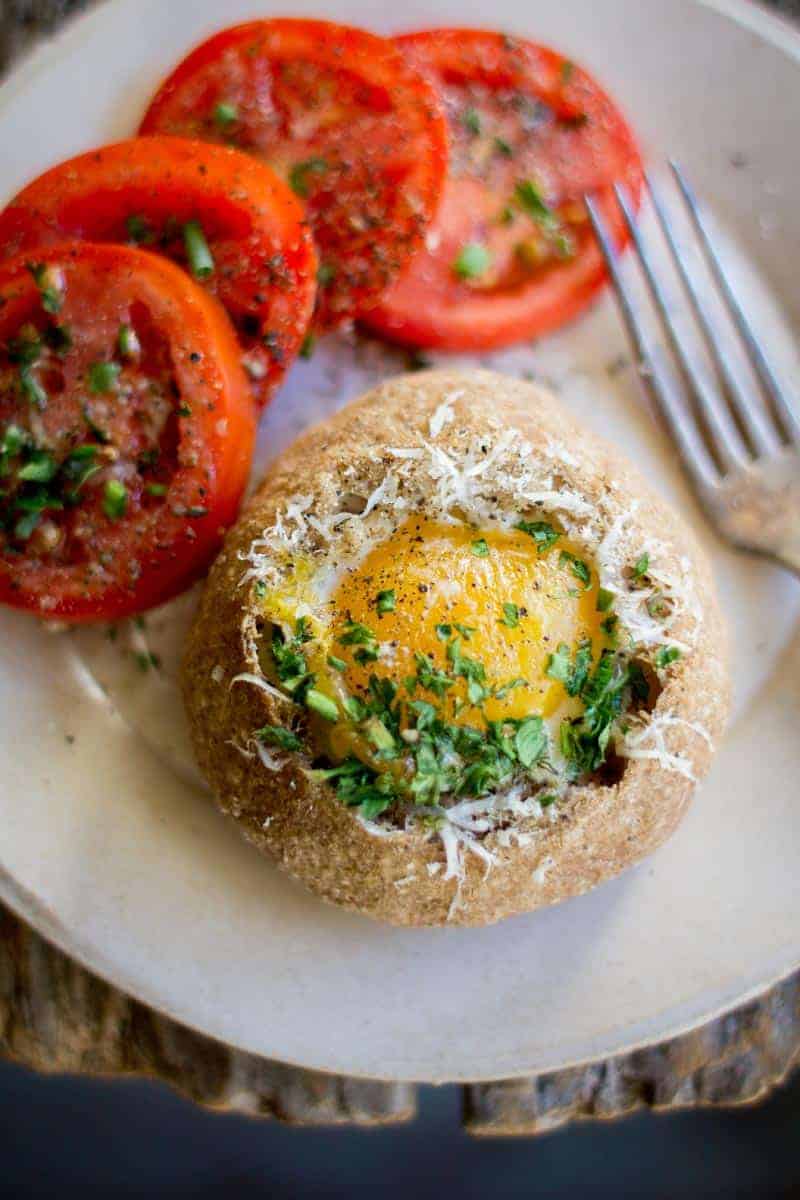 I don't know about you, but when I eat an egg in a hole I want it to be surrounded by a perfectly proportionate slice of bread. Let's face it, regular gluten free bread slices are just too small to fit the bill. The ratio is ALL wrong people! So, last weekend when I was seriously craving my favorite eggy dish I decided to hollow out a few Bread Srsly gluten free sourdough rolls and see if I could come up with a gluten free version that really hit the spot.
These gorgeous bread bowls only took about 3 or 4 minutes to prep and baked up in less than 30 minutes which meant I was in and out of the kitchen in a flash so I could get down to the business of enjoying our weekend. When they hit the breakfast table they were immediately met with ooh's and aaah's, splashes of hot sauce and chunks of avocado.
For the first few minutes all you could hear was silverware clanking , knives breaking through the sourdough roll's crispy exterior and the occasional "mmmmm…" It was kind of magical and exactly what you will find us doing again this weekend, and the next, and the next….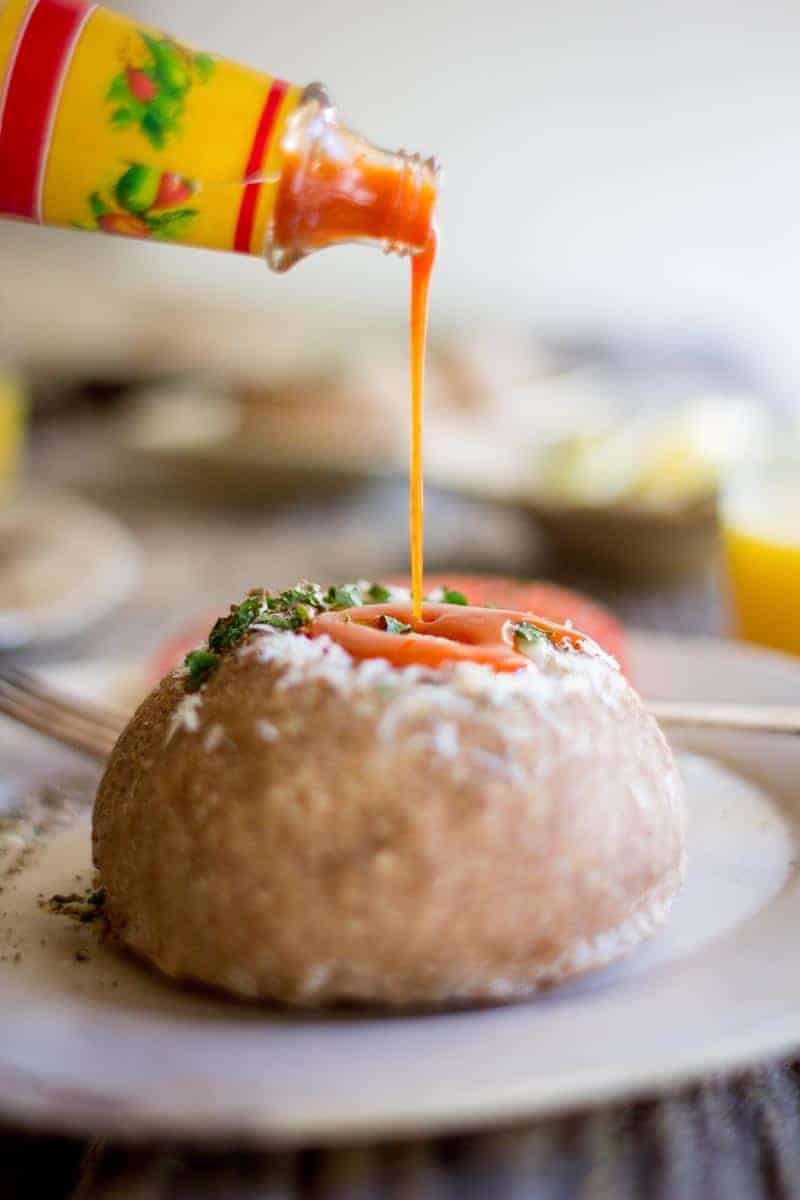 Print
Sourdough Bread Bowl Egg in a Hole
The tomato side dish pictured with these egg in a hole's is pretty simple, but insanely delicious. Just drizzle fresh sliced tomatoes with olive oil, salt, pepper and the crisped herbs and cheese leftover on the baking pan after you have cooked the egg in a hole's.
Ingredients
4

gluten free sourdough rolls, I use Bread Srsly ( you could also use glu

ten

free buns)

4

large eggs

1/4 cup

mixed fresh chopped herbs: parsley, chives, thyme

4 teaspoons

half and half
kosher salt and freshly ground black pepper to taste

4 tablespoons

grated Parmesan
serve with hot sauce and avocado if desired
Instructions
Preheat the oven to 350°F. Slice off the top of each roll and gently hollow out the bread until there is enough room to accommodate an egg. Save the extra bread for croutons or breadcrumbs. Arrange the hollowed out tools on a baking sheet lined with parchment paper.
Sprinkle the inside of each bread bowl with 1/2 teaspoon of the fresh herbs, salt, pepper and 1/2 tablespoon of Parmesan. Crack an egg into each roll, then top the rolls with a teaspoon of half and half in each. Then divide the remaining herbs and Parmesan among the bread bowls. Season again with salt and pepper.
Bake until eggs are set and the bread is toasted, about 20 – 25 minutes. Serve warm with hot sauce and avocado on the side if desired.
Recipe Card powered by
(Visited 2 times, 2 visits today)