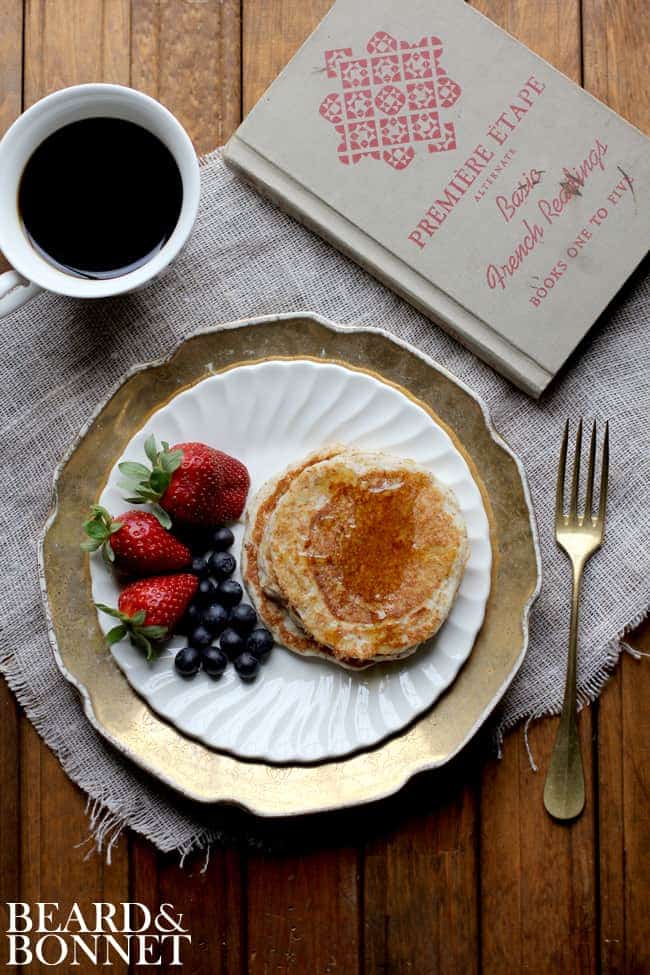 I love making pancakes for my kids on the weekends. I have been known to pack bananas and walnuts, blueberries and orange zest, and even eggnog into batches of pancakes and both of our kids go wild over them! The only downfall to whipping up a batch for breakfast on the weekend is that Todd isn't really a fan of sweet meals to start the day. So as we scarf down our triple high stacked pile of pancakes and fruit he sits there with a cup of coffee and a gluten-free bagel. He doesn't seem to mind at all that we are eating a special meal and he is left eating the same breakfast that he has most days of the week, but it really bothers me. I can't seem to fully enjoy my meal if he isn't enjoying it with me.
I have been on a mission for some time now to find a "grown-up" pancake that would please everyone at the breakfast table. Recently I stumbled upon an old recipe for Sourdough Pancakes and even though I wasn't sure how it would turn out with gluten-free flours I knew that I had to give it a try. Turns out the gluten-free flour and almond meal that I substituted into the recipe worked great and baked up a light and fluffy batch of pancakes with that tart flavor of sourdough bread that Todd and I used to love before we went gluten-free. So last Saturday morning I am happy to say that all four of us sat down and enjoyed a triple stack together and not a single pancake was left when we were done!
Sourdough Pancakes
Inspired by Main-Course Vegetarian Pleasures by Jeanne Lemlin
Serves 4
1 Tbsp. active dry yeast
1 ½ cups warm water
2 teaspoons sugar
1 cup Better Batter G-Free Flour
½ cup almond meal/flour
¾ tsp. baking powder
¾ tsp. salt
4 teaspoons sugar
2 eggs, lightly beaten
¾ cup plus 2 Tbsp. milk or non-dairy milk
3 Tbsp. butter, ghee, or earth balance, melted
Make the starter:
Combine the yeast, warm water, and sugar in a large bowl and stir to blend. Let the mixture sit fir 5 minutes. Stir in the two flours and mix until smooth. Let sit, uncovered, at room temperature for 2 hours. Cover the bowl with plastic wrap and refrigerate for 24 hours.
Day 2:
Whisk in the baking powder, salt, and sugar, then whisk in the eggs, milk/on-dairy milk, and butter/earth balance; beat until smooth. *The mixture will be very thick and elastic when you take it out of the fridge. If it is still too elastic to ladle easily onto the griddle at this point add more milk/non-dairy milk a tablespoon at a time until the desired consistency.
Heat a lightly greased skillet or griddle over medium heat. Add batter by the ¼-1/3 cup fulls at a time using the back of a ladle or spoon to spread the pancake out into a circle. When bubbles have formed and burst on the top of each pancake flip and cook the other side. They should be golden brown on each side when done. Serve with warm maple syrup and fruit topping of your choice.
We are happy to have shared this recipe at the Gluten-Free Friday's link up party hosted by Vegetarian Mamma! Hop on over to find more great gf recipes.