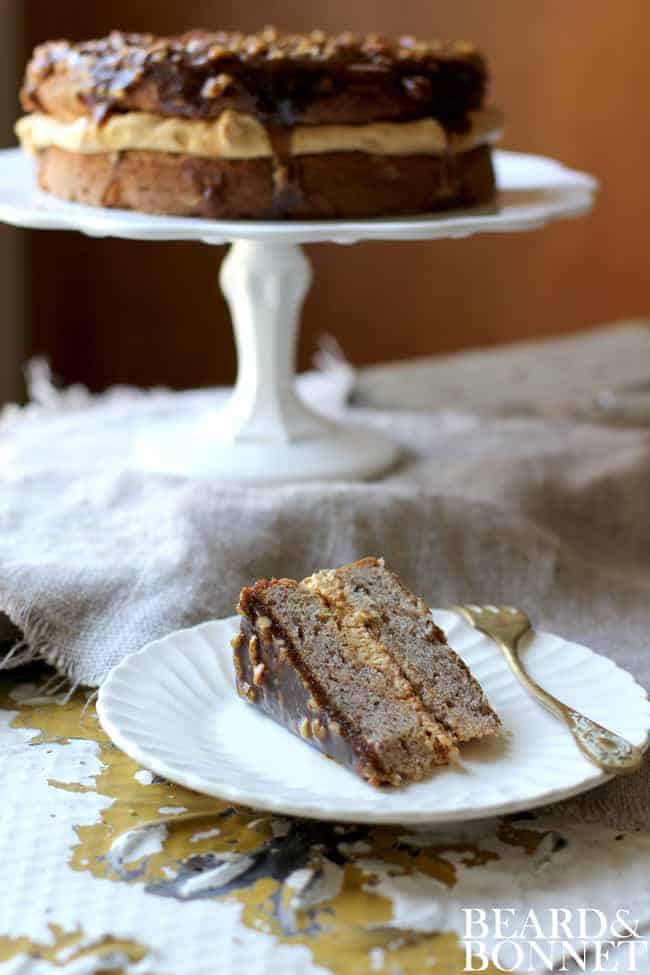 Last fall I was completely mesmerized by an article in Cooking Light called Dessert Goddess Recipes. The cakes and treats shared in those pages were literally drool worthy! At that point I really hadn't explored gluten free baking at all and I was admittedly nervous and intimidated by the thought of reworking a recipe like this one. There were so many steps and ingredients, I didn't even know where to start so I pulled out the pages and set the article aside in my "I'm going to make this one day" pile of recipes.
Honestly, I had forgotten all about that article until last week, when we heard from the realtor in Long Beach that we had been approved for the house we had fallen in love with and could pick up the keys April 1st. I decided that it was time to celebrate and make something new and spectacular for dinner. I pulled out my pile of "I'm going to make this one day" recipes and started sifting through them looking for the perfect celebratory recipe. It only took a few minutes to find the Cooking Light article and instantly this cake stood out to me. I have been experimenting a lot with g-free baking since last Fall and my confidence has grown in my g-free baking abilities so much that I thought it was the perfect time for me to attempt a challenging recipe like this one. It was definitely an investment in time for me to make this cake, but it was SO worth it! Todd could barely contain his excitement when he saw the completed cake and after dinner we all immediately dove into a big slice. The toasty golden layers of cake flecked with toasted pecans paired with the light and fluffy caramel bourbon mousse was spectacular. Our favorite part though was the brown sugar topping, I don't even have words to describe how insanely delicious it was and how it pairs perfectly with the rest of the cake. It turned out to be the perfect celebratory dessert, and although I won't be making desserts like this every day it will be perfect to have in my arsenal of desserts for special occasion's.
Print
Pecan Cake with Caramel Mousse and Brown Sugar Topping (Gluten-Free)
Scale
Ingredients
For the cake
3/4 cup

granulated sugar

6 Tbsp

. butter, softened (I used salted butter)

2 Tbsp

. canola oil

3

large eggs

1 tsp

. g-free vanilla extract

7.5 ounces

Better Batter G-Free flour (about

1 2/3 cups

)

1/2 cup

toasted pecans, ground

1 tsp

. baking powder

1/2 tsp

. baking soda

1/4 tsp

.salt

3/4 cup

low-fat buttermilk
Baking spray and more Better Batter for dusting pan
For the Caramel Bourbon Mousse
1/4 cup

granulated sugar

1/2 cup

2% reduced-fat milk, warmed

1 tsp

. butter, melted (I used salted butter)
For the Brown Sugar Topping
1/2 cup

packed brown sugar

3 Tbsp

. butter (I used salted butter)

1 Tbsp

. canola oil

1 Tbsp

. light corn syrup

1/2 tsp

. orange juice, fresh squeezed is best
pinch of salt

1/4 cup

toasted pecans, chopped

1/4 tsp

. g-free vanilla extract

1 Tbsp

. cornstarch

1 teaspoon

bourbon, (I used Maker's Mark, but you can omit the bourbon if you don't want to use it)

1/4 tsp

. vanilla extract
Pinch of salt

3/4 cup

whipped cream, preferably homemade without any sweeteners added.
Instructions
For the cake
Preheat the oven to 350° F and grease 2 8-inch metal cake pans with butter then use a small amount of Better Batter to dust the inside of the baking pans.
Place the first 3 ingredients into the bowl of a stand mixer and beat at medium speed until light and fluffy, this will take 3-4 minutes. Then add the eggs, one at a time, beating well after each addition. Beat in one teaspoon of vanilla extract. Weigh or lightly spoon the flour into dry measuring cups, and level with a knife. In a separate bowl combine the Better Batter and the next 4 ingredients(through the 1/4 tsp. salt), stir well with a whisk to mix. Add the flour mixture and the buttermilk alternately to the sugar mixture, beginning and ending with the flour mixture, and beat just until incorporated.
Divide the batter evenly between the two prepared baking pans. Bake at 350°F for 20 minutes or until a toothpick inserted in the center of the cake comes out with moist crumbs clinging to it. Cool in the pans for about 10 minutes on a wire rack., Remove from pans, and cool completely on wire rack.
For the Caramel Bourbon Mousse
Place the granulated sugar into a medium, heavy saucepan over medium-high heat, and cook until sugar dissolves, stirring gently when needed to ensure that the sugar dissolves evenly. Carefully stir in the milk and melted butter; the mixture will begin to bubble and the caramelized sugar will harden and start to stick to the spoon. Cook for 1 minute or until the sugar melts . In a small bowl combine the cornstarch and 1 tablespoon of water. Add the cornstarch mixture to the pan; bring to a boil. Cook for approximately 1 minute until thick and bubbly, stirring constantly. Remove from the heat; stir in the bourbon, vanilla, and a pinch of salt. Pour into a bowl; cover and chill for 20 minutes. Uncover and fold in one-third of the whipped cream. When completely incorporated gently fold in the remaining whipped cream.
Place one cake layer on a plate and spread the mousse over the cake, leaving a 1-inch border around the outside edge. Top with the remaining cake layer.
For the Brown Sugar Topping
Place the brown sugar and the next 5 ingredients(through pinch of salt) in a small, heavy saucepan over medium heat. Bring the mixture to a boil stirring frequently; then cook until a candy thermometer registers 234°F still continuing to stir frequently. Remove from the heat; stir in the chopped pecans and vanilla. Drizzle over the top of the cake, spreading it out over the edges and allowing some of the topping to pour over the edge. Let the cake stand at room temperature until the topping is set then serve.
*Any leftovers can be wrapped in plastic wrap and stored in the refrigerator for a few days. Although, I advise eating this cake sooner rather than later.
Notes
Adapted from Cooking Light Magazine
Recipe Card powered by
(Visited 2 times, 2 visits today)