You all know by now that I am cookbook obsessed. Normally I share my rants about new cookbooks on Instagram, but sometimes there are books that I feel really deserve to be shared right here on B&B. Today I am happy to share Tess Master's new cookbook, The Blender Girl: Super-Easy, Super-Healthy Meals, Snacks, Desserts, and Drinks--100 Gluten-Free, Vegan Recipes! (Insert girly squeal and silly dancing here!) OK, so officially you have to wait until Tuesday, April 8th to run out and buy it, but today I am giving you the chance to win a copy here on B&B. I have had the pleasure of knowing Tess online for quite some time now, but it wasn't until recently that we actually had the opportunity to meet face to face at Expo West and get to know each other a bit. What took me so long to get together with this fellow LA based foodie?
If you don't already know Tess than I should properly introduce you! She is the powerhouse blogger behind theblendergirl.com and this beautiful book is her much anticipated debut cookbook. Let me start by telling you she has the most amazing energy of anyone that I have ever met, Tess can light up a room without even trying and man that girl can cook!
This book features 100 gluten-free & vegan recipes for everything from smoothies and main dish meals to decadent desserts. Did I mention her Creamy Cauliflower Soup that I tasted at Expo West? It's in this book too (pg.104) and I promise this soup is so rich and creamy you will be swearing that it has dairy in it! Besides beautiful imagery and tasty recipes this book offers details on the benefits of soaking, sprouting, and dehydrating with handy charts to help guide your way; nut-milk cheat sheets; detailed information on proper food combining; and eating raw, probiotic-rich, and alkaline ingredients round out this nutrient-dense guide.
This cookbook is full of recipes that my entire family is excited about! I have added a recipe or two a week from The Blender Girl cookbook to our meal plan for the next month. (Yes, I have a monthly meal plan.) Just a few of the recipes that I cannot wait to make are:
Watermelon Gazapacho Is The Bomb!
Awesome Almond Crackers & Incredibly Edible Edamame Dip
Cheerful Chimichurri Bowl
Alkaline Tacos
But for now I think we should talk about this...
The recipe that really captured my attention first was the Raw Chocolate-Orange Torte! You all know that I am a HUGE fan of desserts that don't require an oven, so this one was right up my alley. Did I mention that it also combines my love of chocolate and orange together? Shear brilliance on Tess's part.
I pulled this gorgeous dessert together with ingredients I already had on hand in about 12 minutes (active time) and I can honestly say that the hardest part of making this recipe was waiting on it to freeze. Hello patience, where did you go?!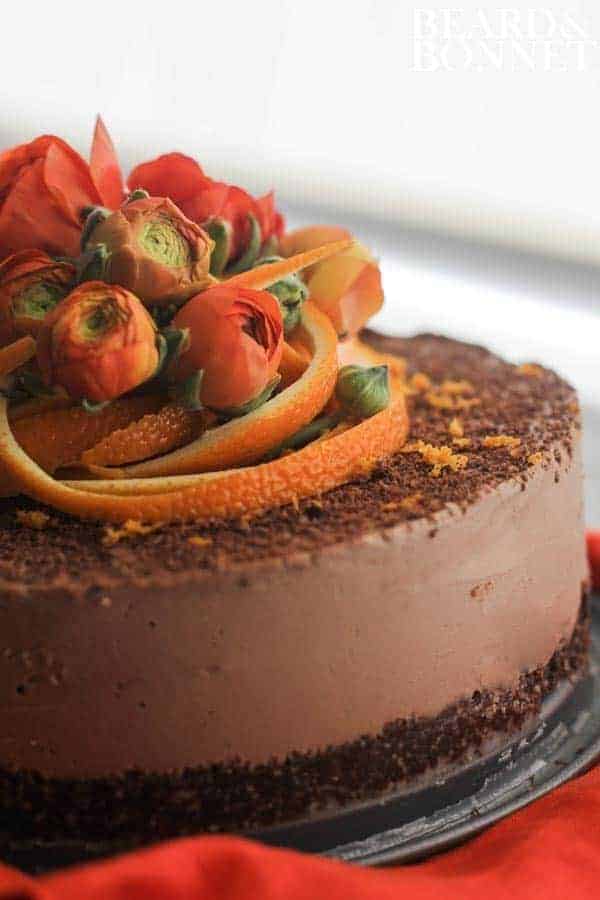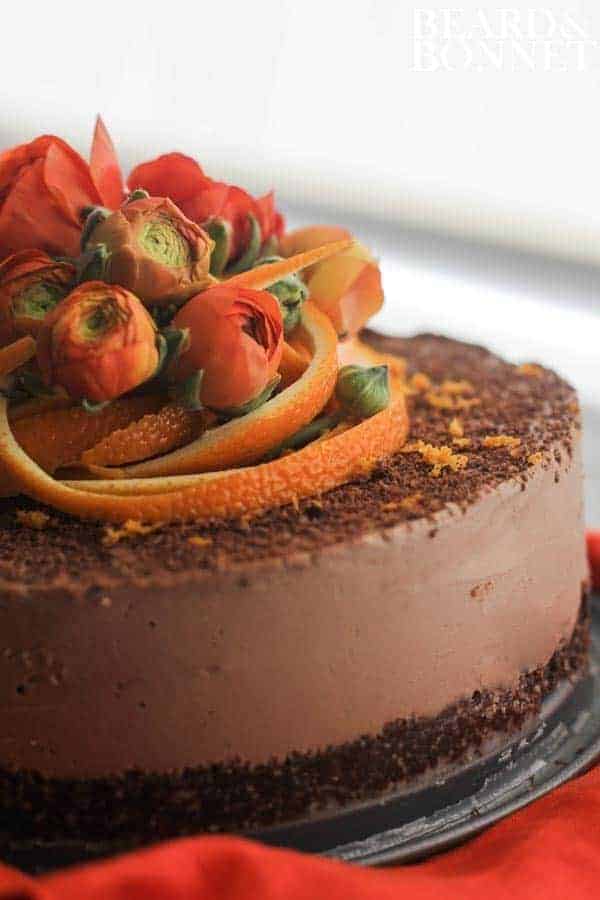 When I was finally able to dig into a slice it was pure heaven. Creamy, silky, and luxurious! The flavors of orange and chocolate mingle together so perfectly in this recipe, they compliment without competing with each other which can sometimes be a hard balance to find. I know for a fact that this is one of those recipes that I will make again and again.
Print
Raw Chocolate-Orange Torte
Author:
Yield:

20

satisfying slivers, 10 to 12 addict-size slabs

1

x
For the crust
1 cup

(

160g

) raw whole almonds

½ cup

(

80g

) firmly packed chopped pitted dates, plus more as needed

¼ cup

(

18g

) cacao powder or unsweetened cocoa powder
For the filling
1 cup

(240ml) coconut oil in liquid form

1 cup

(240ml) freshly squeezed orange juice

¾ cup

(180ml) raw agave nectar

½ cup

(

35g

) cacao powder or unsweetened cocoa powder

3 cups

(

420g

) raw unsalted cashews, soaked

¼ teaspoon

orange extract
Pinch of natural salt

1 teaspoon

finely grated orange zest
Shaved vegan chocolate, to garnish (optional)
Finely grated orange zest, to garnish (optional)
Instructions
To make the crust
Grease a 9- or 10-inch (23 or 25cm) springform pan with coconut oil. Put the almonds, dates, and cacao powder into your food processor and process until well combined and the mixture forms a dough. Form the dough into a ball; if the dough doesn't hold together, you may need to add more dates and process again. Press the dough into the bottom of the prepared pan and set aside.
To make the filling
put all of the ingredients into your blender in the order listed and blend for 2 to 3 minutes, until rich and creamy. To achieve the smoothest filling, stop the machine periodically and scrape down the sides of the container. Pour the filling into the crust. Cover the pan with aluminum foil and freeze the torte for 8 hours.
To serve
transfer the pan from the freezer to the fridge at least 11/2 hours before serving; let the torte defrost in the fridge for about 30 minutes. Remove the sides of the springform pan and then cut the torte into slices with a very sharp knife. Keeping the slices together, return the torte to the fridge to continue defrosting for at least an hour before serving.
Notes
Because of the coconut oil, this filling will melt if left out at room temperature.
The only change I made to Tess's recipe was that I used an 8-inch spring form pan because it is the size I happen to have.
Recipe Card powered by
Recipe reprinted with permission from The Blender Girl: Super-Easy, Super-Healthy Meals, Snacks, Desserts, and Drinks--100 Gluten-Free, Vegan Recipes! by Tess Masters, copyright © 2014. Published by Ten Speed Press, a division of Random House, Inc.
This contest is now over. Congratulations to Sara Glass for winning herself a copy of this amazing book!
Disclaimer: This post contains affiliate links, I may get a small commission if you decide to purchase a product through one of those links. This revenue makes it possible for me to continue to provide you with great recipes and maintain this site. Thank you for supporting us here at Beard and Bonnet!