We're friends right? That means I can share truths with you and you won't judge me, right? Great! That being said let's talk about my relationship with beets. You see, I have been under the impression that I don't like them other than when they are in chip form and made by yours truly. I have also been under the impression that there was NO way on earth that my opinion of beets could be changed.
I didn't want to try them juiced or in a smoothie, please don't bake them up in pink cupcakes, and for the love of my taste buds don't serve 'em up to me roasted in a salad. It has been a real Green Eggs and Ham situation over here between me and the beets, but leave it to my CSA farmer to be the Sam in my personal Dr. Seuss drama. Even though I kept saying "I don't like them!" he would bring them anyways and what am I supposed to say when they are standing at my door? "Take back your beets!!!!", I think not.
I have been pawning beets off on friends and relatives for a while now until a couple of weeks ago when I decided to just play with them. I didn't have to like them, I just had to have fun in the kitchen with them. SO friends that is exactly what I did. I played for a whole day in the kitchen with beets. I turned everything, including myself, bright pink and when I tried the concoctions that I made they were actually REALLY good! These Tex-Mex beet burgers were the winner of the day though, because they not only captivated my attention, but they have been requested multiple times since from not only Todd, but from Eliza too. I mean, seriously...what 12 year old asks for seconds and thirds of beet burgers?
So, now that my fabulous farmer has convinced me that I do like beets through his persistent offering of them, I wonder what is next...got any beet inspiration for me?
[mc4wp_form id="7635"]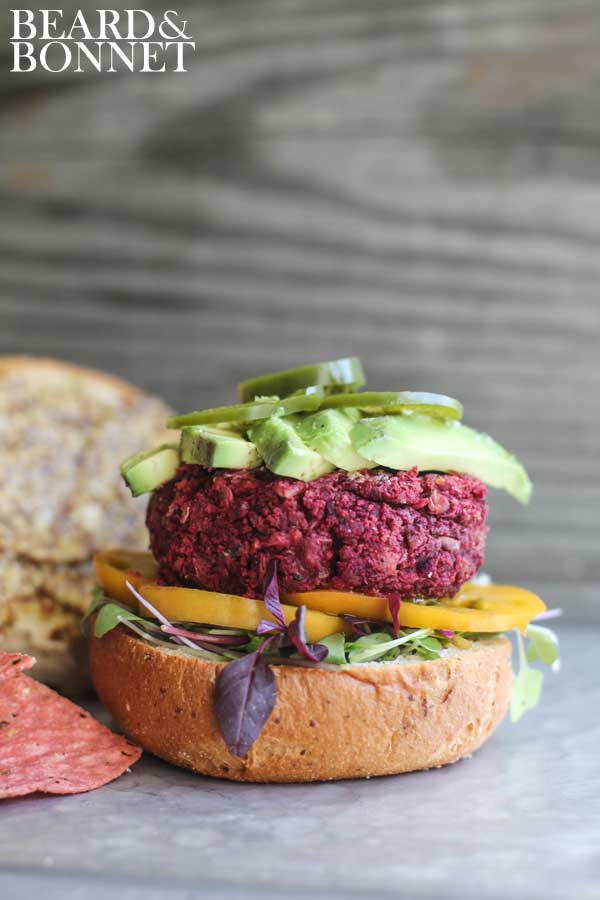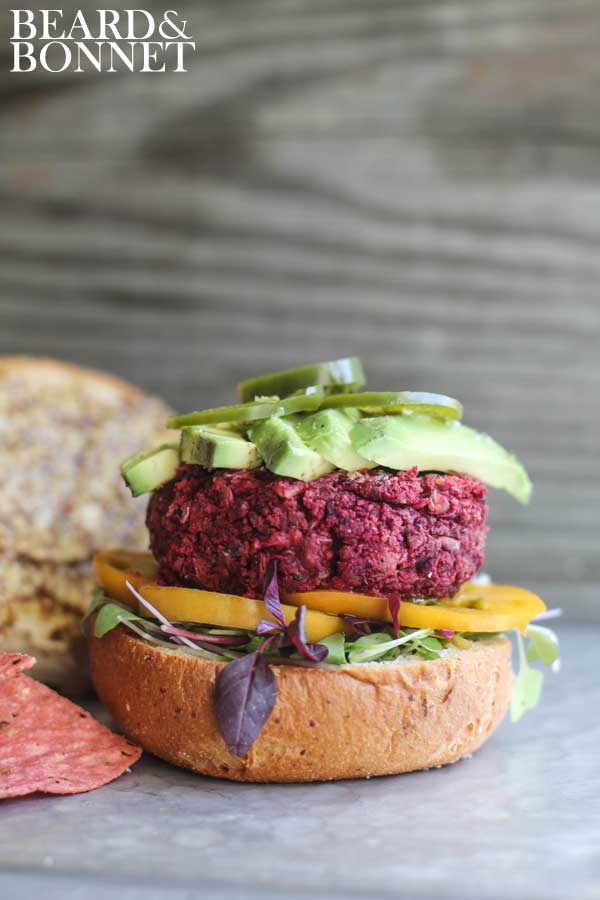 Print
Tex-Mex Beet Burger (Gluten Free & Vegan)
Author:
Prep Time:

55 mins

Cook Time:

20 mins

Total Time:

1 hour 15 mins

Yield:

8

burgers

1

x
1 ¼ cups

cooked and cooled brown rice

1 cup

cooked green lentils drained well

1 cup

shredded raw beets (about

1

large beet)

½ cup

ground gluten free pretzels, see note

3 tablespoons

minced red onion

2

cloves garlic, minced

2 tablespoons

smooth almond butter

1 ½ tablespoons

finely chopped fresh cilantro

1 teaspoon

ground cumin

½ teaspoon

ground coriander

1 teaspoon

dry mustard

½ teaspoon

coarse salt
freshly ground black pepper
olive oil, for the pan
gluten free burger buns
Optional garnish
micro greens
sliced avocado
Dijon mustard
Instructions
In the bowl of a food processor fitted with the "S" blade combine the rice, lentils, and shredded beets. Pulse about 20 times until the mixture is combined and comes together but still has texture. *Don't be scared, it's going to look a little like ground beef.*
In a large mixing bowl combine the pretzel "bread crumbs", onion, garlic, almond butter, cilantro, cumin, coriander, mustard, salt, and pepper. Then add the beet mixture to the bowl and use your hands to work everything together until evenly distributed. Chill in the refrigerator for 30 minutes.
Preheat a cast-iron pan over medium-high heat. Form the patties by scooping out ⅓ cupfuls at a time and forming them into patties roughly ¾-inch thick.
Pour a thin layer of oil into the pan and cook the patties for 12 minutes, flipping every 3-4 minutes. Add more oil if necessary during the cooking time. You want the burger to be charred in places, but not burned, and heated through completely.
Serve on toasted gluten free hamburger buns with desired garnishes of choice.
This recipe made 8 burgers, so we had a few leftover. I wrapped them individually and stored them in the fridge, then we gently reheat them in the pan when we feel the urge for a burger.
Notes
Start with 1 - 1 ½ cups of gluten free pretzels. Place them in the bowl of a food processor fitted with the "S" blade and process until they are the consistency of fine breadcrumbs.
Adapted from Isa Does It
Recipe Card powered by
Disclaimer: This post contains affiliate links, I may get a small commission if you decide to purchase a product through one of those links. This revenue makes it possible for me to continue to provide you with great recipes and maintain this site. Thank you for supporting us here at Beard and Bonnet!