For a few years now I have been intrigued with the idea of making my own flour at home. Intrigued and terrified at the same time to be perfectly honest. With the guidance of Erin Alderson and her new book The Homemade Flour Cookbook: The Home Cook's Guide to Milling Nutritious Flours and Creating Delicious Recipes with Every Grain, Legume, Nut, and Seed from A-Z, I finally have conquered my fear and this Pistachio Lemon Cake Recipe. Turns out it is actually quite easy!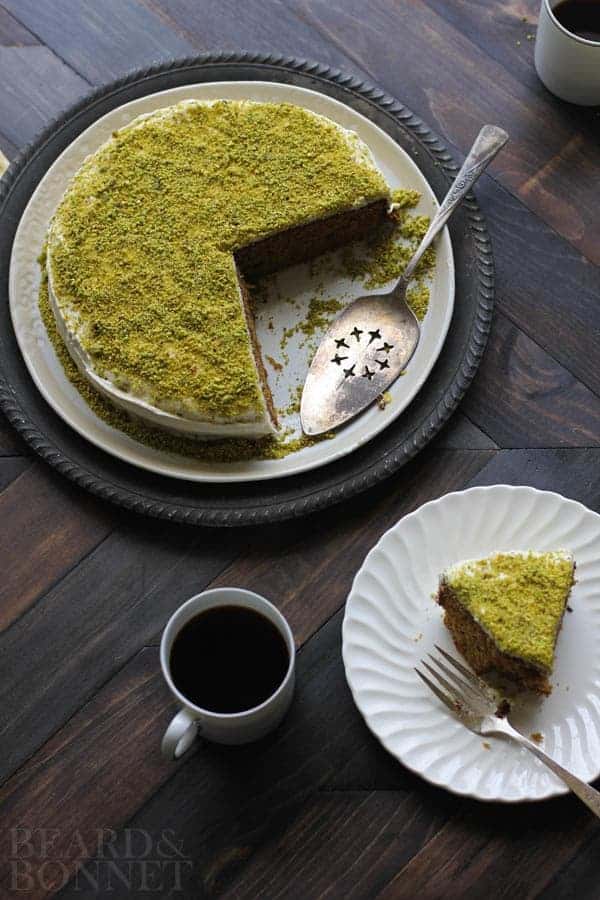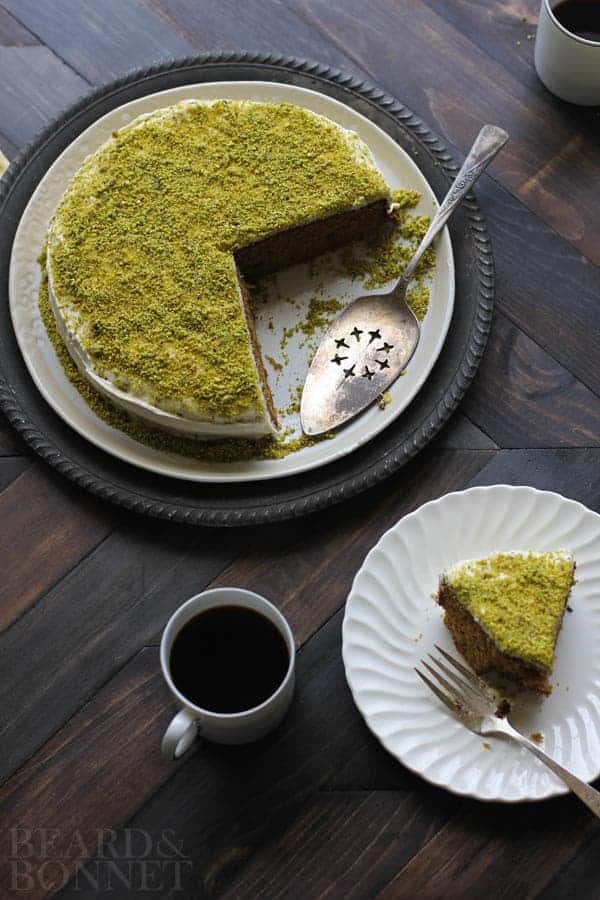 You see it all started a couple of weeks ago when Beard and Bonnet quietly turned 2. I planned on throwing a proper birthday bash for B&B complete with this cake and a giveaway. There would be tweets and Facebook announcements and we would all eat Erin's fabulous cake while waiting to see who would win her new cookbook. It was going to be fun!
I purchased raw pistachios, I ground them in my food processor to create pistachio meal, then I sifted the meal to separate out the beautiful green flour. I was so proud of myself for being on top of my game this year for Beard and Bonnet's birthday and I was so excited to eat this lemon cake recipe. I mean what's not to love? Pistachio, lemon, cream cheese, honey?! Swoon!!!!
A lemon pistachio cake recipe that is so good, I baked it twice.
I baked my cake, it made our house smell heavenly, I pulled it out of the oven to cool and went into the other room to finish up a little work. About 10 minutes later I looked up to see my sweet little fruit bandit chowing down on something. As he grinned from ear to ear with a mouth full of cake and exclaimed "This cake is GOOD!!!" my heart melted. I was happy for him loving that cake so much, but it meant that B&B's birthday would be celebrated a little late this year. I actually was forced to celebrate late last year too...maybe this is my blogging birthday tradition.
So, this week I baked this cake again. It was every bit as amazing the second time as it was the first although I must admit full beautiful slices of iced cake are way prettier to photograph than a cake with a toddler fist sized hole in the middle. Yay for cake!!!
Seeing as this is a belated blogging birthday post there should still be presents for you, my amazing readers, right? I am so excited to be giving away a copy of Erin's new cookbook!! (Enter at the bottom of this post!!) There are so many beautiful recipes in this book it was hard for me to choose which one to share here with all of you. Not all of the recipes are gluten free in this cookbook, but a large portion of them are and they are all vegetarian. If you have ever purused Erin's blog, Naturally Ella, then you know the deliciousness that this book is made up of.
In this book Erin explores the different ways to grind flour including electric and non-electric grinders, food processors, blenders, and even coffee grinders, making it easy for any do-it-yourself homemaker to have fresh flour whenever they need it. This book covers how to make flour from every grain, legume, seed, and nut as well as recipes using each one.
If you've tried this Lemon Pistachio Cake Recipe, I would be so grateful if you would rate it. Let me know what you think in the comments below. I just love hearing from you, and your reviews and comments really help others that visit This Mess is Ours!
Print
The Homemade Flour Cookbook, Lemon Pistachio Cake With Cream Cheese Frosting, and a Giveaway
Don't forget to rate the recipe, and let me know what you think about this Lemon Pistachio Cake in the comments below. I just love hearing from you. Your reviews/comments really help other people that visit This Mess is Ours!
Author:
Yield:

1

8-inch cake

1

x
For the cake:
2 cups

(

200 g

) pistachio flour, plus some meal for garnish

½ cup

(

72 g

) arrowroot

2 tablespoons

(

12 g

) lemon zest

1 teaspoon

baking soda

½ teaspoon

sea salt

½ cup

(

120

ml) walnut oil

¼ cup

(

85 g

) honey

3

large eggs
For the frosting
6 ounces

(

170 g

) cream cheese, softened

2 tablespoons

(

28 g

) butter, softened

1 cup

(

120 g

) confectioner's sugar

1

to

2

tablespoons (

20

-

40

g) honey

2

to

3

tablespoons (

30

-

34

ml) heavy cream
Instructions
Preheat the oven to 350°F (180°C, or gas mark 4). Grease an 8-inch (20-cm) round pan with butter.
To make the cake
In a medium bowl, stir together the pistachio flour, arrowroot, lemon zest, baking soda, and salt. In a separate bowl, whisk together the walnut oil, honey, and eggs. Pour the wet ingredients into the dry ingredients and stir until combined.
Pour the batter into the prepared cake pan and bake for 20-22 minutes, until it is golden and has a dome. Let cool for 10 minutes.
Once cooled slightly, run a knife along the edges to loosen the cake. Flip the cake over on a cake plate and finish cooling.
To make the frosting:
Beat together the cream cheese and butter with a hand or stand mixer. Add the confectioner's sugar, 1 tablespoon (20 g) of the honey, and 2 tablespoons (30 ml) of the heavy cream. Continue to beat until the frosting is smooth. Taste and add more honey if desired. If the frosting is too thick to spread , beat in another tablespoon (15 ml) of heavy cream. Frost all sides of the cake and sprinkle pistachio meal on top, if desired.
Notes
When making pistachio flour purchase unsalted, raw pistachio nuts without the shell.
When processing the pistachios in the food processor be careful not to over process them into pistachio butter.
Sifting the pistachio meal is key in this recipe. The cake made with pistachio meal is dense, while the cake made with pistachio flour is light and airy.
Recipe Card powered by
Recipe reprinted with the permission of the publisher, Fair Winds Press.
Check out what other bloggers are saying about The Homemade Flour Cookbook and test out a few more of Erin's tasty gluten free recipes:
Grilled Polenta and Zucchini Salsa from Love and Lemons
Berry Cobbler with Oat Dumplings from Turntable Kitchen
Chocolate Espresso Doughnuts from Edible Perspective
Tomato Basil Socca Pizza from Healthy Green Kitchen
Cinnamon Raisin Amaranth Pancakes from The Sunday Table
Disclaimer: This post contains affiliate links, I may get a small commission if you decide to purchase a product through one of those links. This revenue makes it possible for me to continue to provide you with great recipes and maintain this site. Thank you for supporting us here at Beard and Bonnet!
Want to be a part of our online community outside of the blog? It's easy!! All you have to do is follow @THISMESSISOURS on FACEBOOK, INSTAGRAM, TWITTER, YOUTUBE, or PINTEREST to see cooking demos and peeks into our day to day life.
What are the health benefits of pistachios?
These low calorie edible seeds are packed full of healthy unsaturated fats, fiber, protein and numerous nutrients, especially Vitamin B6 and potassium. The high fiber and protein levels aid in weight loss and promote gut and heart health. Pistachios also help regulate blood sugar and cholesterol levels.
Click here for more information on the health benefits of pistachios.
Frequently Asked Questions