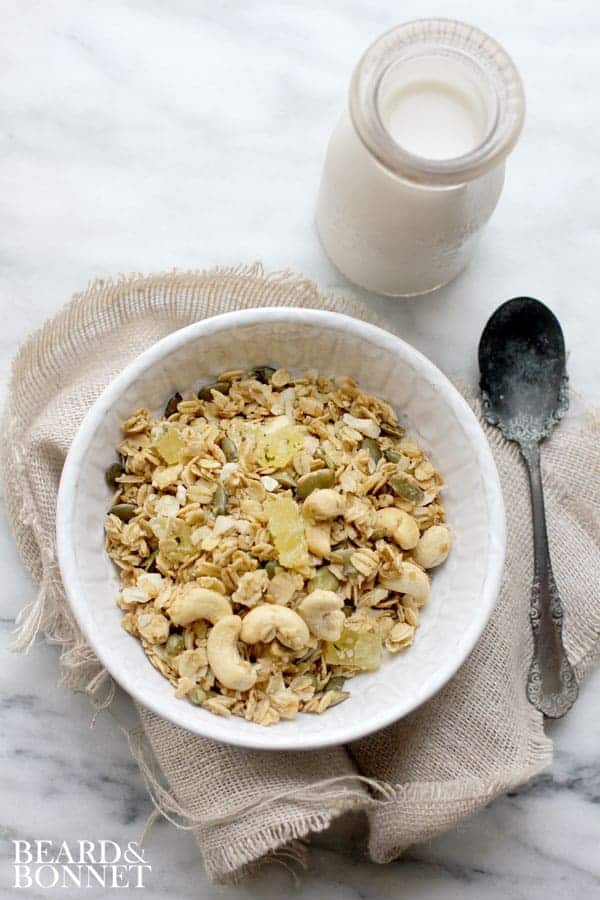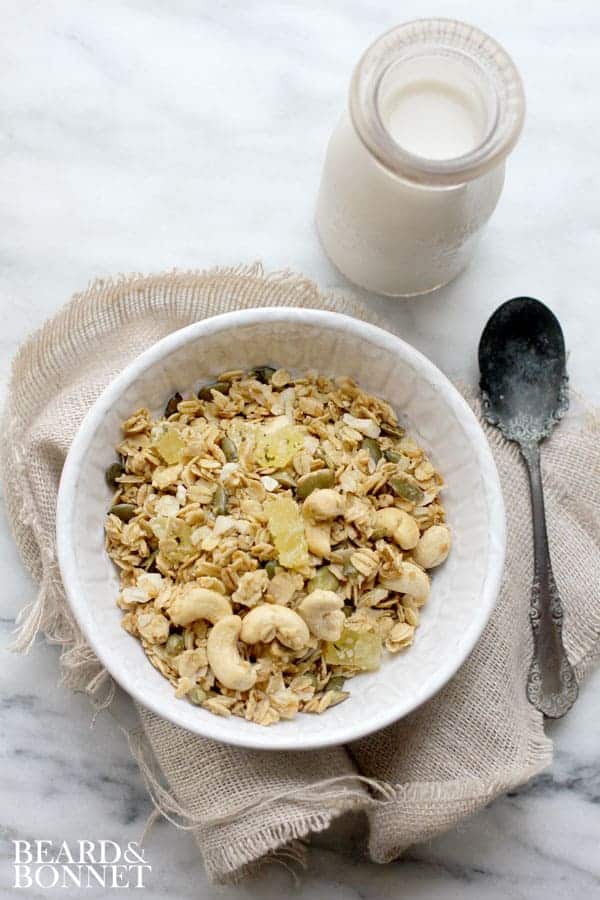 I have always had a soft spot for homemade granola. I love making it, I adore the smell that fills the house when it is toasting in the oven, and I simply swoon over the taste. I am usually not picky with my granola choices although I do have one rule. There should never be raisins in my granola, nothing against them I just don't like them. That being said I have tested just about every possible flavor combination in the world and since I struggle to pick a favorite, I tend to go in waves. You know, basically I cook and eat the same type of granola over and over until one day I declare that I have had enough and move on to a new granola obsession.
I have been on a toasted coconut and chocolate chip quinoa granola kick for quite some time now, but this week I decided it was time to move on. Time to start a new granola love affair and this time the flavors are exotic and tropical. There is just something about waking up in the morning to a bowl of granola spiked with the flavors of ginger, pineapple, and coconut that puts a little extra pep in my step as I head into the kitchen in the morning.
Have a happy Easter B&B friends!!
Print
Tropical Granola (Gluten Free & Vegan)
Author:
Prep Time:

10 mins

Cook Time:

30 mins

Total Time:

40 mins

Yield:

1 quart

of granola

1

x
¼ cup

maple syrup

3 tablespoons

melted coconut oil

1 tablespoon

water

½ teaspoon

ground ginger

2 cups

gluten free oats

2 tablespoons

dark brown sugar

¼ teaspoon

salt

⅓ cup

raw cashews

¼

golden flax seeds

⅓ cup

unsweetened coconut flakes

¼ cup

hemp hearts

⅓ cup

roasted & salted pepitas

⅓ cup

chopped pineapple

1 tablespoon

crystallized ginger
Instructions
Preheat the oven to 275°F and line a large baking sheet with parchment paper.
In a small saucepan over medium heat combine the maple syrup,coconut oil, water, and ginger. Stir to mix together then allow to come to a gentle simmer.
While the liquids are heating combine the oats, brown sugar, salt, cashews, flax seeds, and coconut flakes. Stir to combine.
When the liquid mixture has come to a simmer carefully drizzle over the oat mixture and stir well to ensure that everything is coated evenly.
Pour the mixture onto the prepared pan and use your hands to squeeze small clumps together to create clusters. Bake for 30 minutes. Keep an eye on the edges of your pan, if the clusters towards the edge begin to brown stir them in towards the center and allow the granola to bake for the remainder of the time. At the end of 30 minutes remove the pan and stir in the hemp hearts, pepitas, pineapple, and ginger then continue to bake until the granola is golden brown, about 10-15 minutes. Let cool completely before storing in an airtight container.
Recipe Card powered by