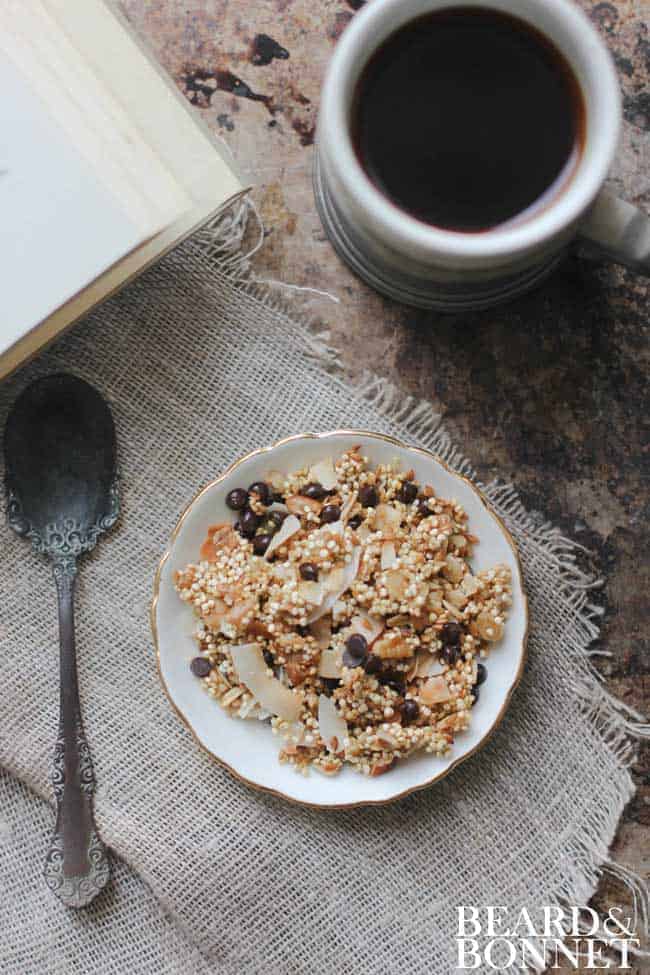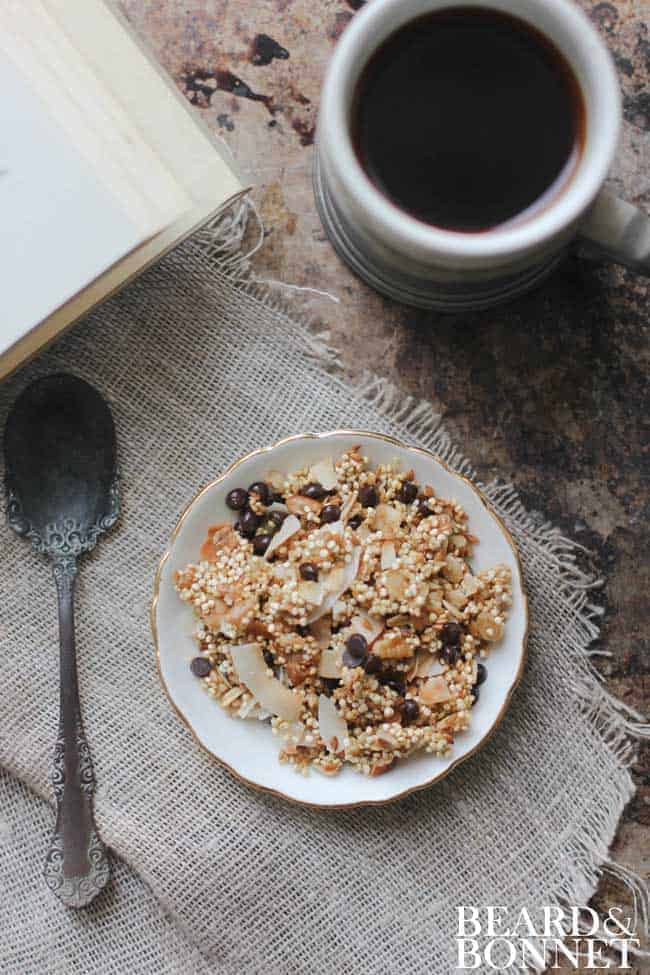 Happy 2014 Beard and Bonnet friends! I have really missed you all over the last few weeks, but I must admit that the time away was well spent. Todd and I both took a rare moment to stop and just be a part of what was happening all around us. We didn't worry about cell phones, emails, or Facebook we just lived in the present moment with our children and it gave me a whole new refreshing perspective along with loads of inspiration to share with all of you here, like this delicious crispy quinoa granola.
We had such an amazing holiday season this year, full of family, friends, and lots of food! This year's festivities also served as a great opportunity for us to reflect back on the past 12 months and see just how far we have come as a family. This time last year we were just beginning to embark on a 5 month journey that would eventually lead us back home to Long Beach, California. We have reunited with dear old friends and family here as well as met new friends that have grown to feel like family. Last year was full of transition and transformation for all four of us, but it was also one of the most amazing years that we have ever had. We are happier, healthier, and more in love as a family than ever before and for that I am truly grateful.
I normally try to make New Year's resolutions for myself that are easy for me to keep, like this year's resolution to remember to take my vitamins. It's simple and a little silly, but for me the best type of resolution, is an attainable one. This year I have also promised myself to snack healthier and to overcome my fear of green drinks and try at least one green smoothie. My newest crispy quinoa granola recipe makes my resolution to snack healthier an easy one. Although it tastes decadent with the addition of toasted coconut and chocolate chips it is packed with protein and vitamins.
What resolutions did you make this year?
Print
Chocolate Chip and Toasted Coconut Quinoa Granola (Gluten Free and Dairy Free)
¾ cup

uncooked quinoa, rinsed well to remove bitterness and well-drained

½ cup

chopped raw pecans

¼ cup

gluten free oats

¼ cup

golden flax seeds

¼ cup

maple syrup

2 tablespoons

coconut oil

1 teaspoon

gluten free vanilla extract

½ teaspoon

salt

¼ cup

unsweetened coconut flakes
Instructions
Preheat the oven to 350°F and line a large baking sheet with parchment paper.
In a mixing bowl combine the quinoa, oats, pecans, and flax seeds; stir well. Heat the maple syrup and the coconut oil in a small microwave-safe bowl on high for 20 seconds. Stir in the vanilla extract and salt then pour the wet ingredients over the dry and toss to coat.
Spread the quinoa mixture in a thin layer over the prepared baking sheet. Bake for 20 minutes or until golden brown, stirring twice during the cook time. Add the unsweetened coconut flakes during the last 5-8 minutes of cook time and allow them to turn golden brown before removing the pan from the oven.
Cool completely on the baking sheet, as it cools the granola will harden and begin to clump together. When cooled break up any large pieces of granola into small clusters, stir in the chocolate chips and store for up to 2 weeks in the refrigerator.
Recipe Card powered by
Interested in more quinoa granola recipes? Try my ginger quinoa granola, it is slightly sweet with a little bit of heat from the ginger.