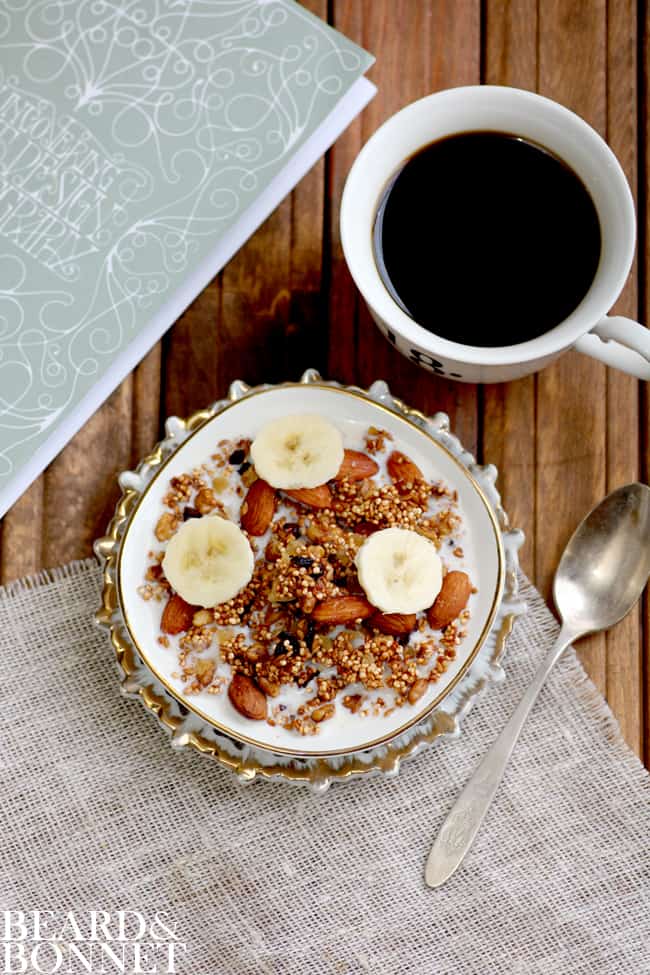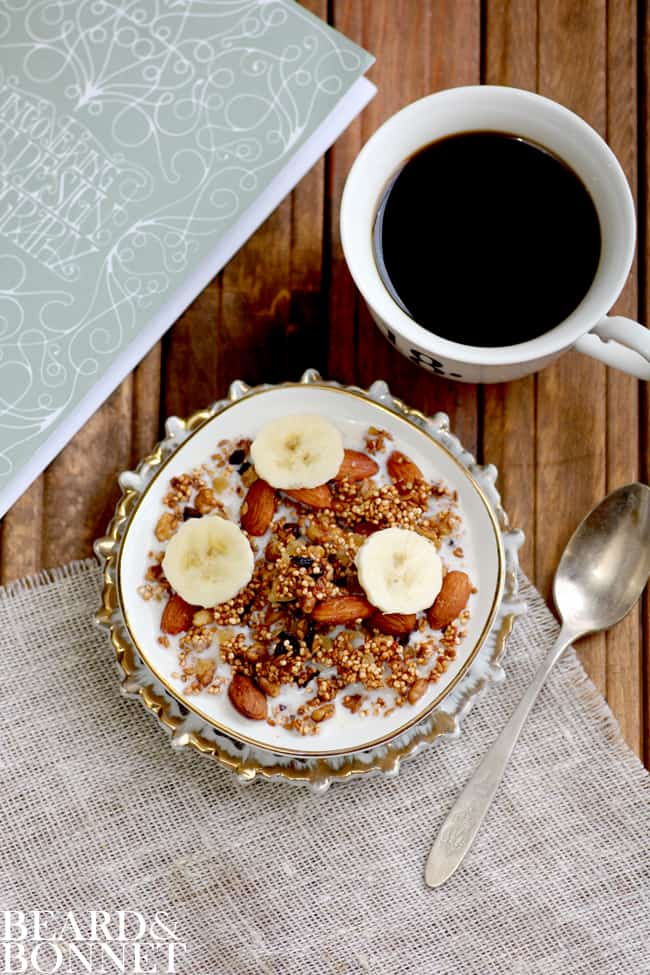 Oh man, I have been gobbling up s'mores brownies for days now. Someone should stop me, really! I have moments of complete and total guilt for cramming down yet another brownie and then I convince myself its all OK because in-between brownies I have been snacking away on granola like it's going out of style. This protein packed granola has an amazing crunch that doesn't go soggy in my coconut milk, even when I get distracted by a crazed 2 year old. Crispy, crunchy, golden quinoa, who knew?!
Ginger Quinoa Granola
Adapted from Better Homes and Gardens
¾ cup uncooked quinoa, rinsed well to remove bitterness and well-drained
½ cup whole almonds
½ cup walnut pieces
¼ cup flax seeds
¼ cup maple syrup
2 Tbsp. coconut oil
1 tsp.cinnamon
½ tsp.salt
⅓ cup crystallized ginger pieces, chopped
⅓ cup dried cranberries, chopped
Preheat the oven to 350°F. In a large bowl combine the quinoa, almonds, walnuts,and flax seeds and stir well. Heat the maple syrup in a small microwave-safe bowl on high for 20 seconds. Stir in the coconut oil, cinnamon, and salt; continue to stir until the coconut oil is completely melted. Pour the wet ingredients over the dry and toss to coat.
Spread the quinoa granola mixture in a thin layer over a parchment line baking sheet.Bake for 20 minutes or until golden brown, stirring twice during the cook time. Add the chopped ginger pieces and cranberries during the last 5 minutes of cook time.
Cool completely on the baking sheet, as it cools the granola will harden and begin to clump together. When cooled break up any large pieces of granola into small clusters and store for up to 2 weeks in the refrigerator.
Sprinkle about a ¼ cup over yogurt or into milk and enjoy...I have even topped vanilla ice cream with this and it is SO good!
Looking for more granola recipes?
We happily shared this recipe at the Thank Goodness it's Quinoa link up party hosted by the Queen of Quinoa. Head on over and get your quinoa on!
We are happy to have shared this post at the Gluten-Free Friday's link up party hosted by Vegetarian Mama and  The Gluten Free R.D.!  Hop on over to find more great gf recipes.