Sometimes a book comes along that REALLY surprises you and this is one of them! When Kathy originally reached out to me about her new book OATrageous Oatmeals I thought to myself "How many different ways can you possibly cook oatmeal?"  but when Kathy's book arrived in the mail I knew immediately upon thumbing through it that I have seriously underestimated the humble little oat.
Kathy is also the author of other cookbooks like The Great Vegan Bean Book, The Vegan Slow Cooker, and Vegan Slow Cooking For Two or Just You. I happen to own and have cooked from all of her books now and this book is my new favorite by a landslide!
Let's talk about a few of the tasty recipes from OATrageous Oatmeals:
Photo credit: Kate Lewis
Mushroom Ginger Congee:
With the fall season quickly closing in on us I couldn't help, but take notice of this comforting bowl of Mushroom Ginger Congee. Served in a bowl, Congee is a thick Asian comfort food that can soothe a sore throat or just make you feel better after a bad day.
Photo credit: Kate Lewis
Gluten-Free Lemon Blueberry Belgian Waffles:
Lemon and blueberry are two flavors that I cannot get enough of when they are paired together. These waffles are simply perfect! You would hear no complaints from me if these were served for breakfast, lunch, and dinner.
Photo credit: Kate Lewis
Gingerbread Pear Crumble:
I am always looking for new sweet treats to serve to my family and this crumble is a wonderful way to keep your dessert options healthy, and it takes less time to make than a batch of cookies.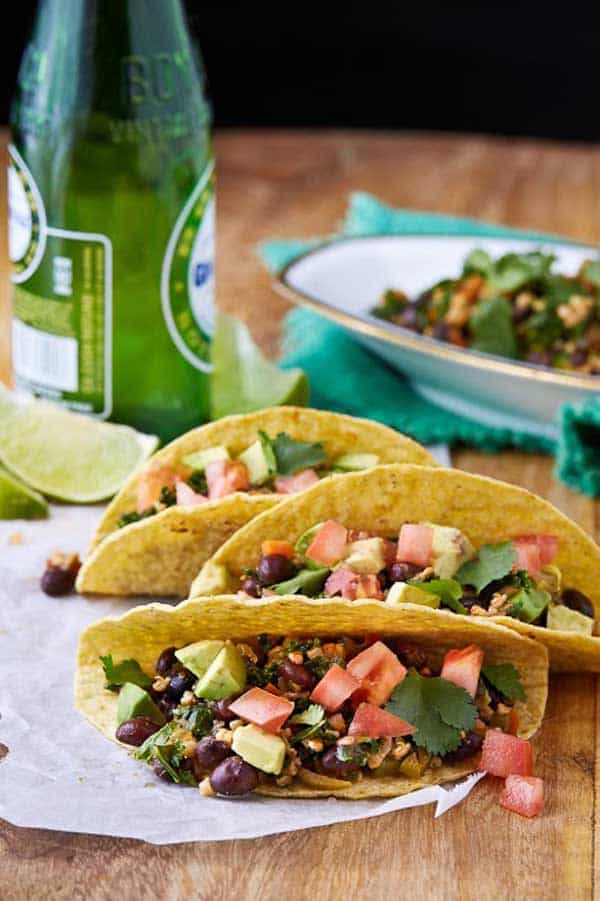 Photo credit: Kate Lewis
Veggie Oat Taco Mince: 
This is the recipe that intrigued me the most and was the first recipe that I made from OATrageous Oatmeals. Since we don't eat soy products in our home very often I am always looking for delicious, plant-based alternatives that will "beef" up our dinners. Steel-cut oats mimic the mouthfeel of vegan crumbles while being completely free of processed ingredients. My entire family devoured these tacos, even my picky toddler claimed they were "Super Yum!!"
I am sure you know this already, but just to cover my bases be sure to purchase gluten free oat products from a reputable company like Bob's Red Mill if you have a gluten intolerance or Celiac.
Veggie Oat Taco Mince and a OATrageously Oatmeals Giveaway
Steel-cut oats mimic the mouthfeel of vegan crumbles while being completely free of processed ingredients. They also add heartiness to the veggie and bean mixture. This is the perfect way to sneak in some veggies for the picky eaters in your house.
Author:
Yield:

8

tacos

1

x
1 cup

(

237

ml) water

¼ cup

(

20 g

) steel-cut oats

¼ cup

(

27.5 g

) minced carrots

1 tablespoon

(

15

ml) olive oil (*or use water to make no oil added)

½

small onion, minced (about

¼ cup

[

50 g

])

¼ cup

(

37 g

) minced green pepper

2

cloves garlic, minced

1 teaspoon

chili powder

1 teaspoon

dried oregano

1 teaspoon

cumin

1

(14 oz [500 ml]) can kidney beans, drained and rinsed

1 tablespoon

(

15 g

) chopped green chilies

1 cup

(

67 g

) minced kale (or other green)
juice of

½

a lime

2 tablespoons

(

2g

) to

¼ cup

(

4 g

) cilantro, to taste
salt, to taste
Instructions
In a saucepan, bring the water, oats and carrots to a boil, then turn the heat to low. Cook for
to 20 minutes or until the steel-cut oats are cooked through but still chewy.
While the oats are cooking, heat the olive oil in a large saute pan over medium heat. Add the
onion and saute until translucent, then add the green pepper, garlic and spices and cook for
another 2 minutes.
Once the oat mixture is cooked, add it to the saute pan and mix the oats in with the veggies.
You want to keep cooking until the oats dry out some and begin to separate. Keep cooking until
it starts to look like crumbles.
Mix in the kidney beans, green chilies and kale. Cook until the kidney beans are thoroughly
heated.
Right before serving, add the lime juice, cilantro and salt. Serve in hard or soft taco shells, or in
burritos. They are also amazing on top of nachos.
Recipe Card powered by
This recipe is by Kathy Hester from OATrageous Oatmeals by Kathy Hester printed with permission of Page Street Publishing.