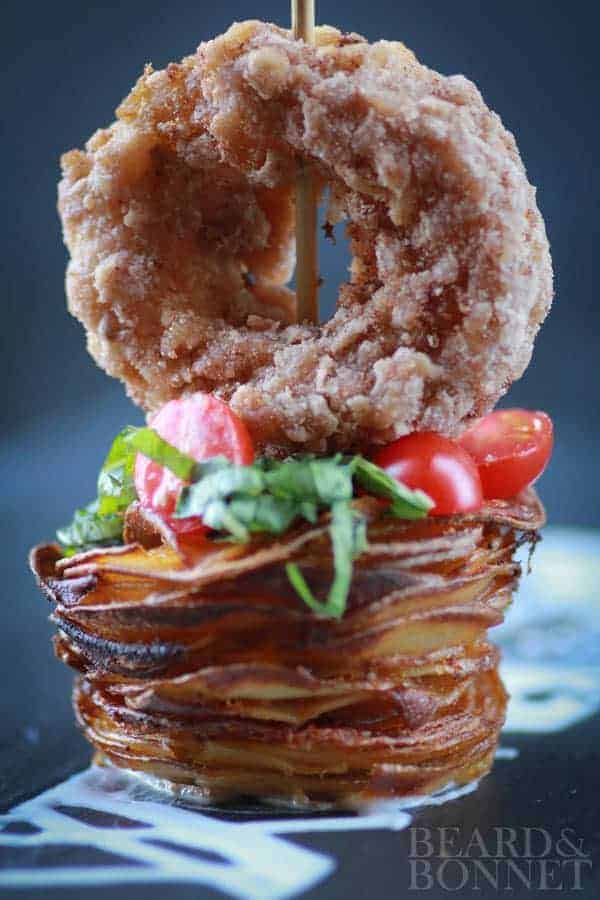 Vegas potatoes!!! Well, there are two words you don't often hear together do you? I was recently invited by the US Potato Board to take part in a Vegas style cooking competition celebrating all things potato. This year The World Food Championships that take place in November have partnered with the US Potato Board and all of the contestants will be required to incorporate potatoes, America's favorite side dish vegetable, into their recipes.
So, to kick off the potato loving fun my friends at the Potato Board created a friendly little competition for members of their Potato Lover's Club to create a Vegas-style potato dish. Two lucky winners will get the chance to represent the US Potato Board at the live event in Vegas!!
My head has literally been jam packed with potato recipe ideas and after testing quite a few of them I narrowed my focus down to two recipes that I wanted to enter. The problem was that after a week of trying to decide between the two I knew I just couldn't. They are both SO good I decided to combine them into one EPIC potato dish for my entry. I give you Double Down Potatoes!!! What does that mean for you? Well, that means you get 2 potatolicious recipes in this post! You can make them separately or get really crazy like me and make them together for a potato tower of goodness that is truly worthy of being served in Vegas.
The base of this potato tower is a roasted red curry potato stack with a fresh basil and cherry tomato salad. For this recipe I used a mix of Yukon Gold potatoes and Red Potatoes sliced thin and layered into a muffin cup with a creamy red curry sauce. The potatoes are then roasted in the oven creating layers of roasted potato goodness with crispy edges and tender centers. Our kids love pulling the layers apart as they eat the thin slices of potato and I love the fact that they enjoy a healthy dish so much. Did you know that a medium-size (5.3 ounce) potato with skin-on has only 110 calories, has more potassium than a banana, provides 45% of your daily value of Vitamin C and has zero fat, sodium or cholesterol? Seriously, eat these red curry potato stacks!! They are so good and good for you too.
The second potato element to this Vegas worthy potato dish uses russet potatoes to create savory caramelized onion and chive potato rings! Oh man, these little beauties start with the most decadent  mashed potatoes you have EVER eaten in your whole life! Even my mashed potato hating husband loves this mash, and when it's shaped into rings, breaded, and deep fried he cannot get enough of them.
Like I mentioned before you can make just one of these amazing potato recipes or you can make them together for an epic Vegas style potato treat. If you make them together simply run a skewer through the top of a potato ring down into a curry stack to secure them together then trim the top of the skewer. Viva Las Potatoes!!!
Print
Red Curry Potato Stacks
---
Author:

Yield:

10

-

12

stackers

1

x
Scale
Ingredients
2 Tablespoons

Earth Balance

1 Tablespoon

coconut oil

2 Tablespoons

full fat canned coconut milk

2 Tablespoons

cashew cream, recipe follows

1 Tablespoon

Thai red curry paste
Kosher salt and pepper to taste

5

large Yukon Gold and Red potatoes, scrubbed clean

10

–

12

cherry tomatoes, halved

1 tablespoon

olive oil

1 tablespoon

fresh lime juice

1/4 cup

chiffonade basil
---
Instructions
Preheat the oven to 375°F. Grease 12 muffin cups with nonstick cooking spray and set aside.
In a small saucepan combine the Earth Balance, coconut milk, cashew cream, curry paste, salt and pepper. Bring to a boil, reduce to a simmer, and cook for a few minutes until the mixture thickens slightly.
While the curry sauce is cooking slice the potatoes very thin on a mandolin and place them in a large mixing bowl. Once the curry sauce has reduced slightly pour it over the sliced potatoes and toss to coat all of the potato slices. Allow to cool slightly.
Layer the potato slices into the muffin pan and fill to the top of the wells. They will shrink as they cook.
Bake for 40-50 minutes until the edges and tops have turned golden brown and the potatoes are tender in the center.
While the potatoes are roasting mix the sliced cherry tomatoes with the olive oil, lime juice, salt and pepper to taste then set aside to marinate. Right before serving mix in the basil.
When the potatoes are cooked through remove the pan from the oven and place it on a wire rack to cool for 5 minutes. Then use a spoon to carefully remove the potato stacks from the pan to serve. Top with the tomato herb salad and serve.
---
Category:

Gluten Free / Vegan Side Dish
Recipe Card powered by
Print
Caramelized Onion and Chive Potato Rings
---
Author:

Yield:

28

-

30

donuts

1

x
Scale
Ingredients
3

large russet potatoes, cleaned, peeled, and chopped into large pieces

1/3 cup

plus 2 tablespoons full fat canned coconut milk

1/4 cup

Earth Balance

1/2 cup

chopped caramelized yellow onions

3 tablespoons

chives, sliced thin

2/3 cup

all-purpose gluten free flour

1/3 cup

sweet rice flour
Kosher salt and pepper to taste

2 cups

cashew cream, recipe follows

2 quarts

vegetable oil
---
Instructions
Place the prepared potatoes in a large pot and fill with water. Bring to a boil over medium-high heat and cook until the potatoes are fork tender, about 20-25 minutes.
While the potatoes are cooking heat a small saucepan over low heat with the coconut milk and Earth Balance. Keep warm.
When the potatoes are easily pierced with a fork drain them into a colander and pour them back into the pot.
Pour the warm coconut milk mixture over the potatoes and mash with a potato masher until smooth adding additional coconut milk 1 tablespoon at a time if needed.
Fold in the caramelized onions and chives until fully incorporated. Season liberally with salt and pepper.
Spread the mashed potatoes onto a sheet pan about 1/2-inch thick and place it into the refrigerator to chill for 6-8 hours or overnight. Your mashed potatoes should firm up and harden in the fridge.
Line a baking sheet with parchment paper, set aside. When the potato mixture has cooled enough to harden use a 1- 1 1/2-inch circle cutter to cut out as many circles as you can. (About 28-30) Then use a 1/2-inch circle cutter to cut holes from the center of the larger circle creating a donut shape. Mix the flours together in a shallow dish and season with salt and pepper. Place the cashew cream in a separate shallow container. Dip the rings in the cashew cream and then into the flour mixture. Place the battered rings onto the prepared baking sheet and freeze until solid, about 4-6 hours.
When the rings are frozen solid heat the vegetable oil to 375°F in a large shallow pot. Drop the frozen, battered rings into the oil a few at a time and fry for 4-6 minutes until golden brown. Serve immediately.
---
Category:

Gluten Free / Vegan Side Dish
Recipe Card powered by
Print
Description
This thin cashew cream is great for making creamy sauces and for dredging fried foods in the place of eggs.
---
Scale
Ingredients
2 cups

raw cashews, soaked overnight, rinsed and drained

2 1/2 cups

filtered water
---
Instructions
In a high speed blender combine the cashews and the water. Blend on high speed until completely smooth.
---
Recipe Card powered by