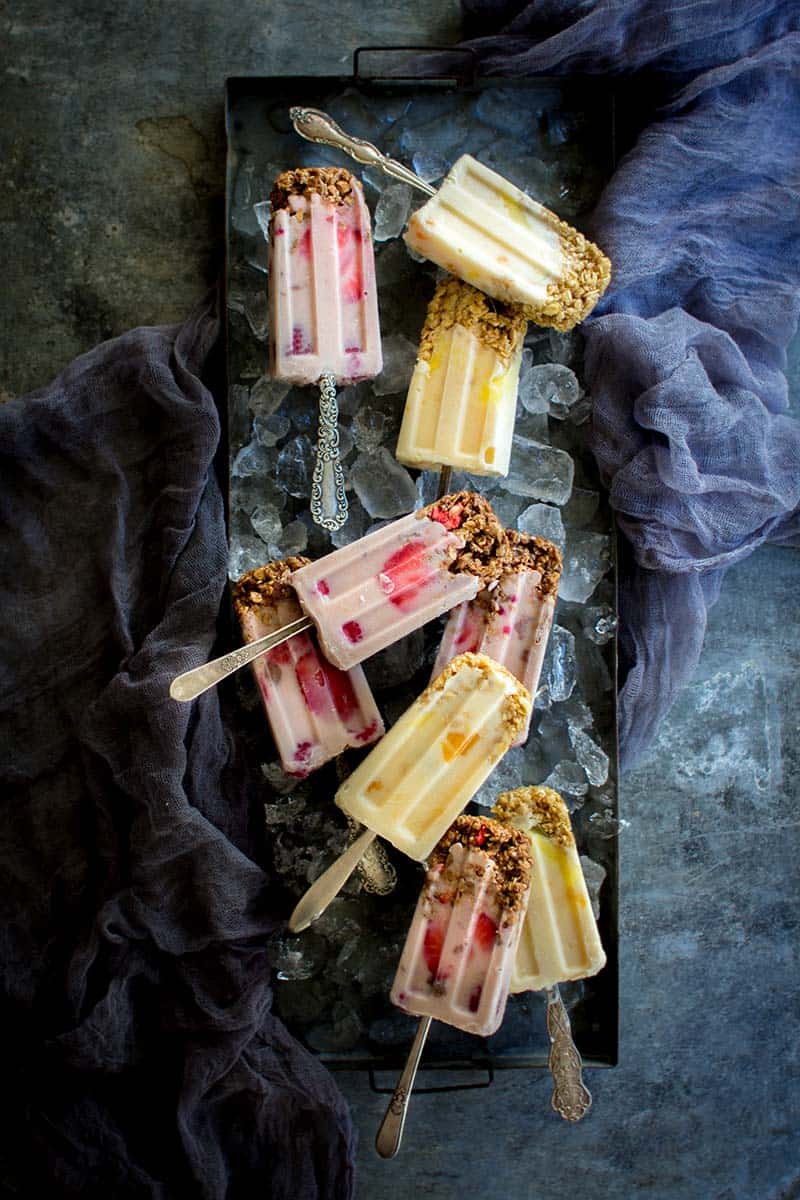 It's finally here, both of our kids are off to school tomorrow! Our daughter Eliza is entering high school while the fruit bandit is embarking on his first day of kindergarten. To be honest, I'm a total wreck! I have cried, wondered if I spent enough quality time with each of them over the summer, questioned whether I packed enough lunch and then cried some more. Good thing I prepped a big batch of this frozen yogurt and granola breakfast pops recipe in advance because I don't think I will have it in me in the morning to actually cook.
I honestly had no idea how hard this transition would be for me. Our kids are handling everything so well although there is a wee bit of nervousness that has started to show for both of them. I however, just want to put on the breaks and keep my babies as babies forever! Is that normal? Please, tell me that's normal.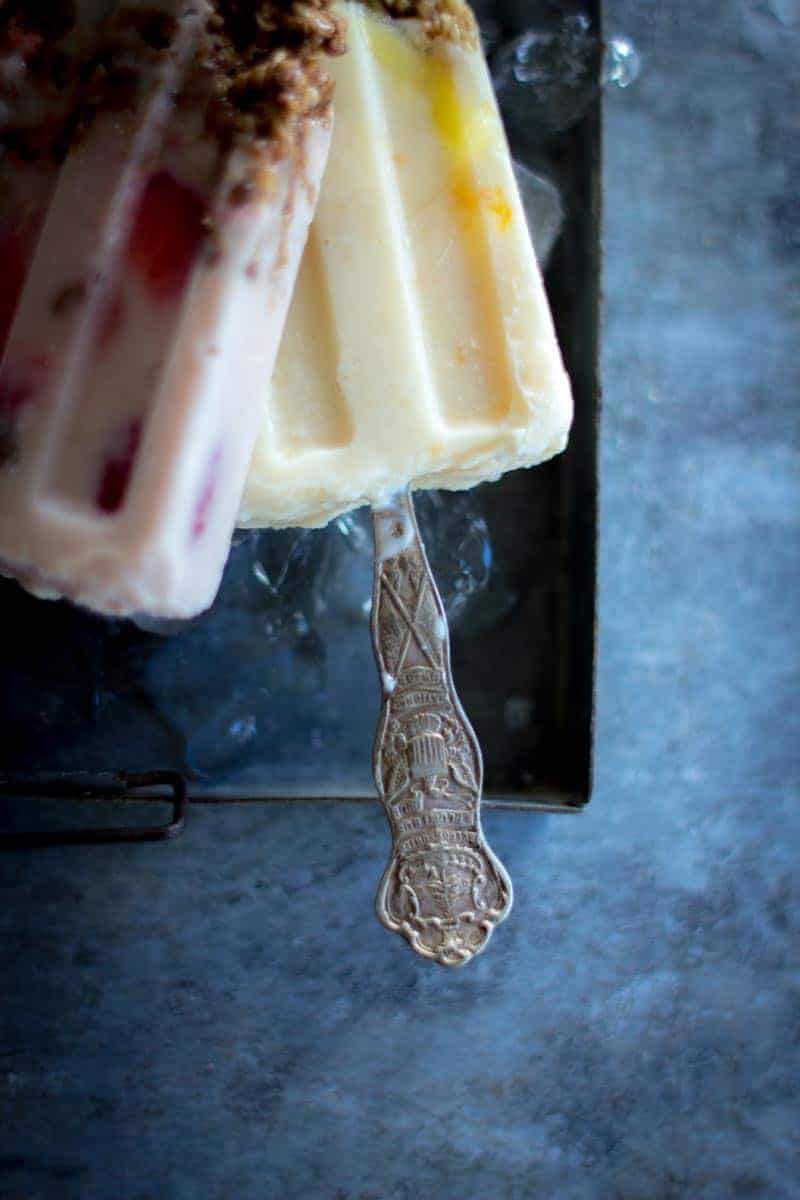 Ok, before I cry AGAIN, let's change the subject. I bet you are wondering why I have spoon handles sticking out of my pops! About a month ago I ran out of popsicle sticks in the middle of making a big batch of pops. (Mom fail!) I couldn't find anything popsicle stick-esque enough that I thought would work to replace them. In a moment of total desperation I just crammed a bunch of spoons down into the molds so that I didn't waste the batch.
Turns out it was one of the best kitchen hacks I have ever come up with. The only down side being that I didn't actually have any spoons left for meals, oops! Kash is notorious for not eating a whole pop at once, laying it down somewhere and coming back to a melted mess. Now I just hand him a glass with a pop upside down in it, when he is done snacking away he sticks the pop back into the cup. Then as it melts he already has a spoon to eat his granola and yogurt with. Fun, functional and pretty darn cute too!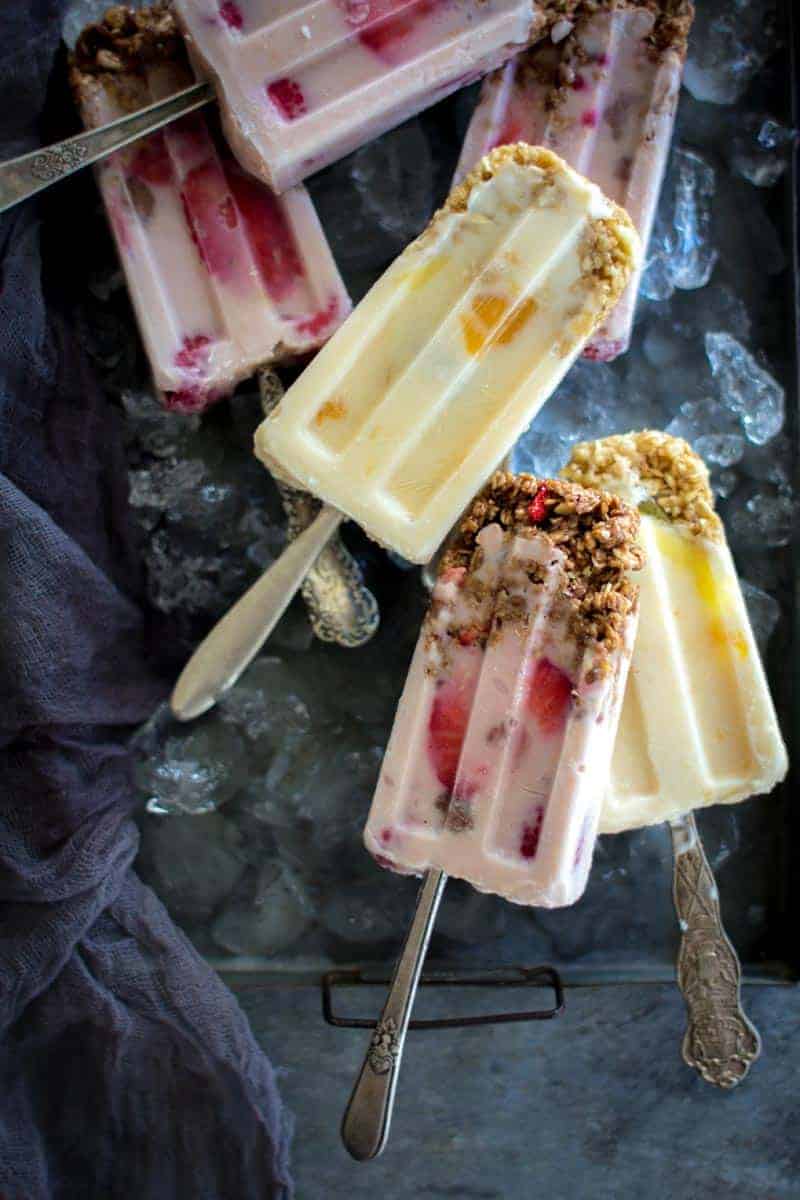 If you've tried this Frozen Yogurt Breakfast Pops Recipe, I would be so grateful if you would rate it. Let me know what you think in the comments below. I just love hearing from you and your reviews and comments really help others that visit This Mess is Ours!
Print
Yogurt and Granola Breakfast Pops
These are great for breakfast and do double duty as a healthy dessert. Mix and match flavors to your hearts desire!
Don't forget to rate the recipe and let me know what you think about these Yogurt and Granola Breakfast Pops in the comments below. I just love hearing from you. Your reviews/comments really help other people that visit This Mess is Ours!
Author:
Yield:

10

pops

1

x
2 cups

store bought granola, any flavor or brand will work

2 tablespoons

maple syrup or agave

⅔ cup

finely chopped fresh fruit of choice

2 cups

yogurt, any flavor or brand will work
Instructions
Place the granola in a food processor and pulse a few times to break down. Transfer to a bowl and mix with the maple syrup well.
Add 2-3 tablespoons granola into the bottom of each popsicle mold, pressing down firmly with a spoon to compact the cereal. Alternate adding tablespoons of fresh fruit an yogurt into the molds until the mold is ¾ of the way full. Insert popsicle sticks and fill any remaining space in the mold with yogurt.
Recipe Card powered by
Want to be a part of our online community outside of the blog? It's easy!! All you have to do is follow @THISMESSISOURS on FACEBOOK, INSTAGRAM, TWITTER, YOUTUBE, or PINTEREST to see cooking demos and peeks into our day to day life.
What are the health benefits of granola?
Granola, being made of toasted oats and nuts, is a protein packed cereal. High amounts of fiber, along with the protein, help to promote gut health and keep you feeling full longer. The ingredients in granola also regulate blood pressure, cholesterol, and blood sugar levels.
Click here for more information on the health benefits of granola.
Frequently Asked Questions