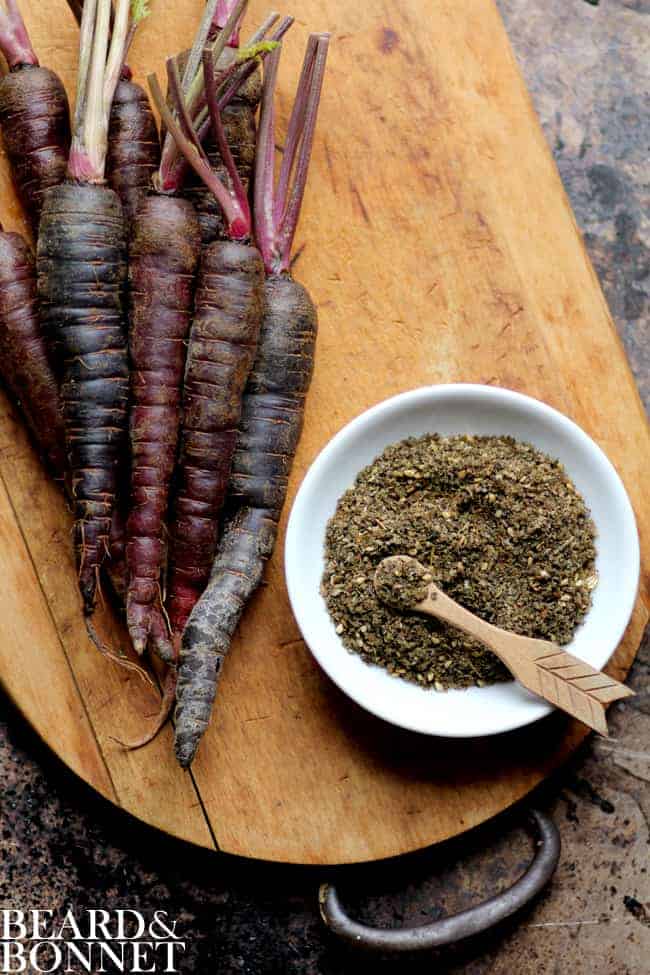 Last week, while grocery shopping, I stumbled upon the most beautiful purple carrots. Even though carrots were nowhere to be found in my meal plan for the week I knew that I had to make an exception, veer away from my trusty meal plan, and grab a few bunches. When I returned home, I didn't waste any time trying to figure out what I would do with them. I knew immediately with one glance into the spice cabinet, I was going to pair them with a spice blend that was given to me for Christmas called Zahtar. Have you tried it before? Zahtar is an aromatic herb and spice mixture of thyme, roasted sesame seeds and sumac used a lot in Middle Eastern cooking. I have been searching for just the right ingredients to pair with it and those sultry purple carrots seemed to fit the bill perfectly. After roasting I finished the carrots off with a sprinkling of fresh herbs and lime zest to add a little color and an extra little zing. The dish was a complete success, the kids ate all of their carrots and we all agreed that they were welcome back at our dinner table anytime.
Sultry Zahtar Spiced Purple Carrots with Cilantro and Lime (Gluten-Free & Vegan)
Serves 2-3 as a side
2 small bunches of purple carrots, washed and peeled
1 Tbsp. olive oil
½ Tbsp. zahtar
1 tsp. coarse salt
¼ cup cilantro, chopped
1 tsp. sesame seeds
1 lime, zested and cut into wedges
Preheat oven to 400° F. Line a baking sheet with parchment paper and lay out the carrots. Drizzle the olive oil over the carrots and toss well to coat then sprinkle with zahtar and salt. Toss well with tongs or your hands to ensure that all of the carrots are coated. Roast for 20-25 minutes or until tender.
Before serving toss the carrots with the chopped cilantro, sesame seeds, and lime zest. Squeeze lime juice over the carrots and toss again to coat.
*Todd and I prefer to leave our carrots whole, but we cut up the carrots for the kids. Either way it tastes amazing!
We are happy to have shared this post at the Gluten-Free Friday's link up party hosted by Vegetarian Mama and  The Gluten Free R.D.!  Hop on over to find more great gf recipes.