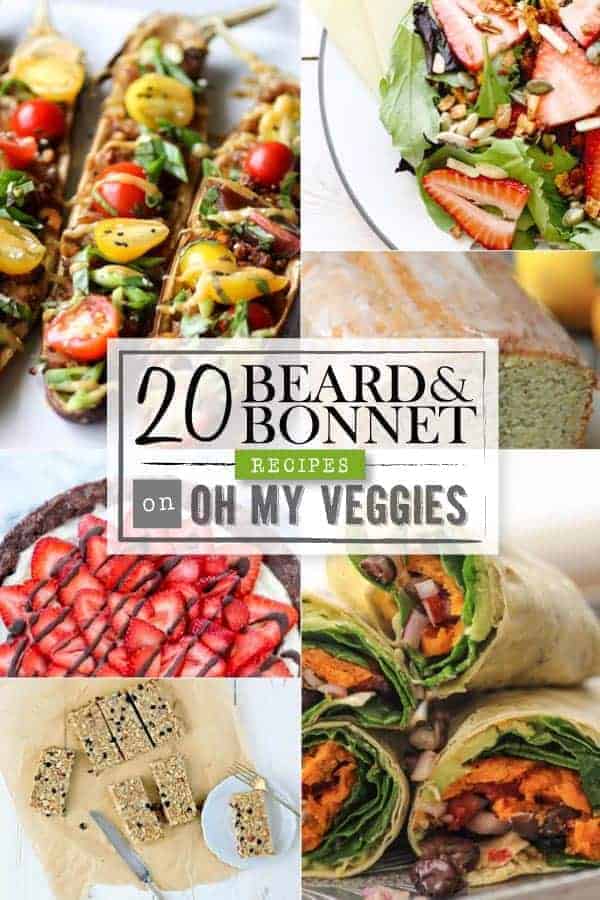 Aside from sharing recipes here on Beard and Bonnet I also spend some time over on my favorite vegetarian site, Oh My Veggies! A few times each month I post recipes on Kiersten's site and I try to share them all on social media when they go live, but every now and then it is nice to put together a round up like this one just in case you happened to miss something tasty. Be sure and follow our Facebook and Pinterest pages so you never miss out on our updates!
There is truly something for everyone in these posts from granola bars and raw desserts, to baked goods and savory vegetarian dishes that are sure to please. There is even a tutorial all about making slice-able polenta at home, I know how you all love tutorials! Now let's get on with it, here are 20 Beard and Bonnet Recipes on Oh My Veggies. Follow the links for the full recipes.
Chermoula Veggie Kebabs with Halloumi Cheese:
These veggie-and-cheese kebabs are marinated in and basted with a fresh and tangy chermoula sauce—perfect for a summery weeknight meal.


Stuffed Miso Eggplant
Chopped walnuts replace the ground meat in this recipe inspired by Steamy Kitchen's Stuffed Miso Eggplant. A fresh tomato-basil salad and a drizzle of miso dressing take it over the top.

Strawberry Salad with Coconut Bacon & Black Pepper Vinaigrette
Fresh mixed herbs and greens, sweet in-season strawberries, crunchy almonds, pepitas, and smoky coconut bacon -- all dressed with zingy black pepper vinaigrette. This salad is happiness on a plate!

Huevos Rancheros Enchiladas
Everything you love about huevos rancheros rolled up enchilada-style!

Thai Veggie Burgers
Thai-inspired homemade pickles and curried cashew cream top off these spicy veggie burgers. Adapted from Epicurious's Thai Turkey Burgers.

Black Bean and Pepper Jack Stuffed Poblano Peppers
Hearty black beans and melty pepper jack cheese stuffed inside poblano peppers, and then baked to perfection atop a zesty fire roasted sauce. Even the meat eaters in your home will love this dish!
Blueberry, Almond, and Puffed Amaranth Granola Bars
Puffed amaranth makes a nutritious addition to these homemade granola bars!

Raw Strawberry Chocolate Dessert Pizza
Rich and decadent ... plus raw and vegan too! Strawberries and chocolate join together in this gorgeous no-bake dessert pizza. Your sweet tooth will thank you!

Gluten Free Meyer Lemon Poppy Seed Bread
This gluten-free Meyer Lemon Poppy Seed bread is perfect for a weekend breakfast, brunch, or even dessert! If Meyer lemons aren't available use a regular lemon instead.
Mint Chocolate Chip Dessert Bars
Move over cashews you may have met your creamy match! Creamy, minty vegan bars made with pistachios. Yes, pistachios!

Strawberry Coconut and Lime Smoothie
Have an abundance of strawberries in the fridge? No worries! This smoothie is the perfect way to use them up.
Crispy Quinoa Cakes with Roasted Red Pepper Cashew Cream
These Crispy Quinoa Cakes are a meatless main dish everyone will love! Plus the roasted red pepper cashew cream dipping sauce is pretty amazing on it's own.

Asian Lettuce Wraps
These vegetarian lettuce wraps replace the meat with walnuts and portabella mushrooms. Plus there is a recipe for homemade gluten free hoison sauce in this post too!

Black Bean Enchiladas with Roasted Red Pepper Cashew Cream
Cashew cream replaces the cheese in this vegan-friendly enchilada recipe.
Artichoke Gratinata
Serve this artichoke gratinata as a side dish or toss it with gluten free pasta to make it a meal!
Black Bean Flautas with Avocado Dipping Sauce
Crispy tortillas stuffed with refried black beans and a red onion and lime relish all dipped in a tasty avocado sauce.

Sweet Potato and Millet Falafel
Serve this Sweet Potato & Millet Falafel with gluten free naan, hummus, tzatziki, and veggies. I have even been known to dip these bad boys in guacamole! We've tested it deep-fried, pan-fried, and baked and it's delicious any way you make it!

Southwestern Veggie Wraps
Sweet potatoes and smoky black beans make these vegetarian wraps filling and delicious!
How To Make Your Own Polenta
Buying those tubes of polenta is convenient, but homemade tastes better and you can customize your polenta with fresh herbs, cheeses, and other ingredients. And it's easy to do!

20 Vegetarian Tex-Mex Recipes
Here are 20 especially mouth-watering vegetarian Tex-Mex recipes that are sure to spice up your dinner rotation.