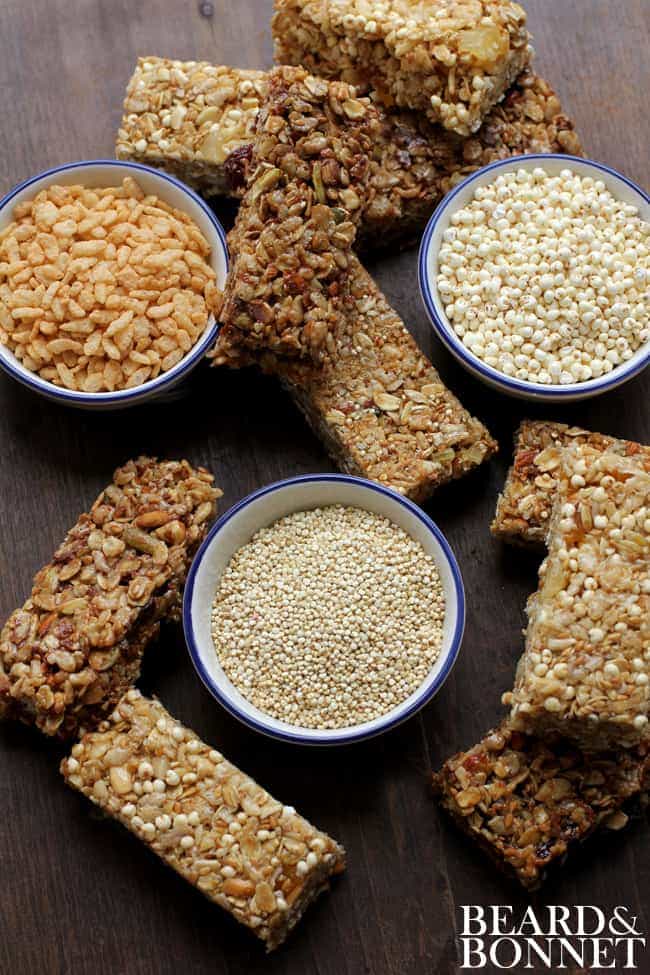 Can you believe it is finally summer? This past month has been a huge transitional period for my family; we finished the school year in Atlanta, Georgia then packed up all of our belongings and moved back home to sunny Long Beach, California. We made a 7-day cross country road trip that was nothing short of amazing and were greeted with a spectacular welcome home from all of our friends and family here on the West Coast. Although the transition has been a fun and exciting one, I have really been struggling to get back into the swing of things, find our routine, and build my pantry. So, a few days ago with the help of our daughter, we nailed our pantries snack stash dilemma by making a trio of cereal bars that fit every flavor profile our family could possibly hope for. Maybe you remember the recipe for Rise and Shine Energy Bars I posted a few months ago? These three bars are inspired by that recipe, using completely different flavor combinations like Chocolate Covered Cherry (g-free and vegan), Tropical (gfree), and Ginger, Almond, and Quinoa (gfree)!  Since we made these bars we have been testing them out on every kid and adult that comes through our front door and they have all been a HUGE hit!
There really are no wrongs or rights when it comes to a snack like a cereal bar. It's all about the flavors and textures that you like and you are only limited by your own imagination. When gathering ingredients for my cereal bars I like to hit the bulk section of our grocery for inspiration. You can make a batch of 12-14 of these bars cheaper than you can pick up a box of cereal bars on the snack aisle, and you can feel good knowing exactly what is in each of them. Along with the fun fruits, seeds, cereals and nuts, I like to add a few healthy additions into the bars too like toasted quinoa, puffed millet, and hemp hearts.
Look for all three scrumptious cereal bar recipes on The Balanced Platter today!
UPDATE 10/13/16 
Unfortunately, The Balanced Platter website did not notify us before taking their site down and we were unable to retrieve these recipes. We are working to develop new recipes to replace these and will post them asap. Sorry for the inconvenience!