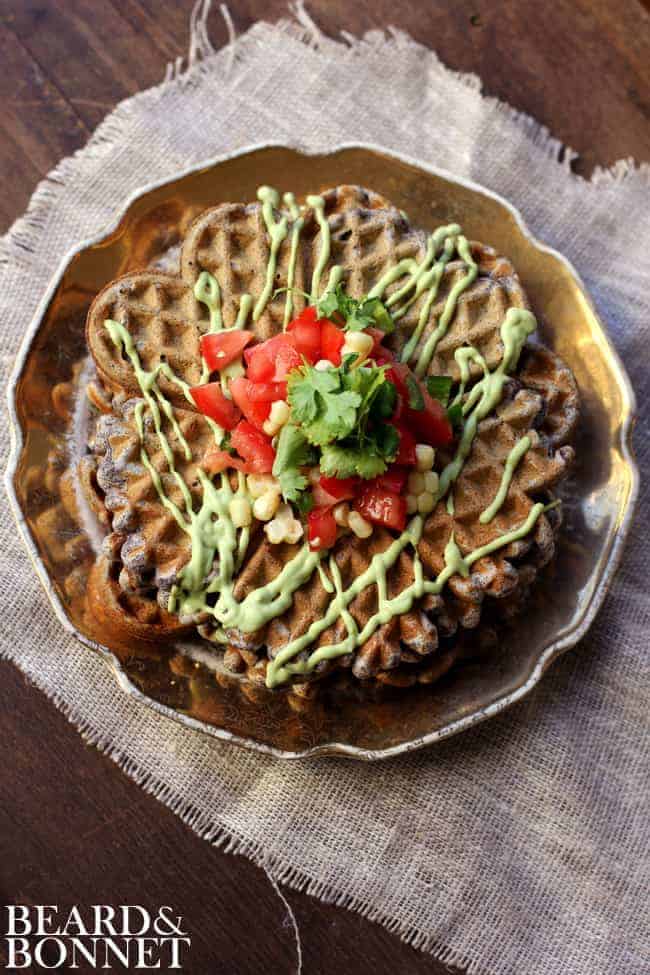 Sometimes, preparing dinner at my house feels a little bit like an episode of Chopped. I start off the day thinking that I have ingredients for a certain meal that were inevitably snacked upon by some other member of my family.  I should have learned by now to look in the morning when I get my meal plan together to ensure that I have all of the needed ingredients, but not looking keeps it interesting. The other day I set out to make burritos for dinner with Trader Joe's brown rice tortillas, homemade pico, fresh corn, black beans, and roasted poblano cashew cream. Upon inspection of the pantry I realized that all of the tortillas were gone and I only had about 1/4 of the poblano cashew cream that I thought I had in the fridge.
So there I went, drawer by drawer in the pantry on the hunt for a new "vehicle", if you will, for my fresh corn and pico. I just happened to have black bean flour on hand and from time to time I break it out and make beautiful purple hued tortillas, but on this particular day I happened to also spot my waffle iron. I have heard of savory waffles before and since I haven't had the opportunity to give my "new to me", vintage cast-iron, waffle iron a spin I thought I would channel my inner Chopped contestant and give it a go. I measured, I whisked, I scooped, and they sizzled. Fingers were crossed and taste testers, my own personal Chopped judges,were lined up in the kitchen. The first waffle cooked up beautifully! Crisp golden exterior with the slightest hint of purple and when I broke the waffle into sections for my testers the inside was soft and tender. They all tasted and I was given 4 thumbs up!
I thinned my remaining roasted poblano cashew cream with lime juice, drizzled it over our savory black bean flour waffles like syrup and topped them with a heaping scoop of homemade pico and roasted corn. Plates were served and they all came back empty. Todd said that for the first time in a year of being gluten-free he finally had a bread like treat that completely satisfied him. The texture was there, the taste was spot on, and the suggestions of all of the ways that these could be enjoyed in our house started to pour in. Be prepared Beard and Bonnet readers…there will be quite a few savory waffle posts headed your way!
Savory Black Bean Flour Waffles
Makes 8 waffles
1 cup black bean flour
1/2 cup potato starch
1/4 cup tapioca flour
2 tsp. baking soda
1 tsp. salt
1/4 cup oil
2 eggs
1 1/2 cups buttermilk
Combine all of the dry ingredients and mix well with a whisk. Add the liquid ingredients and stir until incorporated. *Do not overwork the batter.  Pour into the waffle iron in batches and follow manufacturers instructions for your particular model.
Roasted Poblano + Cilantro Cashew Cream: (adapted from Love and Lemons)
1.5 cups raw unsalted cashews
¾ cup water
1 roasted poblano pepper
1 small garlic clove minced
¼ cup chopped cilantro
¼ cup minced onion
¾ tablespoons fresh lemon juice
salt, to taste (about 1 tsp.)
Soak the cashews in enough water to cover for at least 30 minutes, drain the water off.  Place the pepper under the broiler and roast until blistered on all sides. (time will vary depending on the heat of your broiler). When it's fully blistered, remove and place in a bowl and cover (not touching) with plastic wrap or at towel. Set aside for 15 minutes or so, until it's cool enough to handle. Using your fingers, slide off the skin and remove the stem and seeds. Blend roasted poblano and all ingredients in a high powered blender (best results from a vitamix or similar). Taste and adjust seasonings to your liking. Set aside