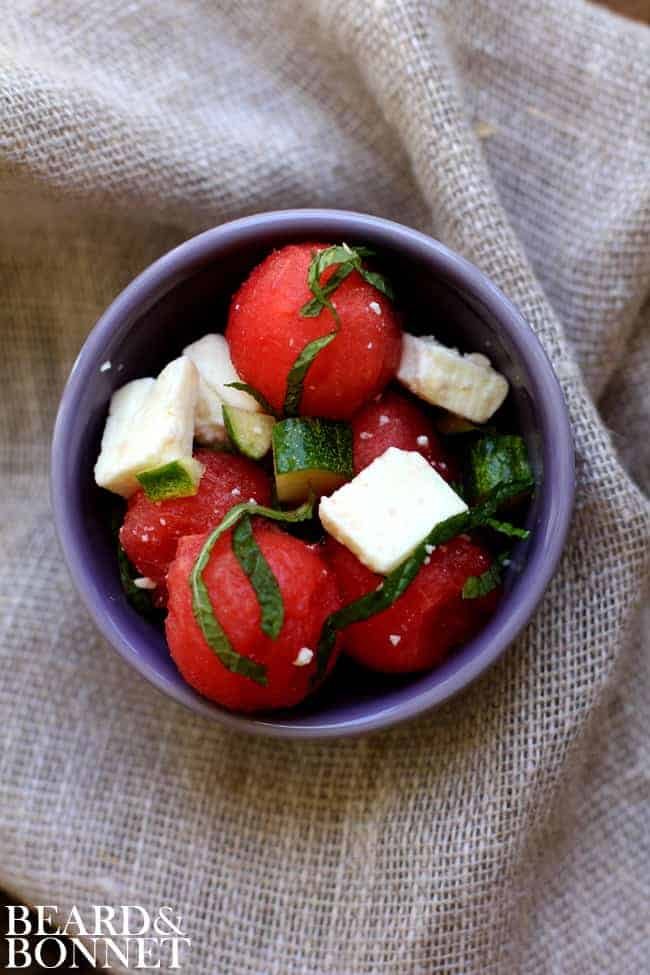 There are a lot of things that I love about summer and watermelon is at the top of the list! I could hardly contain my excitement when I saw a huge pile of my favorite summer fruit sitting in front of my "go-to" organic farmers booth at the market last week. I bought the biggest melon he had and made Todd trek it back through the park to our house. I have carved slices, frozen cubes, and Eliza and I made this awesome salad for our family when they came to visit. I know what you are thinking as you peruse the recipe..."Watermelon and feta cheese?" Trust me, it is a match made in heaven and the balsamic dressing gives just a little kick.
Refreshing Watermelon Salad
Serves 4-6 as a side
3 cups watermelon, chopped, cubed, or scooped into balls
1 cup cucumber, chopped and seeded
1 cup feta, cubed
3 Tbsp. mint, chiffonade
2 Tbsp. balsamic vinaigrette, see recipe below
Mix all the ingredients in a bowl and toss well to combine. Serve immediately.
Simple Balsamic Vinaigrette
From Emeril Lagasse
¼ cup balsamic vinegar
2 teaspoons dark brown sugar, optional*
1 tablespoon chopped garlic
½ teaspoon salt
½ teaspoon freshly ground black pepper
¾ cup olive oil
Combine all of the ingredients in a mason jar and shake vigorously to blend.