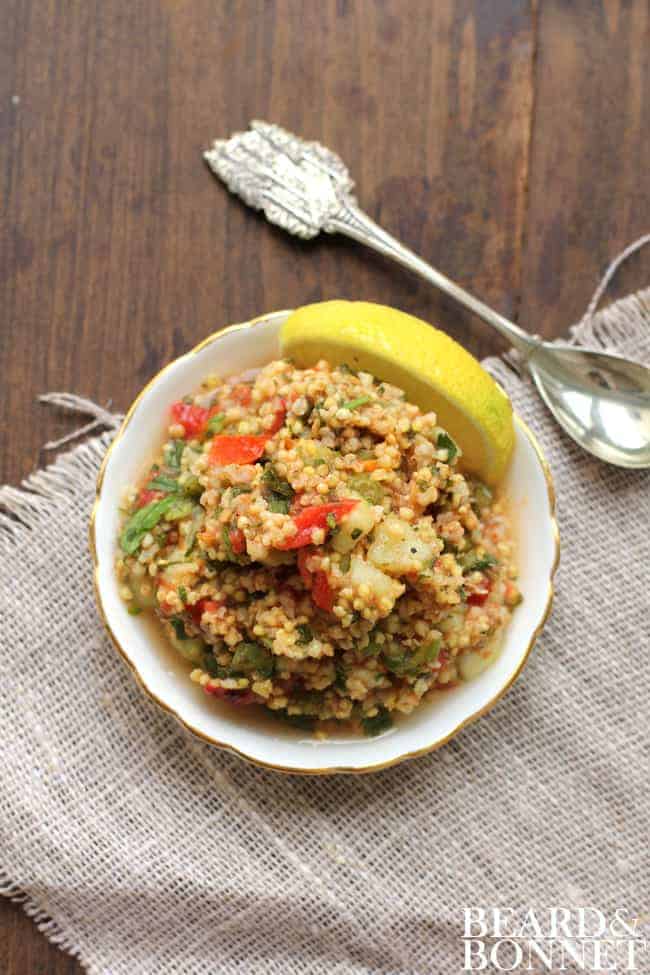 A few weeks ago I mentioned our new found love for millet on our Facebook page, and apparently a lot of you love it too!  I have been cooking and baking with millet for weeks now and it's safe to say that it's my new favorite ingredient. Last Friday night we had a small get together at our house with homemade falafel, hummus and veggies, and this millet tabbouleh. It has been quite a while since we had tabbouleh in our house and I am so glad that it's back. What are your favorite ways to cook with millet?
Millet Tabbouleh
Serves 4-6 as a side
1 cup millet
2 cups vegetable broth
1/2 tsp. Kosher salt
1 Tbsp. Earth Balance
Zest and juice of 1 lemon
3 small heirloom tomatoes, chopped (Use Roma tomatoes if you cannot find heirloom)
1 cucumber, peeled, halved, seeded, and diced
4 green onions, (white and light green parts) thinly sliced
1 cup flat leaf parsley, chopped
3 Tbsp. mint, chopped
Kosher salt and freshly ground black pepper to taste
Cook the millet:
No need to rinse millet before cooking however you should sort through the millet and pick out any black pebble-like pieces that you see. These bits are the unhulled grain and should be removed. In a large, dry saucepan, toast the raw millet over medium heat for 4-5 minutes or until the millet is a rich golden brown in color and the grains are fragrant. Once toasted add the broth and 1/2 teaspoon salt. Stir the millet really well, increase the heat to high and bring the liquid to a boil. Once boiling add the Earth Balance, decrease the heat to low and cover the pot. Simmer about 15-20 minutes or until the grains have absorbed most of the broth. Remove from the heat and allow to sit covered and undisturbed for 10 minutes to absorb the remaining liquid then fluff with a fork. Let cool to room temperature.
Prepare the Tabbouleh:
Combine all of the remaining ingredients with the cooled millet in a large mixing bowl and toss well to coat. Let chill for 1 hour before serving.
Here are a few other recipes using millet that have caught my attention!
Warm Millet Salad with Delicata Squash, Crispy Tofu and Spinach from Tastie Yummies
Warm Citrusy Millet Salad with Roasted Fennel and Kalamata Olives from The Kitchn
Peanut Butter Chocolate Chip Millet Cookies from Bob's Red Mill
(Visited 5 times, 5 visits today)