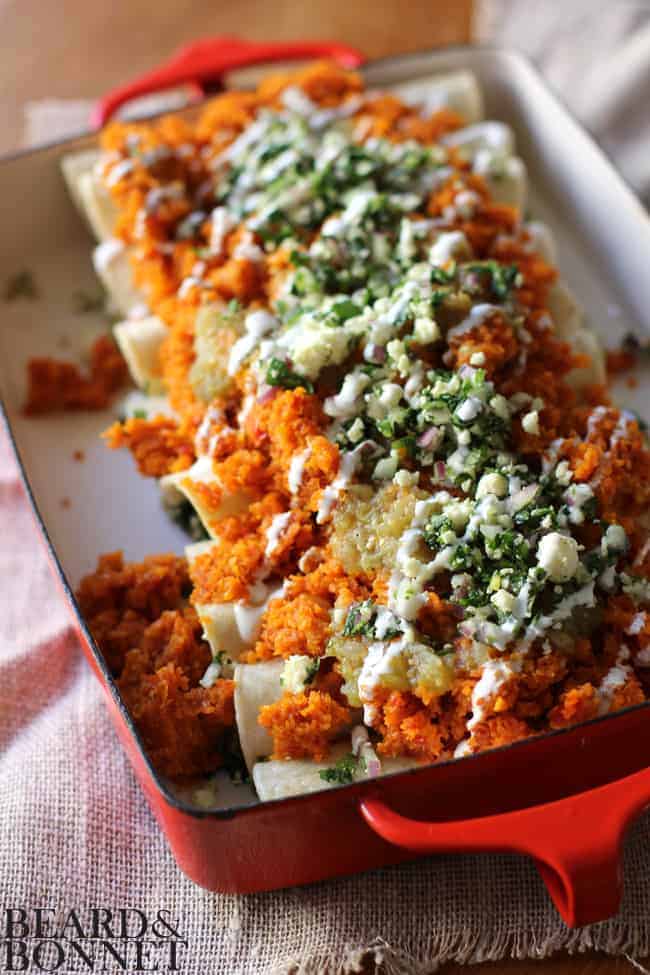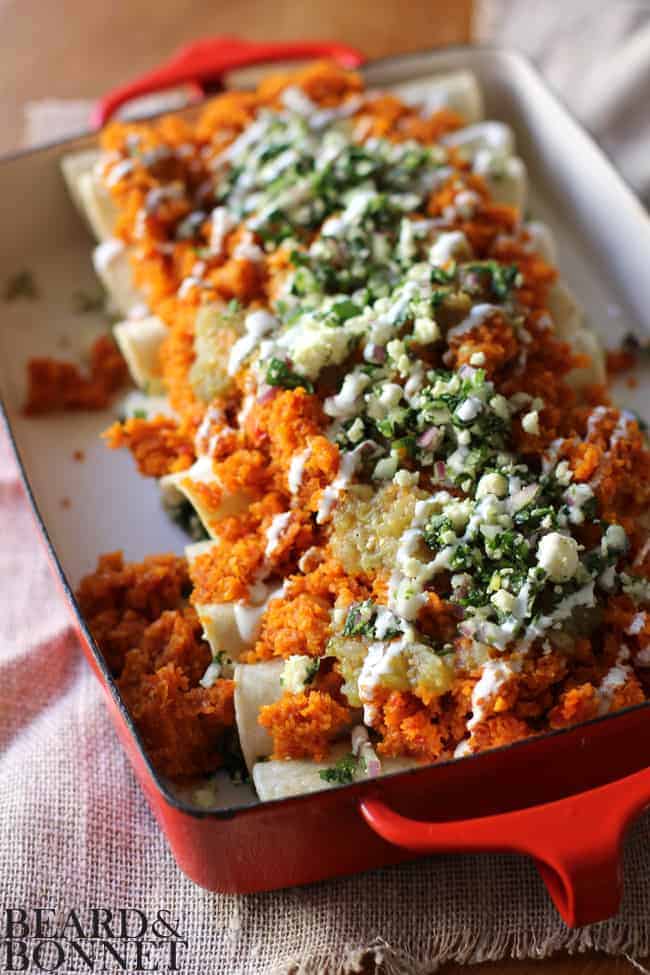 Remember a while back when we made that sofrito? Maybe you remember the saffron rice with sofrito? I am pretty sure that I thoroughly expressed my love for building complex flavor bases back in those posts, and I have to admit that any and everything is better with a little dollop of sofrito mixed in. Naturally, when I saw this recipe in Food and Wine magazine last month for No-Bake Vegetarian Enchiladas with Carrot Sofrito I knew it had to make an appearance at our dinner table, and soon. I had never even fathomed a carrot based sofrito before and now that I have had it I think I just may start mixing it into the base of some of our other savory dishes too. These enchiladas were so colorful and delicious we knew that we had to share them here with you!
No-Bake Vegetarian Enchiladas
From Food and Wine May 2013 issue
4-6 servings
Carrot Sofrito
1 ¼ pounds carrots, coarsely chopped
1 small yellow onion, chopped
5 garlic cloves, peeled
½ pound tomatoes, chopped
½ cup extra-virgin olive oil
Kosher salt
Enchiladas
9 oz. queso fresco, crumbled
1 cup finely chopped cilantro
¾ cup finely chopped red onion
Canola oil, for warming
12 corn tortillas
Roasted Tomatillo Salsa, or store bought tomatillo salsa
Mexican crema or sour cream, for drizzling
To make the carrot sofrito:
Preheat the oven to 225°F. In a food processor, pulse the carrots, onion and garlic until very finely chopped. Heat 2 tablespoons of the olive oil in a deep, cast iron or ovenproof skillet over medium heat until shimmering. Add the carrot mixture and a generous pinch of salt and cook over moderate hear, stirring occasionally, until softened and almost dry, 5-7 minutes. Meanwhile, add the tomatoes to the food processor and pulse until nearly smooth. Add the tomato puree to the carrot mixture and cook , stirring occasionally, until the liquid has evaporated, about 5 minutes. Stir in the remaining 6 tablespoons of olive oil. Transfer the skillet to the oven and bake for 1 ½ hours until the carrot sofrito is very soft. Season with salt, cover and keep warm over low heat, stirring occasionally.
Assemble the Enchiladas:
In a medium bowl toss the crumbled queso fresco with the chopped red onion and cilantro. In a small skillet heat ¼ inch of canola oil over moderately low heat. Add 1 tortilla at a time to the skillet and cook until pliable, about 20-25 seconds. Use tongs to transfer the tortilla to a baking sheet. Repeat with the remaining tortillas.
Working quickly, roll approximately ¼ cup of the cheese mixture into each tortilla and arrange them on a large platter, seam side down. Spoon the hot sofrito over the enchiladas and scatter the remaining cheese mixture on top; drizzle some of the Roasted Tomatillo Salsa and crema over them and serve.