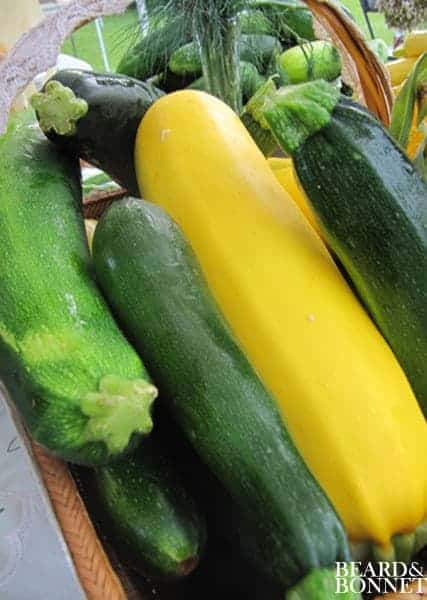 Hooray for zucchini! I had no idea that this humble squash had its own holiday, did you? Well, it does and thanks to Heidi over at Foodie Crush and her new desktop calendar filled with food related fun facts I am now in the know. I love zucchini for an endless number of reasons but my top three are…
Zucchini is one of the most versatile veggies out there! So far I have baked it, fried it, pureed it, stuffed it and sautéed it all with winning results.
A single zucchini has more potassium than a banana.
According to the World's Healthiest Foods Nutrition info, nutrients and vitamins found in zucchini can help prevent cancer and heart disease.
I thought that in honor of this very special day I would share my favorite zucchini recipes from a few of my favorite blogs.
Photo by: Love and Lemons
Love and Lemons is probably the blog that I visit the most. The food is phenomenal, the photography is killer and I am a sucker for a husband and wife duo like Jeanine and Jack. The zucchini-avocado salsa in this particular recipe really makes these tacos sing!
Photo by: Aida Mollenkamp
Aida Mollenkamp's blog is another one of my favorite's. She is always introducing her readers to new spices and flavors and I love reading about her culinary travels. I made a version of this recipe using quiona pasta and Earth balance in place of the butter. I loved that she used baby zucchini as well as squash blossoms in this dish. Brilliant!
Photo by: Whole Living
Whole Living has an abundance of recipes and is one of my favorite places to scout out new ideas for living green. This Spicy Zucchini Frittata is gluten-free, dairy free and is on our menu for dinner tonight!
My wonderful husband returns this evening from a 10-day trip that took him from Vancouver to Seattle over to Portland and down to New Mexico. He has been posting a couple of pictures everyday on our Instagram and it looks like he has had a whole lot of fun. I can't wait for him to come home and enjoy a delicious home cooked meal with his family.
(Visited 1 times, 1 visits today)