There are two things that Todd and I require in the morning: a strong cup of coffee and a biscotti. The biscotti recipe that we used to enjoy every morning was kicked out of the house along with everything else that was laced with gluten and dairy. We tried to replace the biscotti in our beloved morning routine with other gluten-free goodies but it just wasn't the same. A few weeks into our new lifestyle we decided that we had to hunt down the perfect gluten and dairy free replacement so that we could reclaim our morning ritual. We started at our local Whole Foods and Trader Joes but, we came up empty-handed and discouraged. It became obvious that reclaiming our morning meant breaking out my mixing bowl. We read and researched and mixed and tested until we had a winner! This biscotti recipe is our favorite gluten and dairy free treat so far.
If you've tried this Almond and Carob Chip Biscotti Recipe I would be so grateful if you would rate the recipe and let me know what you think in the comments below. I just love hearing from you and your reviews and comments really help others that visit This Mess is Ours!
Almond Carob Chip Biscotti: (dairy & gluten-free) 
Adapted from Gluten-Free Baking Classics
2 cups Brown Rice Flour Mix (see below)
1 cup granulated sugar
1 tsp. baking powder
1 tsp. xanthan gum
⅛ tsp. salt
2 large eggs (or egg substitute if vegan)
1 Tbsp. Amaretto
2 tsp. pure almond extract
1 ½ tsp. pure vanilla extract
1 tsp. Earth Balance, at room temperature
½ cup sliced almonds, lightly toasted and coarsely chopped
¼ cup carob baking chips
Position your baking rack in the center of the oven and preheat to 300 degrees F. Line a baking sheet with parchment paper, spray with cooking spray and dust with rice flour.
Combine flour, sugar, baking powder, xanthan gum and salt in the bowl of an electric mixer. Add eggs, Amaretto, almond extract, vanilla, and Earth Balance. Beat at medium speed until well combined. Fold in almonds and carob chips. Your dough will be very sticky and crumbly.
Divide dough in half and shape each half into a log that is about 8 inches long by 2 inches wide. Place logs at least 2 inches apart on the cookie sheet and bake in the center of the oven for 30-40 minutes. The logs will be a light golden brown and will have flattened slightly. Remove the biscotti to a cutting board and let cool for 8-10 minutes.
Once they have cooled slice the logs diagonally with a serrated knife into 1 ½-inch-wide biscotti and place back onto the baking sheet cut side down. Return the pan to the oven and bake for an additional 10-15 minutes until golden, flip and bake an additional 10-15 minutes. Remove from oven and transfer to a wire rack to cool.
At this point the biscotti are perfect and can be enjoyed immediately but if you would like a super rich and indulgent biscotti, melt down carob chips mixed with a little honey and almond milk in a double boiler and dip the biscotti. This recipe will yield about 3 dozen biscotti that will keep up to 3 days on the counter in an airtight container or 3 weeks in the refrigerator. These biscotti also freeze really well and will last up to 6 weeks when frozen.
Brown Rice Flour Mix
2 cups brown rice flour, finely ground
⅔ cup Potato starch, not potato flour
⅓ cup tapioca flour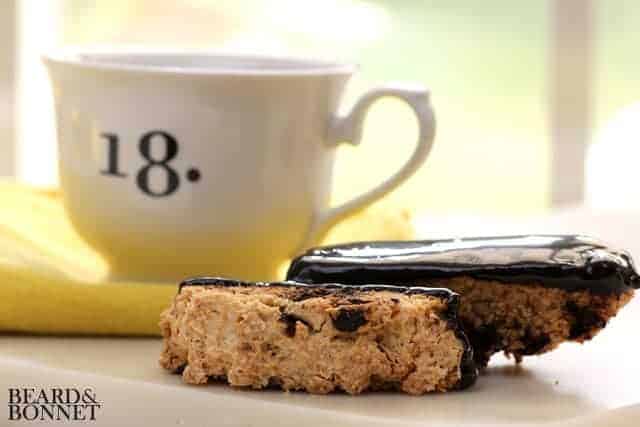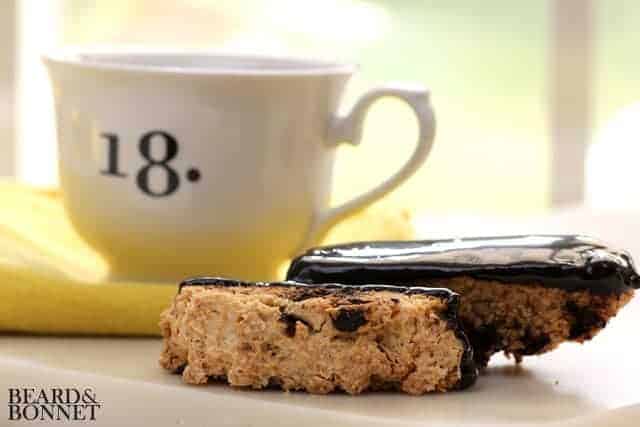 We are happy to have shared this post at the Gluten-Free Friday's link up party hosted by Vegetarian Mama, Eat.Live.Make, and Gluten Freed R.D.!  Hop on over to find more great gf recipes.
Want to be a part of our online community outside of the blog? It's easy!! All you have to do is follow @THISMESSISOURS on FACEBOOK, INSTAGRAM, TWITTER, YOUTUBE, or PINTEREST to see cooking demos and peeks into our day to day life.
What are the health benefits of almonds?
Almonds are full of Vitamin E and other antioxidants which help to slow the aging process and fight diseases. Low in carbohydrates and high in healthy unsaturated fats, these tree nuts help control blood sugar, cholesterol, and blood pressure levels.
Click here for more information on the health benefits of almonds. 
Frequently Asked Questions