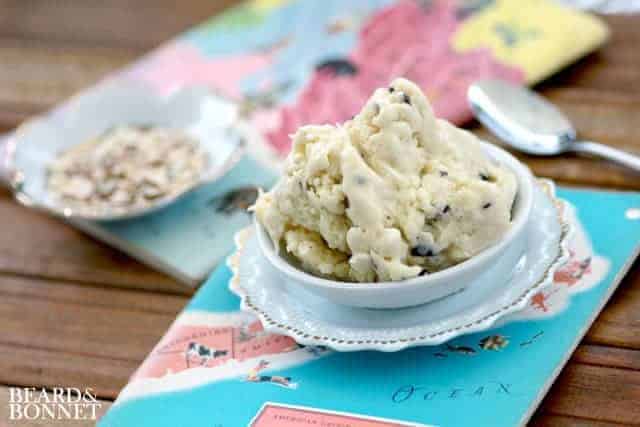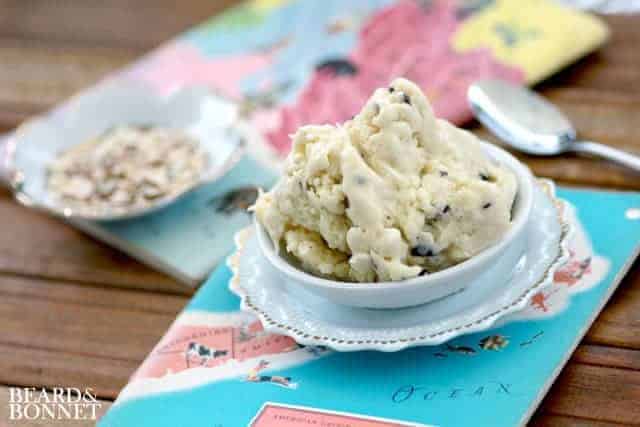 Way back in 1984 Ronald Reagan did us all a solid and declared July National Ice Cream Month and designated that the third Sunday in July be forever known as National Ice Cream Day. How does a family of gluten-free and dairy free people observe this national day of frozen yumminess? With homemade dairy and gluten-free ice cream of course!  This year I decided to try a coconut milk ice cream recipe with carob chips and optional toasted slivered almond sprinkles. Why optional sprinkles you ask? Well, because sometimes you feel like a nut and sometimes you don't! Here is my wink and a nudge to Mounds, Almond Joy and ice cream!
If you've tried this Coconut Milk Ice Cream Recipe I would be so grateful if you would rate the recipe and let me know what you think in the comments below. I just love hearing from you and your reviews and comments really help others that visit This Mess is Ours!
Coconut and Carob Chip Ice Cream: (gluten and dairy free)
6 egg yolks
2 cups vanilla coconut milk
1 cup full fat canned coconut milk
½ cup sugar
¼ cup sweetened shredded coconut
¼ cup carob chips, chopped
Place the 2 cups of vanilla flavored coconut milk  and ¼ cup of the sugar into a medium heavy bottomed sauce pan. Heat, stirring occasionally until steam rises from the cream.
Using a whisk or an electric mixer, beat the remaining ¼ cup sugar with the egg yolks until light yellow and thick about 2-4 minutes.  Take ½ cup of the warmed coconut milk and sugar and gradually whisk  it into the beaten egg yolks to temper them. Once the warm milk has been incorporated gradually stir all of the mixture into the saucepan with the warm coconut milk.
Cook over medium-low heat, stirring constantly until the mixture is slightly thickened. Do not let the custard boil. If you are using a thermometer watch for the mixture to reach between 175°F - 180°F  if you don't have a thermometer you want the custard to be thick enough to coat the back of a spoon and leave a trail when you run you finger across it.
Pour the custard through a fine mesh sieve to strain out any bits of egg and then stir in the ¼ cup of shredded coconut and the cup of canned coconut milk. Cover and refrigerate until the mixture is cool.
Churn the chilled custard in an ice cream maker according to the manufacturer's directions. When the ice cream is almost finished churning add in the chopped carob chips.
Transfer to a container and freeze until firm. Eat within 2 days.
Want to be a part of our online community outside of the blog? It's easy!! All you have to do is follow @THISMESSISOURS on FACEBOOK, INSTAGRAM, TWITTER, YOUTUBE, or PINTEREST to see cooking demos and peeks into our day to day life.
For more ice cream fun this weekend and throughout the summer check out these sites for fun facts, recipes and a chance to help a child in need receive a smile.
TasteSpotting has teamed with  Dreyer's/Edy's Slow Churned Light Ice Cream and is posting all things ice cream starting Friday July 13th!
Probably the most important thing you could do while eating and celebrating all things ice cream is here. Dreyer's/Edy's has teamed up with Operation Smile, an international children's medical charity, and is donating $5 for every "ice cream smile" photo captured and uploaded to the Dreyer's/Edy's Facebook page  up to $125,000! This campaign runs through August 31, 2012 so indulge with some ice cream, share a picture and help raise the money to gift 500 cleft surgeries to children in need.
What are the health benefits of coconut?
Coconut is loaded with minerals like manganese which help to promote bone health and is essential in the body's metabolism. Other minerals in coconut like copper and iron contain necessary antioxidants that the body uses.
Click here for more information on the health benefits of coconut.
Frequently Asked Questions