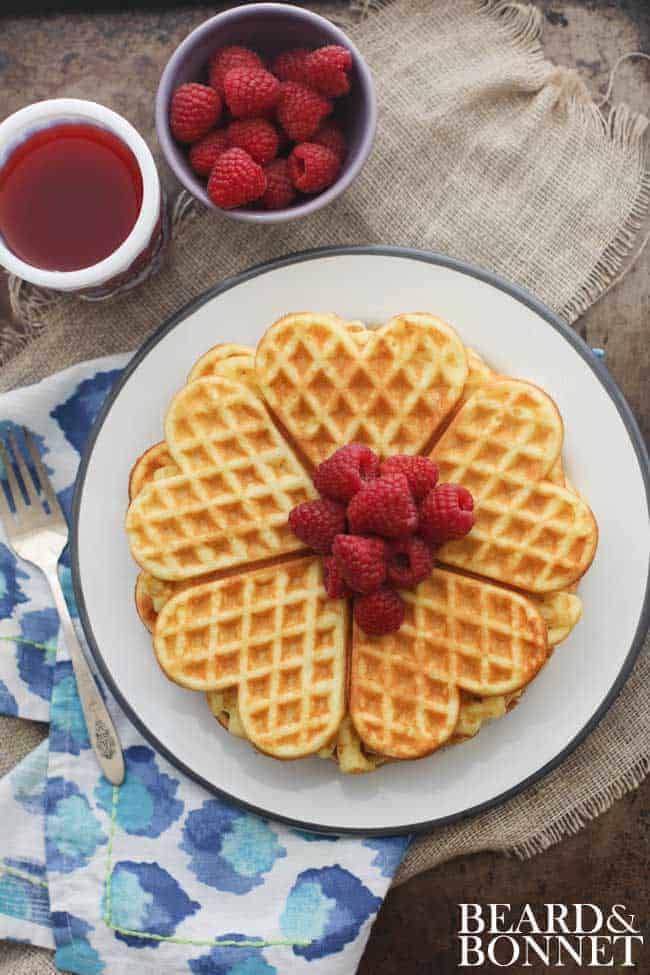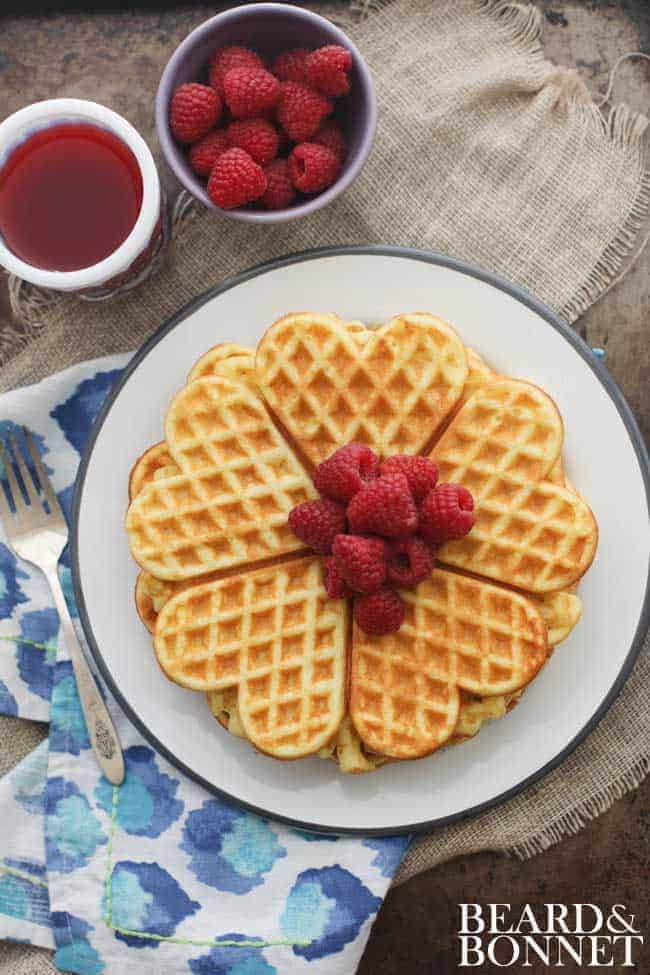 I am so incredibly honored and thrilled to be sharing with all of you America's Test Kitchen's first completely gluten free project today, The How Can It Be Gluten Free Cookbook!!! I have no words to explain how excited I was when America's Test Kitchen reached out to me a while back and asked me to review an advance copy of their soon to be released gluten free cookbook. As a girl who is surrounded by family members that love to cook I can honestly say that collectively we own almost every cookbook they have ever published and we use them quite often.
If you follow me on Instagram then you already know I have an absolute obsession with cookbooks. I tend to read cookbooks like other people read novels; there are always cookbooks by my bed, I carry one in my car for when I am waiting on my kids, I have even been known to read cookbooks poolside. It's borderline ridiculous! So naturally, I was like a kid waiting for the next Harry Potter novel to be released when I was waiting for the ATK book to arrive and let me tell you, it did not disappoint!
For the team at America's Test Kitchen this cookbook is the result of a yearlong odyssey in the test kitchen, The How Can It Be Gluten-Free Cookbook reinvents the rules of baking to deliver a collection of recipes that represents a quantum leap forward in the world of gluten-free baking (and cooking). (source)
After reading almost every gluten free cookbook worth its salt on the market I feel like I have a pretty extensive knowledge of gluten free baking and cooking. I am absolutely floored by how much I learned from reading just the first 30 pages of The How Can It Be Gluten-Free Cookbook! The team at America's Test Kitchen tested practically every gluten free flour blend, bread, pasta, and pantry staple available on the market and shared their unbiased results with all of us in this book. They really dug deep into the science behind gluten free baking and pulled tricks from their hats that really have me excited to cook my way through this entire cookbook!
As if the book wasn't gift enough the team at America's Test Kitchen also sent a large container of their pre-made ATK all-purpose gluten-free flour blend and their recommended baking pan for gluten free bread to test the recipes with. Upon flipping through their book to choose what recipe I would make first I was happy to see that not only did they test all of their recipes with their flour blend, but they also tested them with other gluten free all-purpose flours and recommend either King Arthur Gluten Free Multi-Purpose Flour and Bob's Red Mill GF All Purpose Baking Flour for all of their recipes in case blending your own flour isn't your thing. Every recipe has a section called G-F Testing Lab that covers in detail the changes in measurements, texture, and taste of the flour blends depending on what brand you use versus the ATK blend.
There is NO other gluten free resource like this one on the market. You would have to spend thousands of dollars and endless hours to extensively test recipes like these in your home, and who has the time or money for that? The recipes compiled in this book cover every type of food that your gluten free heart could possibly desire. Looking for the world's most spectacular gluten free buttermilk waffles? Gotcha covered. How about classic sandwich bread or pasta? Yep, they are in there too. Muffins, crepes, corn bread, dinner rolls, pizza dough, cookies, cakes, and cupcakes this book has them all. The America's Test Kitchen team has literally reinvented the rules of gluten free baking with spectacular results!
I honestly could not decide what recipe to make first, so for this review I let my kids pick and they both agreed waffles were the way to go. I made two test batches of these waffles, one directly by the recipe in the book and one using the ATK recommended replacement for buttermilk, which I have included in the notes section of the recipe. I also put my ATK recipe testing hat on and borrowed my neighbor's Belgian waffle iron so I could test both methods of cooking waffles with this recipe. All 3 versions we tested were spectacular and my family of four gave them 8 gluten free thumbs up!
Print
America's Test Kitchen Gluten Free Flour Blend
Author:
Yield:

9 ⅓ cups

1

x
24 ounces

(

4 ½ cups

plus

⅓ cup

) white rice flour

7 ½ ounces

(

1 ⅔ cups

) brown rice flour

7 ounces

(

1 ⅓ cups

) potato starch

3 ounces

(

¾ cup

) tapioca starch

¾ ounce

(

3 tablespoons

) nonfat milk powder
Instructions
Whisk all of the ingredients together in a large bowl until well combined. Transfer to an airtight container and refrigerate for up to 3 months.
Notes
ATK recommends using Bob's Red Mill white rice and brown rice flours as opposed to other brands in this flour blend. Some rice flours tend to be a bit coarser than Bob's Red Mill which can negatively impact the texture of baked goods.
Be sure to use potato starch and not potato flour.
Tapioca starch is also sold as tapioca flour and they are interchangeable.
For a dairy free version of this flour blend use an equal amount of soy milk powder. You can omit the milk powder altogether, however baked goods won't brown quite as well and they will taste a bit less rich, especially in recipes without a lot of fat.
Recipe Card powered by
Print
America's Test Kitchen's Gluten Free Buttermilk Waffles
12 ounces

(

2 ⅔ cups

) ATK gluten-free flour blend

2 tablespoons

sugar

½ teaspoon

salt

½ teaspoon

baking soda

1 ¾ cups

buttermilk

3

large eggs

4 tablespoons

unsalted butter, melted and cooled
Instructions
Heat waffle iron according to manufacturer's instructions.
Whisk the flour blend, sugar, salt, and baking soda together in a medium bowl. In a separate bowl, whisk buttermilk, eggs, and melted butter until combined. Whisk the buttermilk mixture into flour mixture thoroughly until batter has thickened and no lumps remain, about 1 minute (batter will be thick).
Bake waffles according to manufacturer's instructions (use about ⅓ cup batter for 7-inch round iron and generous ¾ cup for Belgian waffle iron). Repeat with remaining batter.
Notes
If you do not have buttermilk on hand you can use ATK's buttermilk substitute!
Mix ½ cup milk with 1 ¼ cups yogurt (both whole-milk and non-fat yogurt will work) and substitute this mixture for the 1 ¾ cups buttermilk.
Substituting the buttermilk with a mixture of lemon juice and milk is not advised in this recipe because the liquid will be too thin.
G-F Testing Lab
For King Arthur Gluten-Free Multi-Purpose Flour: 12 ounces = 1 ⅔ cups plus ½ cup
For Bob's Red Mill GF All-Purpose Baking Flour: 12 ounces = 2 ¼ cups plus 2 tablespoons
Note that waffles made with Bob's Red Mill will be somewhat darker and have a slight bean flavor.
Recipe Card powered by
Want to learn more about The How Can It Be Gluten-Free Cookbook? My girl Beth of Tasty Yummies had the amazing opportunity to review their new cookbook as well and is sharing her thoughts and their classic sandwich bread recipe over on her site. Just look at those gorgeous slices of gluten free bread! So go ahead and enter our giveaway then hop over to read Beth's review and check out the recipe for this gorgeous loaf of bread by clicking here.
Congratulations to Karolyn Bolay for winning the America's Test Kitchen cookbook giveaway!!!
Disclosure: The thoughts and opinions in this post are my own. I received a free copy of this cookbook from ATK for review. This post also contains affiliate links, if you purchase an item through clicking one of these links you will not be charged any extra, but Beard and Bonnet will receive a small percentage of your sale. These funds go towards maintaining our site and we thank you!