Have you entered our Share the Love giveaway yet for your chance to win a a 14-Cup Brushed Stainless Steel Cuisinart Food Processor worth $179.00!!! Check out this post then click here to enter!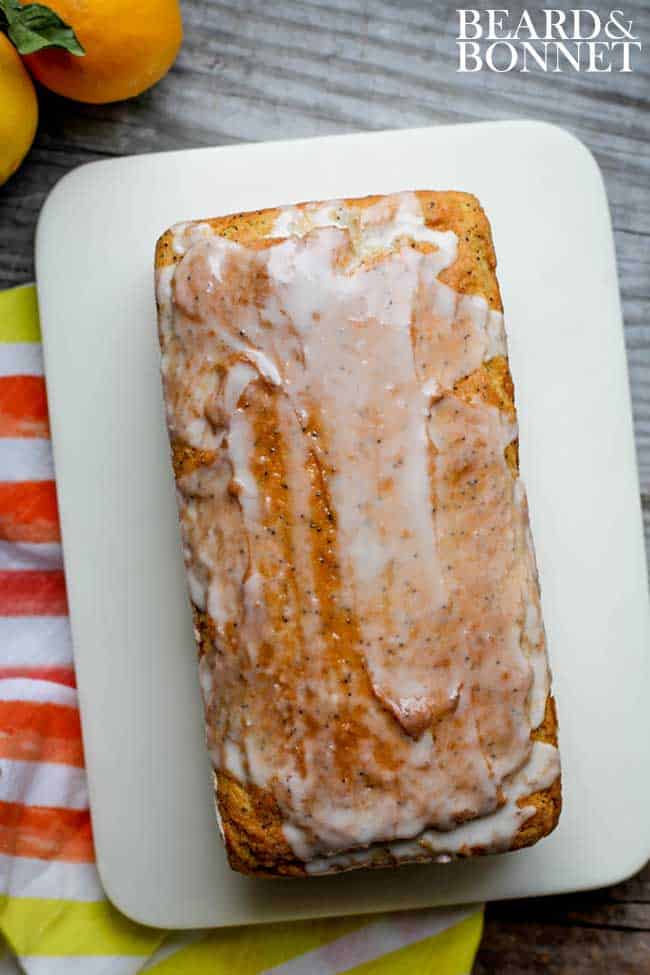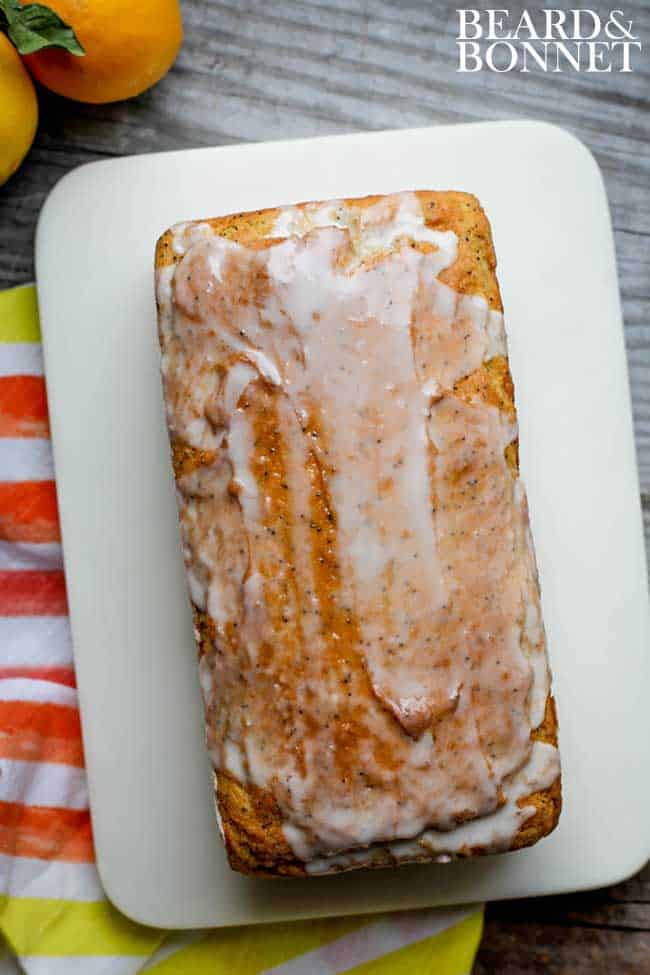 My mother in law, Anita, has the most beautiful citrus trees growing in her yard here in California. She has everything from oranges to kaffir lime trees and Meyer lemon trees. Her entire backyard is nothing short of a citrus smorgasbord! Whenever we go to visit she sends us home loaded down with big bags of all of the beautiful citrus fruits and we spend the next few days soaking up all of the amazing flavors and aromas.
Last week Anita loaded our bags with Meyer lemons for the first time this season! I was so excited to get home and into the kitchen, my head was swimming with potential possibilities for them. Maybe an easy skillet cake or a pan of Meyer lemon bars. Meyer lemon curd crossed my mind too, because what is better than slathering everything that comes out of your kitchen with sweet, tangy lemon curd? Nothing I tell you! Then as we were merging onto the 405 freeway it hit me, the perfect vessel for those Meyer lemons was a quick bread. Think Starbucks lemon loaf kicked up a notch and made gluten free for all of us to enjoy. You with me?
Maybe you are thinking that gluten free quick bread couldn't possibly be as tasty as the real deal gluten filled version. I assure you it can be! Gluten free quick breads are pretty easy to make and delicious when you have the right flour on hand. I like to keep good quality all-purpose gluten free flour like Better Batter, Cup 4 Cup, or King Arthur Flour on hand for recipes like this. They are pretty much interchangeable with regular all-purpose flour and produce a delightfully moist quick bread that has a great texture and crumb. No fuss, no blending flours and starches, and no worrying that it won't turn out perfect every time. I also love Vanilla Extract from King Arthur Baking Company. They have ethically sourced Vanilla Extract from sustainable farmers in Madagascar. Their vanilla is great quality and is a pantry staple that you can use time and time again in recipes.
When you are buying Meyer lemons, look for fruits that are plump and deeply yellow all over. If you see any hint of green, the lemons are under-ripe. The lemons should be firm but give under slight pressure and should feel a little bit heavy for their size. They will smell sweet and floral, like orange blossoms, totally intoxicating if you ask me. Meyer lemons are not true lemons, but believed to be a cross between a lemon and a mandarin or orange which makes them sweeter than regular lemons. If you can't find Meyer lemons, don't fret. You can simply substitute regular lemon juice and zest in this recipe just expect the flavor to be more tart than if you used Meyer lemons.
I am happy to be sharing this recipe today on Oh My Veggies! Click here for the full post and recipe.