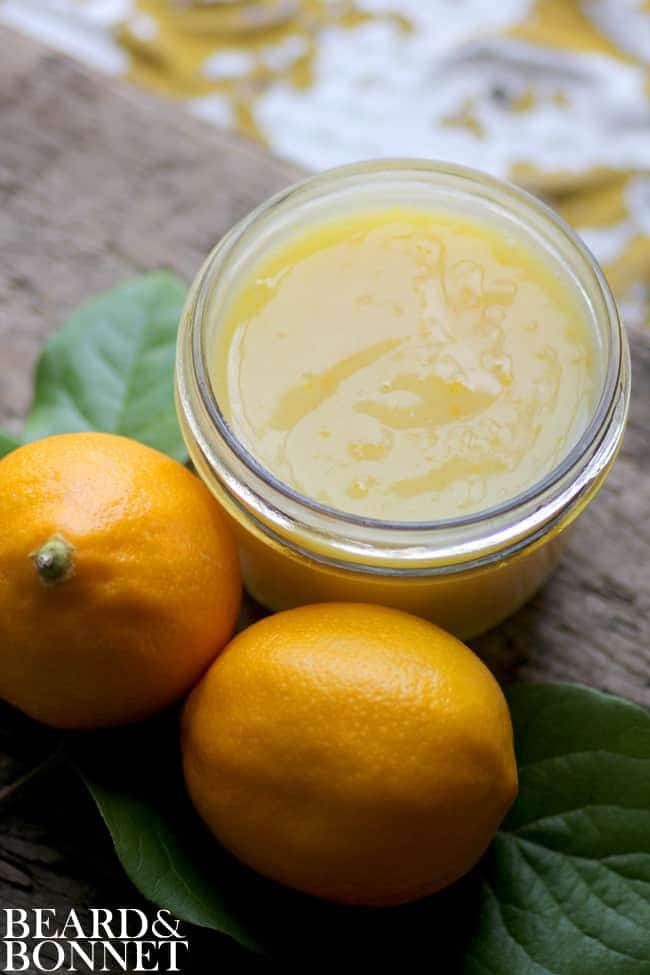 There isn't a lot that I love about winter. I can't stand being cold, I miss the leaves on the trees, and the smell of fresh cut grass that are abundant in spring and summer. There is one thing I look forward to every year though, Meyer lemons! I wait out the cold patiently every year, perusing the citrus bins at my grocery each time I shop until they appear. The past few weeks I have been experimenting a lot at home with Meyer lemon recipes to share here on B&B, I have quite a few up my sleeve and I plan to share them here with you. Have you tried my Meyer Lemon Skillet Cake yet? I immediately thought of it when I made this batch of lemon curd and wished that I had a slice to slather.
I saw an article in Southern Living this month for a quick and easy lemon curd that you could make in the microwave. I immediately scoffed at the idea, my mom is a pastry chef after all, and I am accustomed to slaving a way for the perfect curd. Standing over the hot stove, constantly stirring for 15-18 minutes until my arm feels like it will fall off  waiting to achieve a velvety, smooth, lemon curd. It was totally worth it! The longer I thought about it though, the idea of a fast velvety curd intrigued me and since I had an entire fruit bowl full of Meyer lemon goodness I thought I owed it to myself to give it a try.
I could not believe how easy this new technique was for making lemon curd, and although there were a few moments in the process where doubt started to trickle back in at the end of it all I had a batch of some of the best lemon curd I have ever tasted and my arms weren't even tired. So long constant stirring, hello multiple batches of sinfully sweet lemon curd! *Don't throw away the lemon halves from this recipe, even though they have been zested and juiced I have a recipe coming up in a few days that will put them to good use, just keep them in your refrigerator!
Meyer Lemon Curd 
Adapted from Southern Living
Makes 2 cups
6-8 Meyer Lemons
½ cup butter; softened
2 cups sugar
4 eggs
Grate the zest from the Meyer lemons to equal 2 tablespoons; it took me about 7 lemons. Cut the Meyer lemons in half and juice into a measuring cup until you have 1 cup of liquid, strain out any seeds or pulp and set aside.
In the bowl of an electric mixer beat the softened butter and sugar together until blended. Add 1 egg at a time, being sure that each egg is fully incorporated before adding another until you have added all 4 of the eggs. Gradually add the lemon juice to the batter in small additions, mixing well before adding the next addition until all of the lemon juice is incorporated. * Your mixture will look curdled, don't worry it is supposed too! Transfer to a 3-4 quart microwave safe bowl.
Microwave on high for 5 minutes, briefly pausing to stir at 1-minute intervals. At the end of the 5 minute period, cook in 30 second increments for 1-2 more minutes stirring in between each interval. When the curd begins to thicken, coats the back of the spoon, and starts to mound slightly when stirred it is finished.
Carefully, place heavy-duty plastic wrap directly on the surface of the curd and chill for 4 hours or until firm. The plastic wrap will help to prevent a film from forming on the curd. When the curd is chilled completely, remove the plastic wrap and stir well to combine. Keep the lemon curd in an airtight container in the refrigerator for up to 2 weeks.