Happy Valentine's Day Beard and Bonnet friends!! Did you know I love you? Because, I totally do! You're my favorites and to celebrate I am teaming up with my friends to bring you an amazing giveaway today for a 14-Cup Brushed Stainless Steel Cuisinart Food Processor worth $179.00!!!
If that isn't love than I don't know what is. To make the giveaway today EXTRA special, I am also sharing my recipe for gluten free snickerdoodles that will blow your mind. Hang on to your Valentine's Day britches folks…it's turning into a major love fest here today!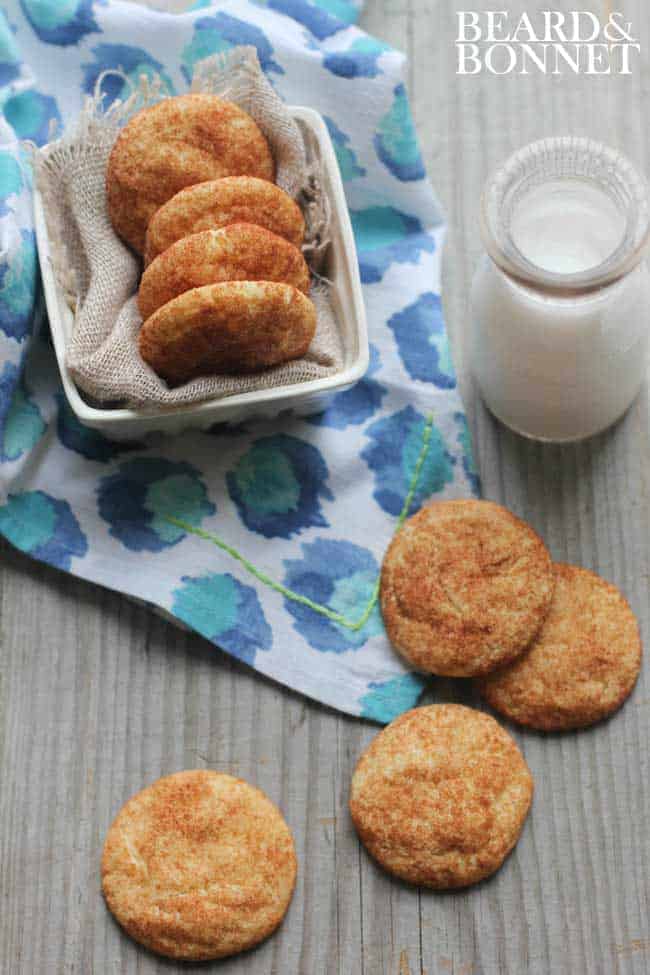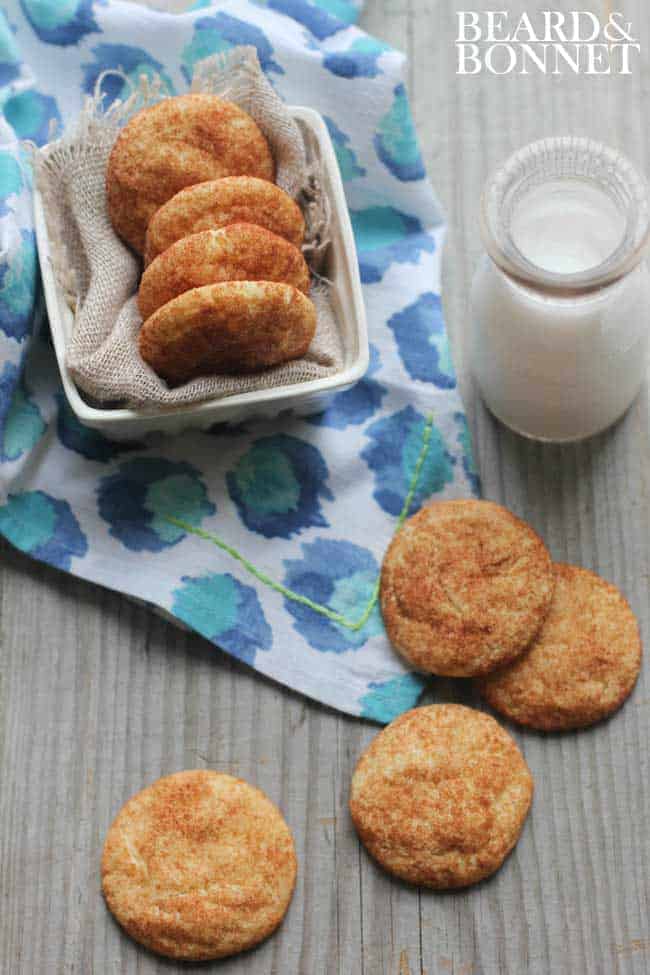 Do you have a cookie that was THE cookie before you went gluten free? You know, the cookie you couldn't resist when you saw them sitting on their cookie plate on the kitchen counter. For me that cookie was a snickerdoodle. Oh man, I get excited just saying snickerdoodle! I have shed a few tears over failed gluten free snickerdoodle attempts over the past couple of years, but these…well, these where SO good that I may have been found guilty of hiding them in my bedroom so that no one else could have one. I was also convicted of stashing some of them in the freezer where the kids NEVER look. I'm not ashamed; it's a freaking cinnamon and sugar snickerdoodle!!! Once you taste them I am sure you will do and say all sorts of crazy things too.
I was however a nice neighbor and delivered a dozen of my almost 5 dozen cookies to my friend Beth and her husband Mark since she was in yoga training and deserved cookies for studying so diligently the entire month of January. She was REALLY nice and took a few to class with her and shared them with her classmates and teacher. I was so excited to hear that she was actually asked "Are you sure these are gluten free? They don't taste gluten free." Hello, snickerdoodle score!
I swapped things up a bit with this batch of cookies and used Cup 4 Cup gluten free all-purpose flour instead of my normal go-to Better Batter. In my humble opinion the Cup 4 Cup made a far superior snickerdoodle than any other gluten free flour I have previously tried. Not that the other cookies weren't delicious, because they were. It was the texture of these snickerdoodles paired with the flavor that blew our minds. There was no strange chalky or gritty texture, no crumbling to pieces when we took bites from them. Just fluffy, soft, chewy cookie perfection. Yep, I said it…they are perfect!
Print
Snickerdoodles
Author:
Yield: approximately

4 1/2

dozen

1

x
Scale
Ingredients
2 3/4 cups

Cup 4 Cup gluten free all purpose flour

2 teaspoons

baking powder

1/2 teaspoon

coarse salt

1 cup

(

2

sticks) unsalted butter, softened

1 1/2 cups

plus 3 tablespoons sugar

2

large eggs

3 teaspoons

ground cinnamon
Instructions
Preheat the oven to 350°F, Whisk together flour, baking powder, and salt into a bowl. Place the softened butter and 1 1/2 cups sugar in the bowl of an electric mixer fitted with the paddle attachment. Mix on medium speed until pale and fluffy, about 2-3 minutes. Add the eggs and mix well. Reduce the speed to low; gradually add the flour mixture a 1/2 cup at a time until incorporated completely.
Stir together the cinnamon and the remaining 3 tablespoons of sugar in a small bowl. Shape the dough into small balls about the size of a whole walnut with a mini-ice cream scoop; roll in cinnamon sugar and place on baking sheets lined with parchment about 1 1/2 inches apart from one another.
Bake the cookies, rotating sheets halfway through, until edges are golden, 12-15 minutes. Let cool on the sheet pans on wire racks.
Notes
Store the cookies between sheets of parchment paper in an airtight container at room temperature for up to 3 days or freeze precooked cookies for up to a month.
Adapted from Martha Stewart Cookies
Recipe Card powered by
I love teaming up with my friends for amazing giveaways like this one! Be sure to hop over to their sites say hello and give them a little Valentine's love! With Food + Love ,So…Let's Hang Out, Tasty Yummies, Kristen Hedges, Earthy Feast, Rubies and Radishes, The Pig and Quill, Two Red Bowls, The Dabblist
(Visited 48 times, 48 visits today)