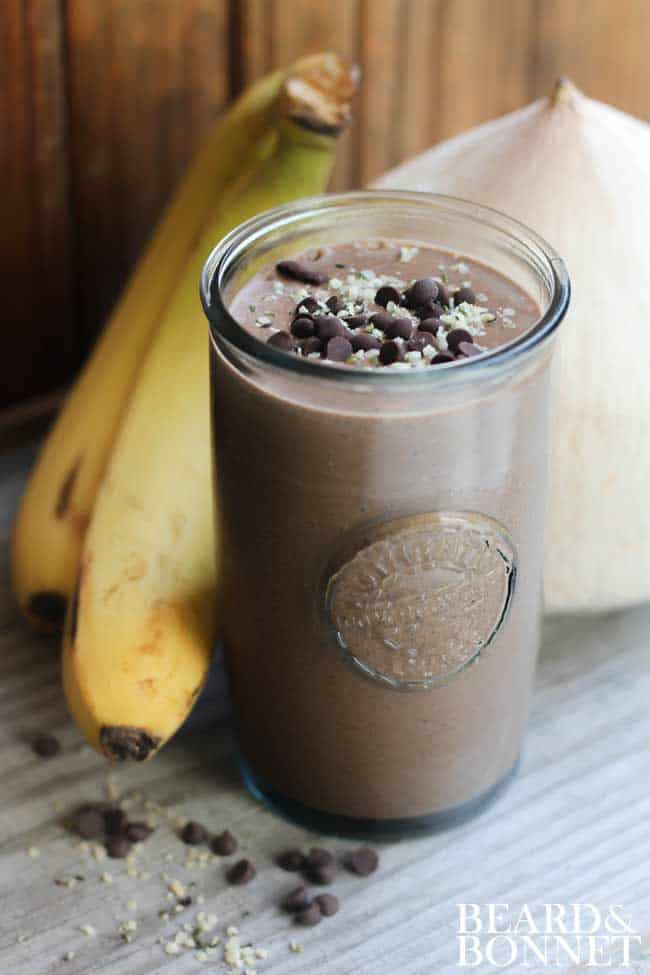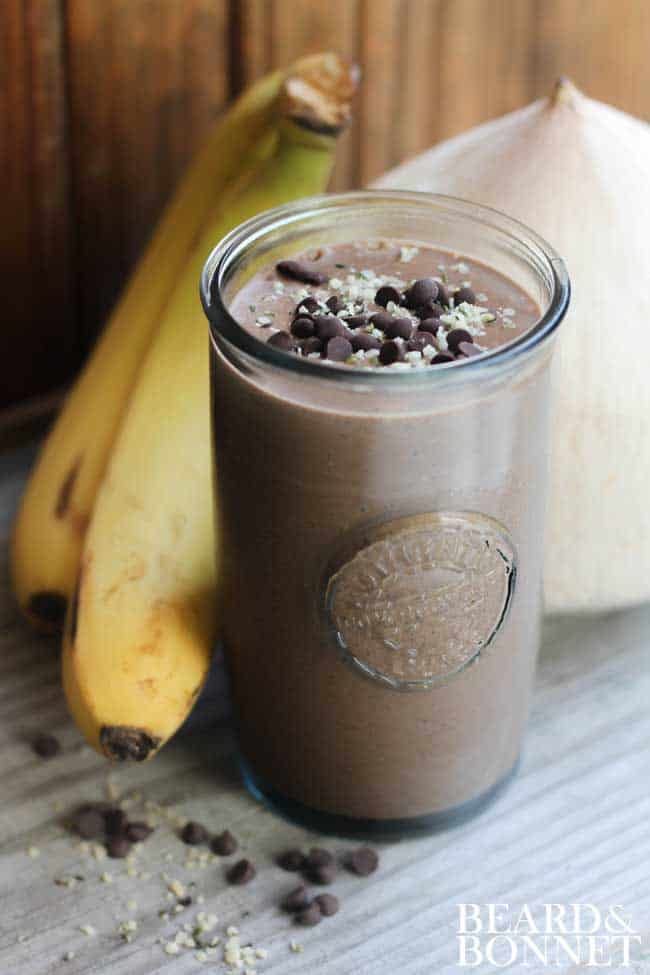 Our days start around 5:30 here for Todd; I am up with Kash about 6 and running around trying to get Eliza ready for school at 9. By the time 9:15 rolls around I am usually ravenous and borderline hangry. You know when you pass over hungry and are verging on angry? Everyone else has been fed, gotten dressed for the day, loaded the sink full of dishes, and I am left standing there wondering what to make for myself before I get started with my day. Lately, my go-to breakfast has been this vegan chocolate protein smoothie because smoothies are pretty much one of my favorite things to whip up for myself after a morning of frantically running around.
My days aren't structured at all with an almost 3 year old running around the house with me. I can go from washing dishes, to building forts in a matter of minutes. I usually type up my blog posts while he is sitting down for his daily dose of gluten free pancakes and watching his daily episode of Finding Bigfoot while simultaneously practicing his big foot calls. Then he and I usually read a few books, we cuddle while I answer comments and update Beard and Bonnet's social media sites, and we almost always fit in a session of bubble blowing while waiting on food to cook. I mention our daily routine because as you can tell, I rarely have a chance to actually sit at all so having a smoothie like this one that I can cart around the house with me keeps me fueled, energized, and happy!
If you have never opened a young coconut before you may be slightly intimidated by the process, but I assure you it isn't hard at all. I learned everything I needed to know by reading this tutorial from Kelly, The Spunky Coconut. I usually open one or two at a time, wrapping the coconut meat up in individual servings and storing the coconut water in a jar in the fridge for drinking later.
What is your go-to breakfast smoothie?
Print
Vegan Chocolate Protein Smoothie (Gluten Free)
Author:
Yield:

1

large smoothie

1

x
Instructions
In a high powered blender combine the almond milk, coconut meat, bananas, carob powder, hemp protein powder, and ¼ cup of the chocolate chips. Blend on high until smooth. Add more almond milk for a thinner smoothie, if desired.
Sprinkle the extra teaspoon of chocolate chips and the hemp hearts on top.
Recipe Card powered by