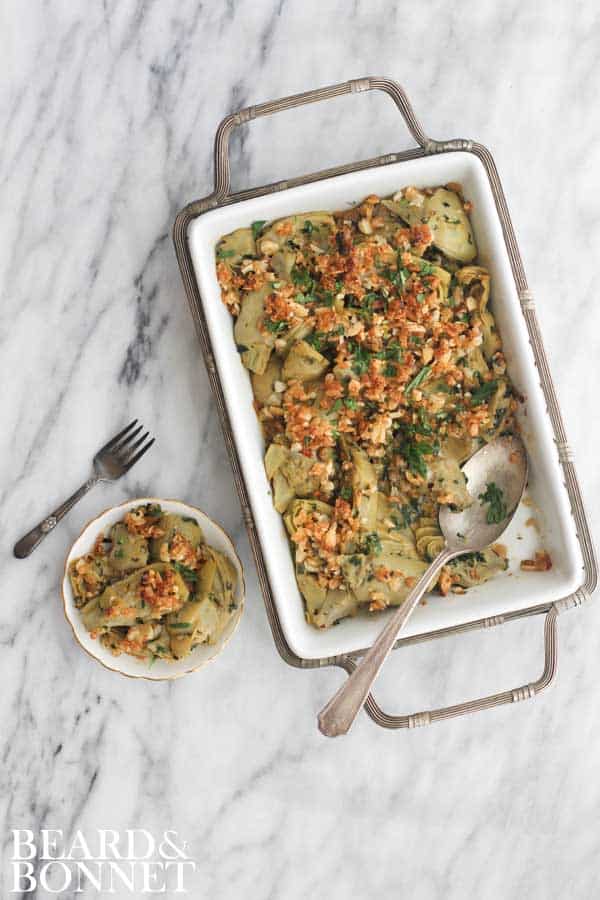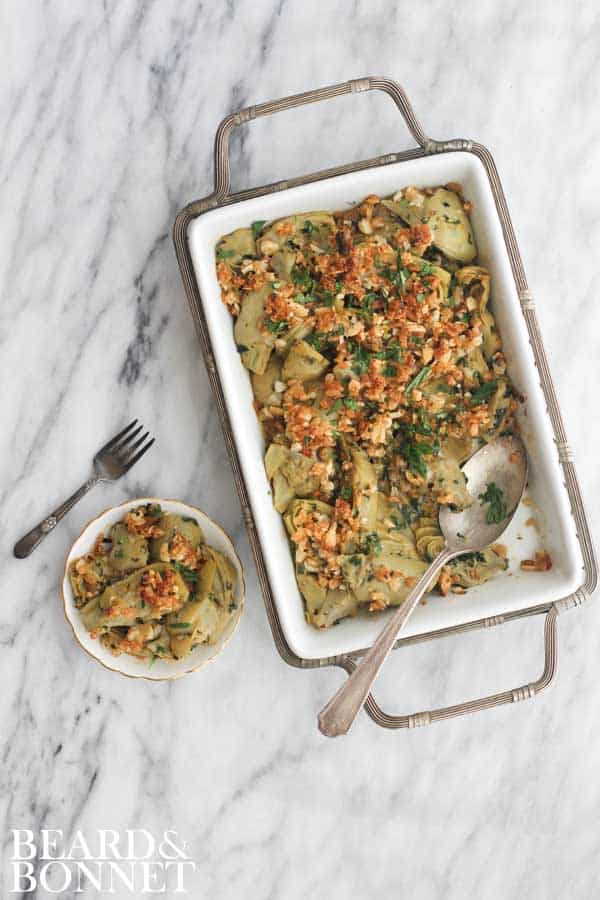 A few weeks ago I was watching a rerun of Everyday Italian with Giada De Laurentiis while I prepped our dinner for the evening. I love watching Giada effortlessly cook meals with all of her hair perfectly in place and her big, bright, beaming smile! Her passion for food is contagious and you can really feel her enthusiasm about every single ingredient she describes as she cooks.
On this particular episode she was making artichoke gratinata featuring frozen artichokes. I was immediately intrigued by the simplicity of the dish and the fact that she pulled it together in around 25 minutes. I decided that with a few tweaks I could make a pretty amazing gluten-free, vegetarian version for my artichoke-loving family and we too could enjoy a simple weeknight side dish like this one.
Giada's version of artichoke gratinata called for chicken broth which was an easy swap, although I do suggest using homemade vegetable broth if at all possible. It really adds a rich depth of flavor that you just can't achieve using store-bought broth. Giada also used bread crumbs in her version, which are off limits to us since we eat a gluten-free diet here in our home. I figured that I could pulse a few slices of gluten free bread in the food processor and toast the crumbs, but for me that was just one more step to add to the prep time. So I simply subbed in crispy brown rice cereal that I crushed by hand instead. The last little tweak that I made was to add chopped blanched almonds to the topping mixture. Almonds taste great and are good for you too, so I try to work them into my family's meals whenever possible.
The evening that I made this gratinata for my family I served it alongside gluten-free pasta tossed with fresh spinach, lemon juice, and Parmesan cheese. It was the perfect dinner for a busy weeknight!
I am happy to be sharing this recipe today over on Oh My Veggies! Click here for the recipe.
Also friends I am so excited to share Kiersten, of Oh My Veggie's, new eBook with you here today! I don't talk a lot about the business side of blogging here and I don't really plan on starting, but since I know that I have lots of readers that are bloggers and food writers that some of you may find How To Monetize Your Food Blog an invaluable resource towards making your dream of working for yourself a reality!
Disclaimer: this post contains affiliate links, I may get a small commission if you decide to purchase a product through one of those links. This revenue makes it possible for me to continue to provide you with great recipes and maintain this site. Thank you for supporting us here at Beard and Bonnet!
[mc4wp_form id="7631"]