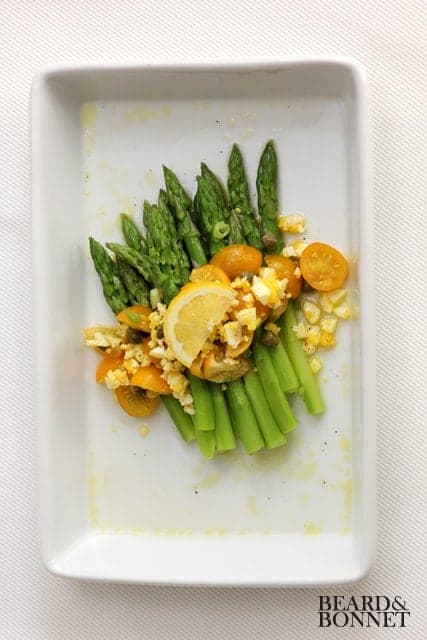 There aren't many vegetables that I like more than asparagus and this simple salad is great for parties or picnics because the individual components can be made in advance and assembled quickly. I like to use chopped and seasoned hard boiled eggs on salads where I would have previously used feta cheese. The texture is similar and I get the creamy little bite that I crave in salads like these.
Asparagus Salad with Lemon Vinaigrette: Gluten, Dairy & Soy Free
1 bunch of asparagus
3 hard boiled eggs, chopped
1/4 cup cherry tomatoes (halved) I love the yellow ones but red is great too!
1 green onion sliced very thin (only the light green parts)
1 heaping tsp. capers, rinsed
zest of 1 lemon
1/4 cup good quality olive oil
1/8 cup fresh squeezed lemon juice
pinch of red pepper flakes
salt and pepper to taste
Asparagus:
Wash and prep asparagus by peeling the ends with a vegetable peeler and drop into a large pot of boiling water for 2-5 minutes depending on size, until the spears turn bright green. Transfer cooked spears to an ice bath to stop the cooking process. Once the spears have cooled remove them from the water and place on a paper towel lined plate.
Tomato Salad:
Place halved tomatoes in a small bowl and sprinkle with salt to draw out the juices. Mix in the capers, sliced green onions and half of the lemon zest. Set aside. In a separate small bowl mix chopped hard boiled eggs with a little salt and pepper to taste and a pinch of red pepper flakes for a little kick.
Vinaigrette:
Combine lemon juice, olive oil, & remaining zest in a bowl and whisk until the dressing is combined. I use my blender for this step so that I can be assembling the salad while the dressing is coming together. Once the mixture is combined add salt and pepper to taste. You will have more than you need for this salad. The unused vinaigrette will keep in your refrigerator for a few days. Bring to room temp and whisk well before using.
Assemble:
Place asparagus on a platter and spoon tomato salad over the top. Drizzle with lemon vinaigrette and top with the chopped & seasoned hard boiled egg.
This recipe will make enough for 2 adult side dishes or 1 single serving as a main course. If you are serving a larger group this salad can be doubled or tripled and looks great on a big platter.
(Visited 6 times, 6 visits today)