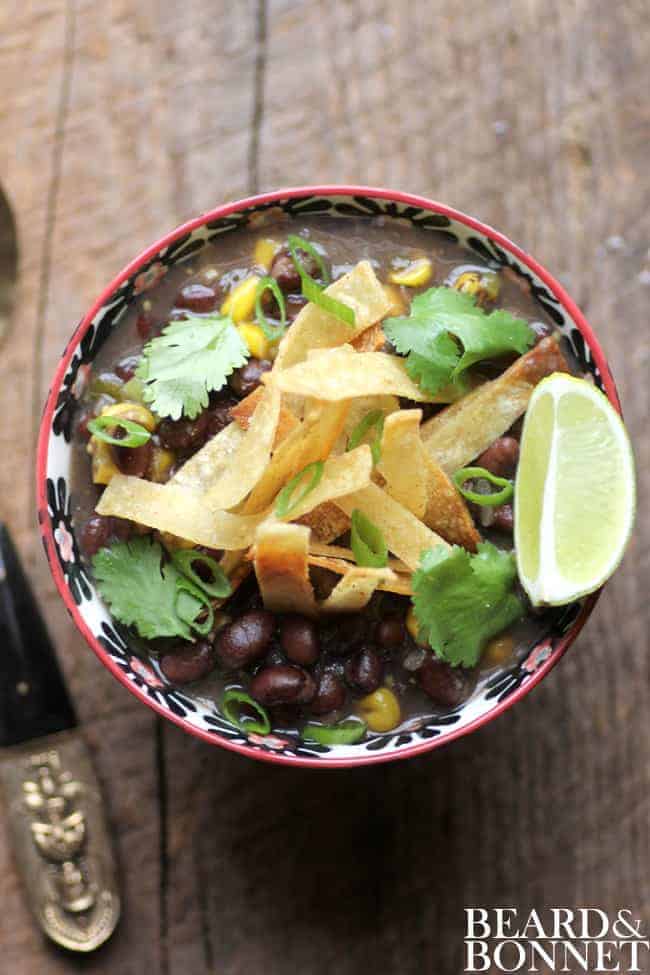 Last week was an interesting one around here, trying to maintain some semblance of normalcy while we all run in opposite directions to keep up with our hectic schedules. We only had one night to come together and eat as a family and the pressure to cook a great meal, FAST, was definitely weighing on me. Thank goodness for Vegetarian Times magazine showing up in our mailbox and supplying us with this amazing chili recipe that has only a handful of ingredients and takes less than 30 minutes to come together. Toss in a handful of my super simple homemade smoky tortilla strips and a squeeze of lime and you have yourself a pretty phenomenal dinner. In the end, everyone was happy, all of our bellies were full, and there was only one pan to wash. Do you have any dishes like this that are simple, require only a few ingredients, but are truly amazing?
Black Bean with Fire-Roasted Corn Chili 
From VT Jan/Feb issue: serves 4-5
1 Tbsp. olive oil
1 cup green onions, thinly sliced; divided
1 16-oz. jar g-free salsa verde, I use Trader Joe's
2 15-oz. cans black beans, rinsed and drained
1 cup frozen fire-roasted corn kernels
½ cup water
4 Tbsp. fresh cilantro, chopped
1 lime, cut into wedges
Heat olive oil in a large saucepan over medium heat. Add ¾ cup of green onions, and saute for 3 minutes or until softened. Add salsa, beans, corn, and water; bring to a boil. Reduce heat to medium-low, and simmer for 20 minutes. Season with salt and pepper to taste.
Cumin Dusted Tortilla Strips 
4-6 Corn Tortillas
½-1 Tbsp. Olive Oil
1 tsp. cumin
Salt and pepper to taste
While the soup is cooking preheat oven to 425°F. Stack the tortillas slice in half, then cut into ½-inch strips and place on a rimmed baking sheet. Toss with 1 tablespoon olive oil; sprinkle on the cumin and season with coarse salt and ground pepper. Spread in a single layer; bake until golden brown and crisp, turning halfway through, 8 to 10 minutes. Let cool.
Right before serving garnish each bowl of chili with 1 tablespoon of cilantro and 1 tablespoon of green onions. Pile high with tortilla strips and squeeze a lime wedge over the whole bowl.
We are happy to have shared this post at the Gluten-Free Friday's link up party hosted by Vegetarian Mama and  The Gluten Free R.D.!  Hop on over to find more great gf recipes.