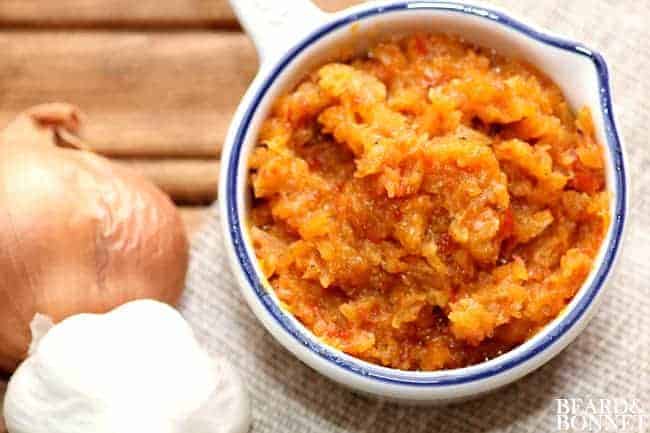 Have you ever wondered how chef's achieve the "explode in your mouth" flavor in their dishes that keep you talking about the one meal you had at their restaurant for years? Last month for my birthday Todd took me to Canoe, one of the most amazing restaurants here in Atlanta. He had the pleasure of dining there for a business lunch and knew that he wanted to take his foodie wife back for her special day. *I know, best husband ever! The service at Canoe was impeccable, the atmosphere was stunning and the food was nothing short of heavenly, they even created a vegetarian dish especially for Todd. As we sat at our romantic table for two with a view of the kitchen and the river, I couldn't help but notice the complex simplicity of the dishes that came to our table. Heirloom Tomato Carpaccio, Warm Artisan Cheese Salad with a Sour Cherry Vinaigrette, and Risotto with Slow Roasted Tomatoes just to name a few. All dishes that sound like you could recreate them at home, but when you try there is something missing. I don't know what the secret is to Canoe's amazing dishes, but I do have a little secret weapon that I use at home to create big flavor in my own simple dishes, it's called sofrito!
A combination of onions, celery, garlic and red bell pepper all slowly cooked in olive oil until the flavors mingle into a concentrated flavor punch for my rice dishes, pasta sauces, marinades and soups. This recipe makes enough for a 1/2 liter canning jar to be filled to the brim and can be kept in the fridge for 3 or 4 days, the perfect amount for the holiday dinners that we will all be preparing soon. You can also freeze your sofrito in ice-cube trays or silicone muffin pans and it will last for up to 3 months. Add a few tablespoons to any dish that needs extra oomph!
Sofrito
Adapted from Bon Appetit
3 medium onions, coarsely chopped
2 ribs celery, coarsely chopped
1 red bell pepper, chopped
3 cloves of garlic, finely grated
2 1/2 tsp. tomato paste
1/2 cup extra-virgin olive oil
Kosher salt and pepper
Coarsely chop the veggies into pieces that will fit easily into your food processor. Once prepped pulse the onions in the processor until finely chopped but not puréed. Transfer to a medium bowl. Pulse the bell pepper and celery in the food processor until finely chopped but not puréed; add to the bowl with the onions and mix well.
Heat oil in a large cast iron or heavy bottomed skillet over medium heat, add the onion mixture and season well with salt and pepper. *Be careful the onion mixture may splatter when added to the oil. Simmer, stirring often, until the veggies are completely softened about 25-30 minutes. Add the finely grated garlic and tomato paste and cook, stirring frequently, until the mixture deepens in color. About 3 minutes.
Remove from heat and transfer the sofrito to a container to allow it to cool completely before storing.